Olympic legends Balbir Singh Sr and Abhinav Bindra were among those present at the inauguration of the state-of-the-art Inspire Institute of Sports (IIS) in Vijaynagar, Karnataka. The initiative by the JSW Group is India's first privately funded High Performance Training Centre for athletes. "Our vision for IIS is for it to become the destination of choice for every Indian athlete who dreams of success at the Olympics," said Parth Jindal, Founder, IIS. "Through it, we wanted to create the kind of environment where no talented athlete is deprived of success because resources, infrastructure and training support was missing."
Spread across 42 acres, and constructed in four years (2013-17), out of what was essentially a hillock, the facility focuses on five Olympic disciplines at the moment – wrestling, boxing, judo, track and field, and swimming. Apart from the Combat Hall, where the wrestlers, boxers and judokas train, there's also a High Performance Centre that houses an expansive strength and conditioning facility, a sports science laboratory, physiotherapy rooms, medical services, ice bath and sauna facilities.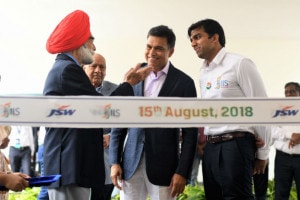 Balbir Singh Dosanjh (L) and Parth Jindal (R) at the launch of IIS in Vijaynagar. Image: JSW Sports
The key is to catch them young. Which is why the current crop of athletes who are using the facility are all aged 12-16. "I've seen this facility from when there wasn't a brick to its current shape, so it's quite surreal," said tennis legend Mahesh Bhupathi, who is on the institute's advisory panel. "It takes me back to the time when I was a teenager and had to run around from one place to another for my different requirements. These kids are really blessed to have this sort of thing right here in India all under one roof. It is truly a gift to the nation."
It is, however, open to all athletes, state and national level, already. The national boxing camp was held here recently, four football clubs have had their conditioning camps here, and so have three kabaddi franchises. "What makes this facility stand out is the professional experts who are a part of the set up," said Olympian Anjali Bhagwat. "We have had centres like the National Institute of Sports in Patiala and the facility in Balewadi which has these features too, but there are no experts to use them." "What I got as a wrestler in an India camp when I was 25-26 years old, this generation is able to get when they are 14-15, and that takes Indian sport to a different level completely," said Olympic bronze medallist Yogeshwar Dutt.
100 athletes live on the campus at the moment, but 300 of them can be accommodated. The athletes have been chosen after extensive scouting by the coaches across the country. The athlete's education is taken care of too by teachers who take classes for 6th-10th standard students. One of the key features of the institute is its recovery and rehabilitation programme for athletes who've sustained injuries or are fresh off surgeries. Javelin thrower Neeraj Chopra and wrestler Vinesh Phogat are among those who've recently undergone rehab at the facility to make a winning return to the arena.
India's only individual Olympic medallist, Abhinav Bindra, also on the institute's advisory panel said this should encourage more private organisations to donate and be a part of India's Olympic movement. "In the US, their national committee is not dependant even for a single dollar on the American government, it is completely privately funded. It's a long way to go, but there's plenty more we need from the private players in India, and many more instituted like this to really make a difference," he said.
The IIS has recently got accredited as a Khelo India Institute by the Ministry of Youth Affairs and Sports for developing wrestlers and boxers for India.