Asian Games: Saina Nehwal, PV Sindhu Strong Into Semis, India Assured of Two Medals
Saina Nehwal on Sunday became the first Indian woman to win a badminton singles medal. Nehwal beat Thailand's Ratchanok Intanon in straight games in what a superb turnaround from the India, to make it to the semi-finals.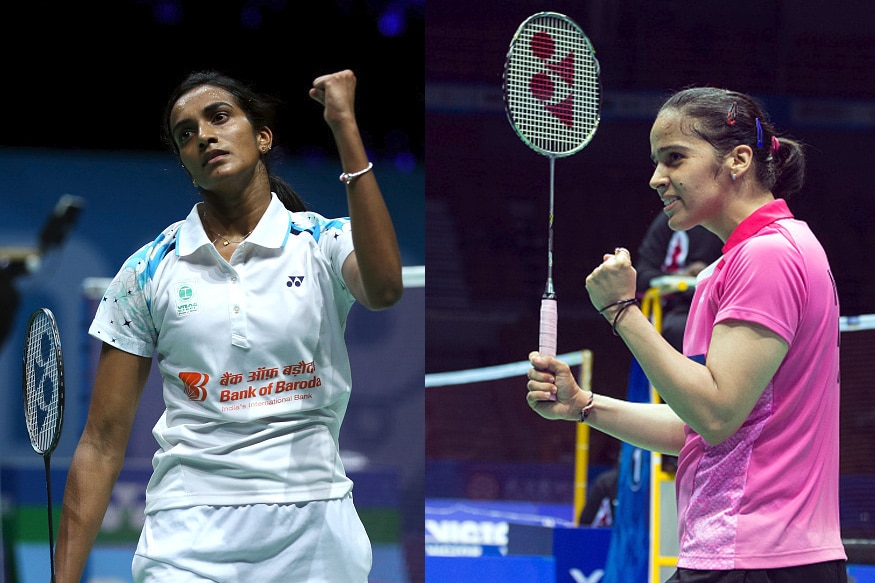 Image credit: Getty Images.
Indian Olympic medallists Saina Nehwal and PV Sindhu scripted history as both shuttlers booked their respective spots in the women's singles semi-finals at the Asian Games on Sunday. Saina and Sindhu are both assured of bronze, which will be a first for India.
Saina became the first Indian woman to win a badminton singles medal after she beat Thailand's Ratchanok Intanon in straight games, while in the next quarter-final clash, Sindhu prevailed over Thailand's Nitchaon Jindapol.
Saina held a 10-5 head-to-head record against Intanok before Sunday's quarter final clash at the Asian Games, but that didn't matter.
The start was terrible for the Indian, as Intanon didn't take time in creating an 8 point lead for herself. Intaton can be erratic, but today was not going to be the day, as Saina moved gingerly, her shots lacking confidence. Slowly but steadily, the 2018 CWG gold medallist started bridging the gap. And suddenly it was 17-17. As Saina frowned, and fist pumped in anger and grit, Intanon failed to come up with any answers.
The Indian staged an incredible comeback to win 5 back to back points to take the opening game 21-18. In their last four meetings, Saina has dropped only one game against the former world champion.
The result of the first game was showing in the body language of the two players in the second. Saina was determined to ensure she didn't squander her lead. And as her shots looked more and more confident, the errors started creeping in in Ratchanok's game. And in no time, she won 21-18, 21-16 with a rally to finish things off. The Hyderabadi is the Queen of Grit!
Meanwhile, it was a completely contrasting opening game for Saina's compatriot PV Sindhu who hardly broke a sweat while take a lead in his final against Thailand's Nitchaon Jindapol. Sindhu won 21-11 with relative ease as the Thai barely looked like she was putting in her 100%. Her errors in fact only made Sindhu look better.
The Thai's retrieving was better in the second game, as she levelled things at 7-7, and soon took a lead against the World Championship silver medallist. The World No. 11 is someone who's taken a lot of her matches to deciders. Sindhu looked nervy as Jindapol took the second game 21-16 with a body smash.
Sindhu needed a new game plan and needed to attack. Seven points on the trot got the Olympic silver medallist in the lead, and it looked like she would be able to close the match out. At 11-14, the Thai played a superb smash to win a fantastic winner, but Sindhu made the most of her opponent's errors.
The Indian won 21-11, 16-21, 21-14 to ensure yet another bronze for India. But to improve and go a step further, a different Sindhu will have to get on to court in the semi-final.
| Edited by: Pratik Sagar
Read full article