When athletics was set to begin last time at the Incheon Asian Games, India had won just one gold, through shooter Jitu Rai. Though athletics produced only two gold in a total gold tally of 11, the sport, as in the past, contributed the maximum to India's final medals tally: Two gold, four silver and seven bronze for a total of 13.
How many can Indian athletes win this time? By Aug 24 evening, on the eve of athletics action, the Indian medals tally in the 2018 Games stood at six gold, five silver and 14 bronze. India was at eighth place in the medals table with a total of 25 medals.
Obviously, fans and the media were assessing how many more gold medals India can have from these Games in the second half. Despite its contingent size in the past, not to speak of talent pool and Government support, India had not been able to convincingly show its sports prowess at the continental level, often finishing behind countries like Kazakhstan and Iran, among others, leading to criticism that not enough was being done to promote Olympic sports in the country.
This time, though, there has been a concerted effort to put up an improved show compared to Incheon in 2014. Though there were selection controversies and quite a few disappointments so far, there has been some top-class performances, too.
Can the track and field athletes match them? Or can they better what had been achieved by their predecessors?
18-20 medals expected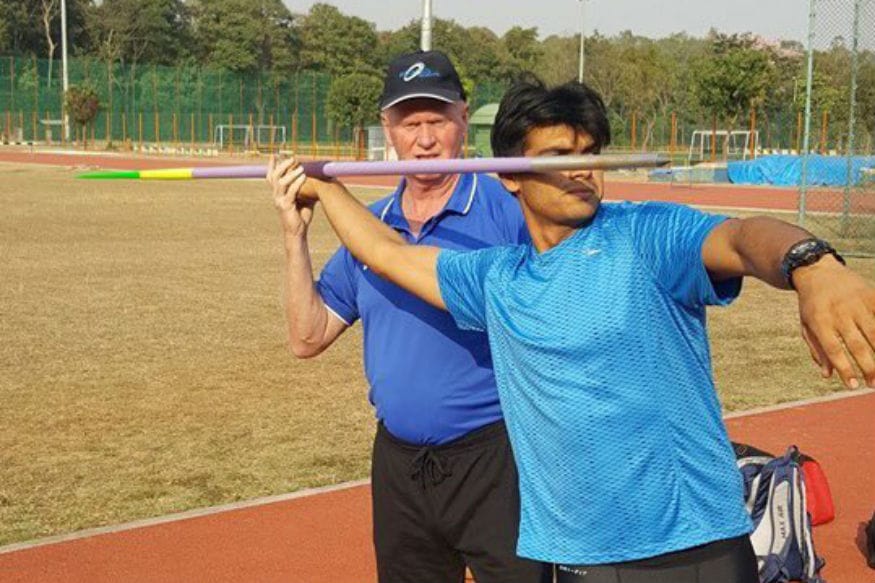 (Twitter: @zhangweijavelin)

In internal assessments by the Athletics Federation of India (AFI), officials have listed six events in which India is expected to have the best chance to win gold medals: Tejinder Pal Singh Toor in shot put (he competes on the opening day on 25 August), Neeraj Chopra in javelin, Purnima Hembram in heptathlon and the three 4x400m relays including the newly-introduced mixed relay.

Let's take these events first to analyze before moving onto others.

Men's Shot Put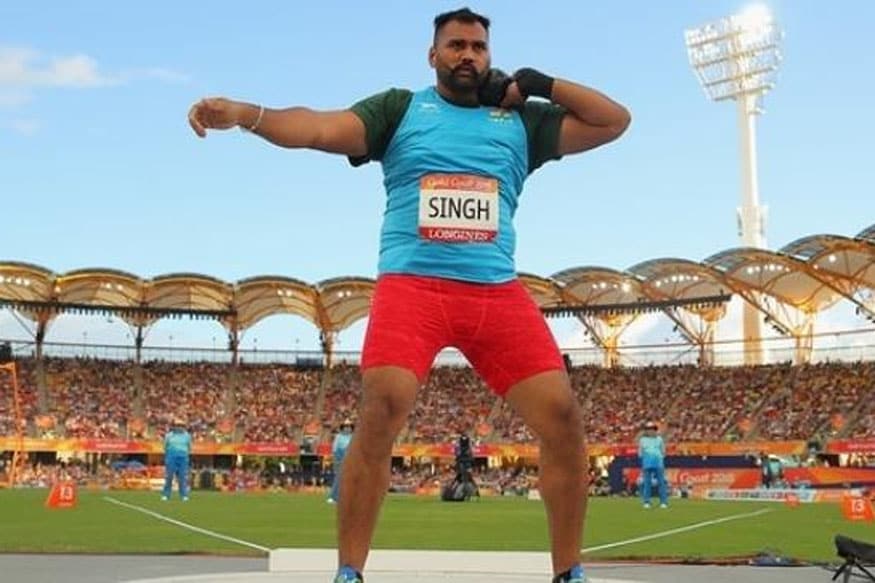 (AFP Image)

Tejinder Pal Singh Toor is the Asian leader since putting 20.24m in the Federation Cup at Patiala on March 6. He has, however, steadily slumped after that, with 19.42m for eighth place in the Commonwealth Games, and 19.37m for gold in the inter-State meet at Guwahati, which served as the final selection trials for the Asian Games.

Notwithstanding the presence of Asian record (21.13m) holder Sultan Abdulmajeed Al-Hebshi of Saudi Arabia, Toor should start the favourite once again as he was in Bhubaneswar. Al-Hebshi, like many shot putters in the continent including our own Om Prakash Singh, has found it difficult to reach the 20-metre range in recent years.

If at all Toor finds it difficult to reach even 19m, which is possible going by the track record of other Asian leaders, and India's own shot putters in the past, the field could be thrown open for anyone to cash in on.
Men's Javelin
(Image: PTI)

For months now, everyone had one name on their lips to forecast a gold medal for Indian athletics: Neeraj Chopra. Since reaching a world junior record in the 2016 World-Under-20 championships with a throw of 86.48m, Chopra has risen in stature in great style. He has thrown 85m or better five times this season, with a new personal best and national record of 87.43m at the Doha Diamond League meeting where he stood fourth.

Chopra's sheer consistency makes him the overwhelming favourite in Jakarta. Though there is one man who has crossed 90 metres in Asia, Chinese Taipei's Cheng Chao-Tsun. The latter does not have the consistency of the 20-year-old Indian to be rated a serious challenger. He has a season best of 84.60m.
A more consistent performer has been Qatari Ahmed Bader Magour, whose 83.71m in Doha has been his season's best.
India's second entry, Shivpal Singh, 23, has not done anything of note since his PB of 82.28 at Guwhati that earned him qualification. Singh, who had trained with other Indian javelin throwers in Finland, could be a medal contender if he is able to come close to that only.
Women's Heptathlon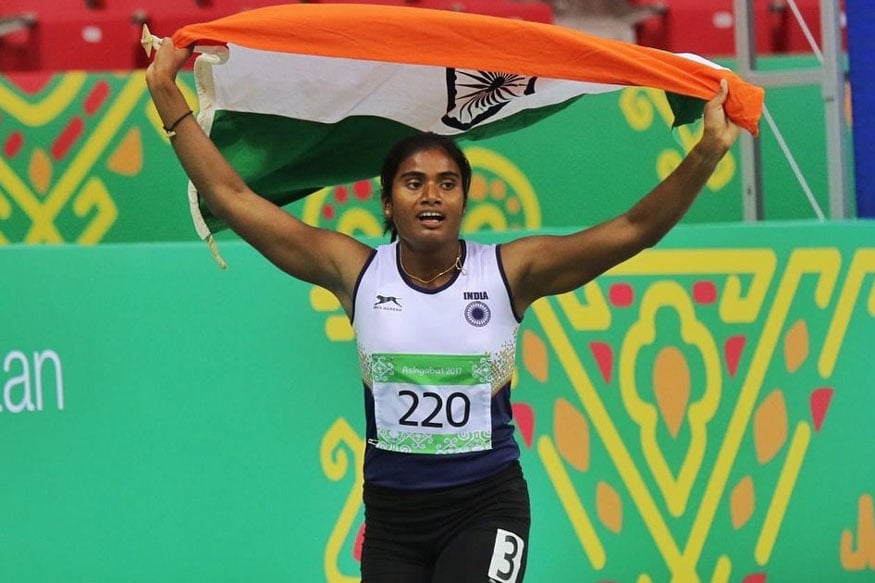 (PTI Image)
Purnima Hembram has been on a steady climb this season. Beginning with her PB of 5815 points in the Fed Cup, the 25-year-old Odisha athlete had improved it to 5834 for seventh in the CWG and added a few more points in reaching 5898 at Guwahati for qualification to the Asiad.
The 6000-point mark should come soon for Purnima and the other Indian in the fray, Swapna Barman, the Asian champion, who's made a comeback from injury and has a tally of 5725 in making the grade. Her best is 5942 at Bhubaneswar last year.
The Asian heptathlon standards have fallen this year. Only Chinese Wang Qingling, Hembram's closest challenger, is over 5800 this season along with the Indian. Last year there were three over 5900 points with Wang Qingling at a PB of 6033. Japanese Megu Hemphill who finished second in Bhubaneswar has not made it to Jakarta, probably injured.
The 4x400m Relays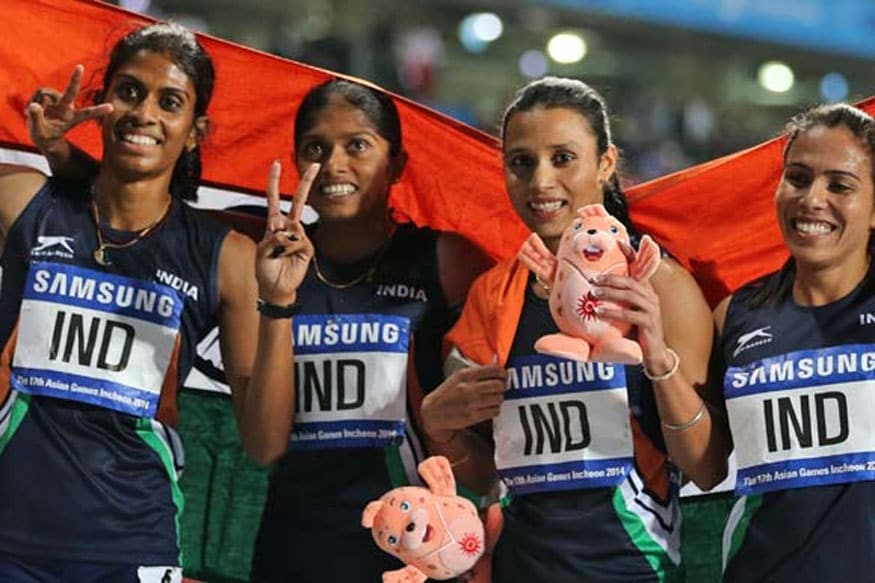 (Image: Getty)

India has won the women's 4x400m relay gold for the past three editions of the Games. In the normal course India would have been considered the odds-on favourite for the gold this time, too. If there is a possible change in script it is only because of the perch that Bahrain's Nigeria-born 400m runner, Salwa Eid Naser, occupies in the year's lists.

Apart from her, Bahrain, unlike in the past, has also assembled, it would seem, a strong women's 4x400m relay team with the addition of two 400m hurdlers in the acknowledged Kemi Adekoya, and the 21-year-old Aminat Yousef Jamal Odeyemi (400m SB 53.02s), also of Nigerian origin.

Adekoya, who won the 400m-400m hurdles double at the last Games in Incheon, who was in poor form at the beginning of the season, seems to have rounded into fine shape just in time, having season best 55.45s in the 400m hurdles and 53.38s in the 400m flat.
Added to this three-some would be Ofonime Odiong, essentially a 100-200 sprinter who has run the 4x400m relay also in the past.
The Indian team could be having Hima Das, M. R.Poovamma and Sarita Gaykwad along with V. K. Vismaya, the last-named having come through a trial on Aug 24 to determine who could be the fourth runner. How Gayakwad who has a season best of only 53.24 has been kept away from the time trials in Jakarta would come into question.
As per AFI's policy of keeping the 'non-campers' out of the relays, Nirmala Sheoran, has reportedly been excluded at the time of writing but you never know with these policies and pronouncements. Nirmala's own form would be judged on the opening day when the 400m heats are scheduled.
India still looks strong, having clocked 3:33.23 without Hima Das and Nirmala in Kladno, Czech Republic, on July 29. But nothing can be taken for granted when the likes of Naser (PB 49.08) and Adekoya are running. Bahrain, however, does not have much of a history in relay running in women's 4x400m.
Qatar looks strong in men's 4x400
The Indian men's 4x400m team will be severely by the Qataris. The top three 400m runners in the Asian lists this season are from Qatar! Abdelelah Haroun at 44.07s, Abderrahmane Samba, the better known 400m hurdler, at 44.62 and Mohammad Nasser Abbas at 45.15. Then comes India's Muhammed Anas with 45.24s. The three Qataris could be joined by a fourth runner who might not be in the same league but the team would still be the one to beat. Incidentally, Samba is unbeaten in the hurdles this season with a world-leading 46.98s in Lausanne as his best.
India's fortunes will hinge on Anas's form and that of the No. 2 man, Arokia Rajiv. After finishing fourth in the CWG with a national record 45.31s, Anas improved it further in the Czech Republic. Both he and Rajiv had been concentrating on their speed by running a few 200m in the final weeks of preparations in Europe rather than continuing with the 400m.
The mixed relay, a novelty in Asian Games, but which had been tried out in the World Relays, is going to be fight between India and Bahrain. India has good runners in both men and women's sections, while Bahrain has one good male runner in Abbas Abubaker (SB 45.77s) to go with their awesome female runners, probably Naser and Aminat Jamal. It will be an interesting race in which India is expected to have the edge. If Hima Das is not available for the mixed race as had been mentioned in reports initially (since dismissed by AFI), the Indian team would be considerably weakened
The Others
Jinson Johnson is in the form of his life. Having set national records in the 800m (1:45.65) and 1500m (3:37.86), it is easy to put him as the favourite in both these events. But then, middle distance races often don't go as per personal and season bests. These are tactical races in which the better tacticians, and often the best 'kickers', succeed.
Two Qataris, Jamal Al-Hayrani (SB 1:45.67) who finished second in the Asian championships last year, ahead of Johnson, and Abubaker Abdalla (1:46.02) will be among the contenders for the 800m gold. Also in the fray could be the Asian champion, Kuwait's Ebrahim Al-Zofairi (SB 1:47.79), though there is no certainty about the Kuwait entries at the time of writing.
Muhammed Anas has to contend with Haroun who has run seven sub-45 this season alone in the one-lapper. The Qatari's level of consistency is unmatched in Asia. A World championship bronze medallist in 2017 and Asian champion in 2015, this will be Haroun's Asian Games debut. The 21-year-old former Sudanese looks on course for the gold.
Hima Das vs Naser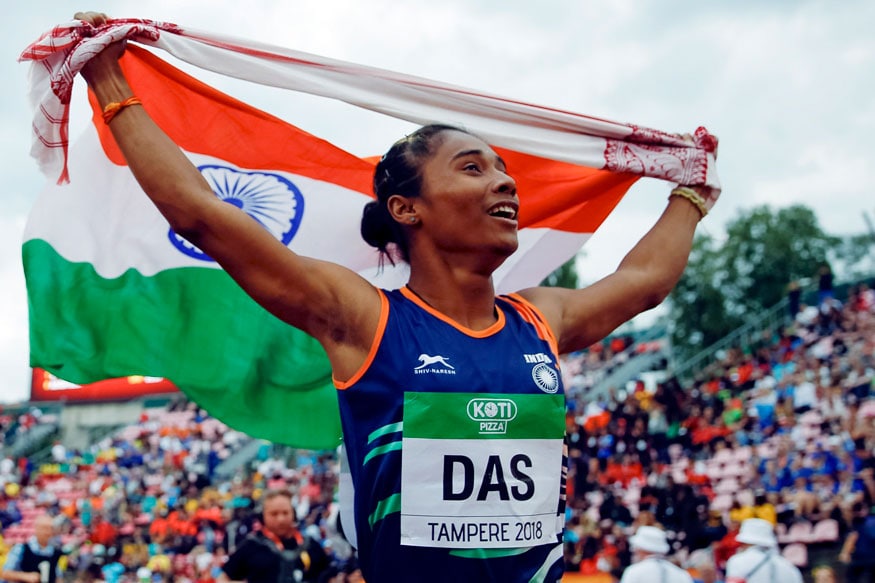 (Image: AP)

Like Anas v Haroun, the Hima Das v Naser duel in the women's 400m would be worth waiting for. Naser has remained unbeaten this season through six races before being beaten in Monaco by Olympic champion Shaunae Miller-Uibo of the Bahamas. But Naser clocked a personal best of 49.08s there, a national record.

Having caught the attention of the Indian public, unfamiliar to success of our athletes at the global level, with her stunning display in the World Under-20 championships at Tampere, Finland, in July, Hima would be under pressure to live up to her new tag of the 'unbeatable' athlete over the final 80 metres of a 400m race. It would be the biggest shock of the Games if the diminutive Naser is beaten by the 18-year-old Indian who has a best of 51.13s.
Hima's progress in less than a year has left many baffled. It would be wise to wait for a few more years to see where the Assam girl could be headed. She's scheduled to compete in the 200m also in Jakarta though there she might find the going tougher than in the longer event.
A couple of horizontal jumpers among men would be strong medal contenders for India. Long jumper M. Sreeshankar had reportedly crossed eight metres in training in Thiruvananthapuram and there was talk of him reaching 8.40m in the Games. That looks unlikely, though.
With two Chinese having crossed eight metres this season, Wang Jianan (8.47) and Zhang Yaoguang (8.27) in excellent form in the run-up, Sreeshankar's task is cut out. He had to undergo a surgery before the CWG, forcing him to miss what could've been a big moment in his fledgling career. Asian Games provides him another chance. A medal here will boost his morale.
Arpinder up against Chinese
(Image: AFP)

Triple jumper Arpinder Singh who pushed past 17m this season after a four-year gap from his then national-record breaking feat of 17.17m in Lucknow, will have to tackle Chinese Zhu Yaming who is a 17-plus jumper and another experienced Chinese Cao Shuo, who has done 16.80m this season. The Indian has worked hard this season to come into reckoning for the highest honours.

The women's 1500m runner, P. U. Chithra, who had to endure the agony of being omitted from the team for last year's World championships, under controversial circumstances, leads the field with her time of 4:11.55. The line-up looks ordinary and Chithra should have her chance. But as said earlier, middle distance races are hard to predict. In the worst case, the Kerala woman should land a medal.

In distance events, too, India should have good chances in both men and women to gain minor medals. G. Lakshmanan, who already has an Asiad medal, starts in 5000m and 10,000m while L. Suriya and Saniivani Jadhav would be the contenders in the women's distance events.
Distance Events
On the opening day, the two Indian women would be battling with Kyrgyzstan's Daria Maslova, the double gold winner in the Asians in Bhubaneswar. Once again, Maslova should start the favourite though both Indians should fancy their chances of getting onto the podium.
Steeplechasers Sudha Singh (SB 9:39.59) and Chinta Yadav (SB 9:55.41) have been primed after their high-altitude training stint in Thimphu, Bhutan. How much they and others have gained will be known through the next six days. They could be handicapped since there was no competition in Bhutan and they had to just train since the Guwahati meet in June-end.
Bahrain's Kenya-born Winfred Yavi (SB and PB 9:10.74), eighth at the World Championships last year, leads the steeplechase lists in Asia. She has clocked two other timings below 9:17 this season.
Discus thrower Seema Antil, who is the defending champion, took silver in CWG, and then reportedly went off to Russia for training. She had touched a form hitherto not seen at home by crossing 61m in Fed Cup. Two Chinese are in top form. Chen Yang (67.03m) and Feng Bin (64.58m), both finalists at the Rio Olympics, look poised to regain their country's supremacy in the event. Chen Yang won the last Asian championships, with a throw of 60.41 while Seema finished a disappointing sixth with 54.11. Seema has an enormous task to defend her gold. How well the relatively unknown second Indian entry, Sandeep Kumari (PB 58.41m) would fare would be keenly awaited. She had to clear the 'confirmatory trials' to book her berth in the team. Her name was not even entered in the long list initially and the federation had to make extra efforts to get her name included.
Sprinter Dutee Chand has talked of compensating for her disappointments in 2014 when she was not eligible because of the hyperandrogenism issue. With a best of 11.29s (National record) Dutee is among the top four in Asia this season. Defending champion Wei Yongli of China heads the lists with 10.99s followed by Bahrain's Hajar Saad Al-Khaldi (11.17s) and Kazakh Viktoriya Zyabkina (11.20s).
The liberal funding provided by the government for 400m runners and javelin throwers in Europe, plus the middle and long distance runners in Bhutan, despite the lack of adequate competitions for preparing the athletes towards a competition like this, should show results now.
"We couldn't peak twice, once for Commonwealth Games and for the Asian Games" has often been heard in the past. Coaches know how to bring their wards into peak form for the all-important championships.