Ballack's absence not an advantage: Cahill
Australia have been drawn alongside Germany, Serbia and Ghana in Group D of the FIFA World Cup.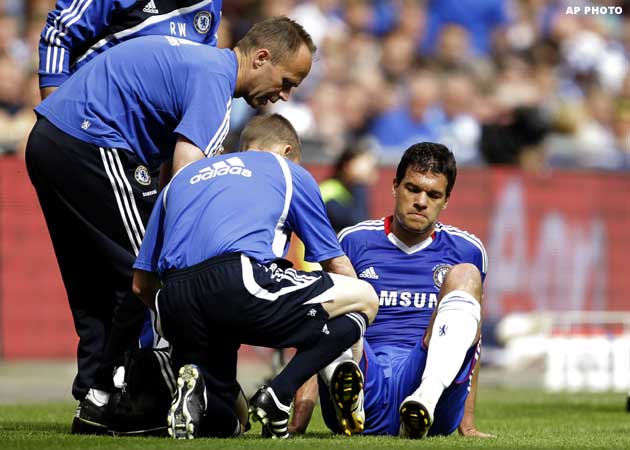 Australia have been drawn alongside Germany, Serbia and Ghana in Group D of the FIFA World Cup.
Melbourne: Australian soccer star Tim Cahill feels that the absence of German captain Michael Ballack will not be an added advantage for the Socceroos in the World cup.
Australia have been drawn alongside Germany, Serbia and Ghana in Group D. While many fans believe the Socceroos have been handed a precious advantage due to the absence of Chelsea star Ballack, who has been ruled out with a ankle injury sustained during FA Cup final, going into the tournament opener in Durban, Cahill doesn't agree.
"There are no positives from it whatsoever. I'm devastated for him. And the thing is Germany are so deep, there'll be some kid in there who's now going to get his chance, that it could bite us to think they'll be any weaker," Cahill was quoted as saying by the Sydney Morning Herald.
The Socceroos start their World Cup camp Wednesday with Harry Kewell and Mark Bresciano the main injury concerns - neither is expected to participate in next week's farewell match against New Zealand at the MCG.
Cahill, however, is confident about his own fitness and said: "I don't feel I can be any fitter. This is it, at the end of a long season, to hopefully make something special happen. I've been running 12 kilometres every game, the last couple of months got me goals (10), and started to play some great football even though I was playing a bit deeper. The fatigue factor isn't there and I feel pretty good. I've had four days off and I'm buzzing," he said.
Cahill, who signed about four years with Everton, went on to add: "The premier league isn't getting any easier, but I'm really happy with this season. Proud of what I've achieved. I'm definitely up there with some great form. You look over the season, the games to goals, to fitness, everything. I've just tried to be consistent football-wise and for myself, having that consistency going into the World Cup, is great. I can't wait to get started."
Asked whether he was tempted to go elsewhere after six years at Everton, Cahill replied: "When you assess the situation, see where you are as a footballer, people question money and things like that, but there's only so much more you can earn. The grass isn't always greener. I don't chase big moves. That's the one thing I've done all my career, I've never invited clubs, I've never speculated. Everton know the way I work. It's a sign of respect."
Get the best of News18 delivered to your inbox - subscribe to News18 Daybreak. Follow News18.com on Twitter, Instagram, Facebook, Telegram, TikTok and on YouTube, and stay in the know with what's happening in the world around you – in real time.
Read full article