Barcelona's Ivan Rakitic Wary of Facing Sergio Ramos & Gareth Bale in Clasico
A long festive weekend will kick off in great style in Spain with champions Real Madrid hosting bitter arch-rivals FC Barcelona in the first El Clasico of La Liga on Saturday.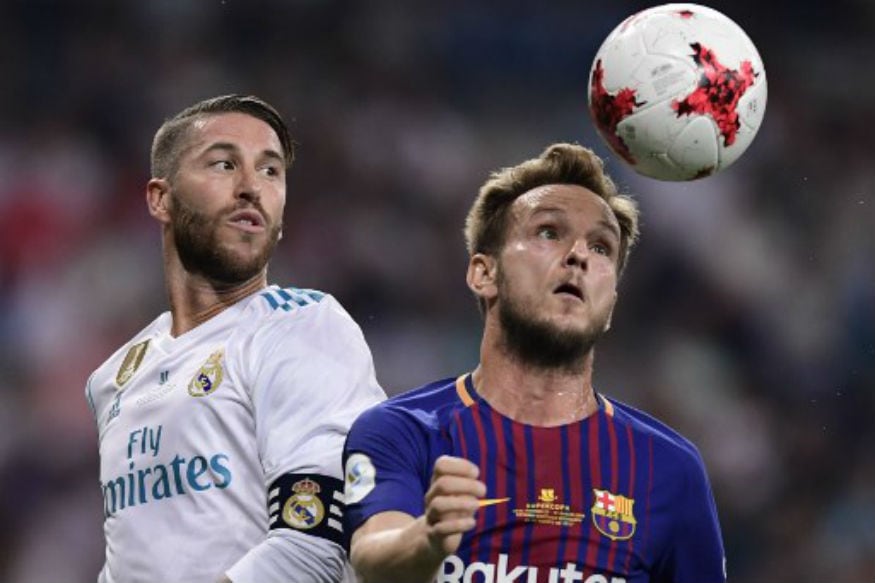 Barcelona's Ivan Rakitic battling for the ball against Real Madrid's Sergio Ramos. (Image: AFP)
A long festive weekend will kick off in great style in Spain with champions Real Madrid hosting bitter arch-rivals FC Barcelona in the first El Clasico of La Liga on Saturday. The contest, is once again expected to be one of the most watched matches in the season. At stake is possibly La Liga title race, as a win for Barcelona will take them 14 points clear at the top of the table.
The mind games for this heated match up begun with five time Ballon D'Or winner Cristiano Ronaldo demanding a 'guard of honour' at the Santiago Bernabeu. The arch-rivals led by Lionel Messi and Luis Suarez both made it clear that there would be no 'guard of honour'.
Barcelona are of course rightfully upbeat about this Clasico, as the Argentine wizard said he would like to kick start his festive with a win at the home of their most bitter rivals. His teammate Ivan Rakitic though is more than wary of the threat that Zinedine Zidane's side possess.
When asked about who is the toughest player to go up against from Los Blancos, the Croatian was quick to pick out the opposition captain Sergio Ramos. "He is a really strong defender with a lot of experience and he knows to read situations well during games."
Rakitic and Ramos will keep each other company on the field when the battle it out, and even if they aren't up against each other more directly, both will be extremely busy during the lunchtime kick off.
The Croatian playmaker though is not too worried about having to face one of Real Madrid's most celebrated forwards, Cristiano Ronaldo.
Rakitic, in an interview made available to News18Sports, says it Gareth Bale who is the bigger worry. The midfielder was also quick to point out that both sides had a different playing style which is what made the pacy Bale more dangerous than the rest.
"Real create a lot of space and with the space, it becomes really hard to defend against them. Maybe, Gareth Bale because he's really fast and his idea is really clear, getting towards the closest lines of the opponent goal, which makes it difficult to play against him," he said.
On Saturday, Rakitic will also be up against his national team colleague in Luka Modric and Mateo Kovacic. While both will be looking to side step defenders and create something special for their forwards, the Barcelona man says that he hopes there are more players from his country who will be part of this fixture.
"The people there have just been speaking about this big game (El Clasico) since last Tuesday and it is not common for a country like Croatia to have such great interest in a game. There are already three Croatian players and I would just like to thank everybody who will support Barcelona and bad luck to the ones who won't smiles."
Hosts Real Madrid come into this game on the back of having won their fifth trophy this calendar year, the best ever haul in their history after they beat Gremio in the final of the FIFA Club World Cup in Abu Dhabi.
Barcelona saw off Deportivo at the Nou Camp and are 11 points ahead of their closest rivals Atletico Madrid.
Zinedine Zidane's Real Madrid are fourth in La Liga, and after Messi broke Madrista hearts with a stoppage time winner last year at the Bernabeu, Los Blancos will have revenge on their mind – the only way to save their title defense.
Get the best of News18 delivered to your inbox - subscribe to News18 Daybreak. Follow News18.com on Twitter, Instagram, Facebook, Telegram, TikTok and on YouTube, and stay in the know with what's happening in the world around you – in real time.
| Edited by: Abhimanyu Sen
Read full article