GET Stock

Quotes


News18
»
Other Sports
2-min read
Bekele, Degitu Win First International Edition of Tata Steel Kolkata 25K Distance Run
The first international edition of the Tata Steel Kolkata run wound up over the weekend. Run over a distance of 25 kilometres, this was a race to remember with over 13400 participants. Bekele, Degitu came out as winners past the post. Top three Indian men rewrote the course records with L Surya winning star women's field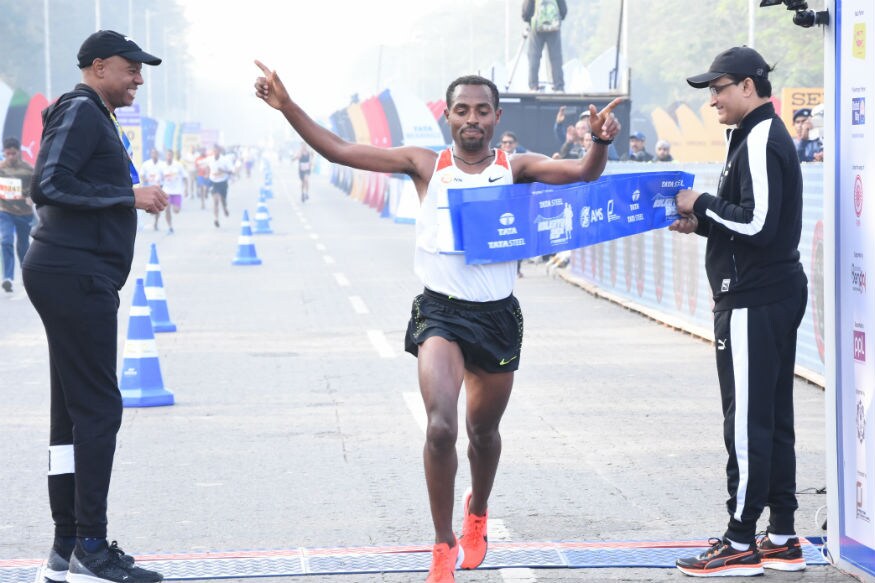 Bekele crosses the finish line.
The first international edition of the Tata Steel Kolkata run wound up over the weekend. Run over a distance of 25 kilometres, this was a race to remember with over 13400 participants. Bekele, Degitu came out as winners past the post. Top three Indian men rewrote the course records with L Surya winning star women's field.
The race in Kolkata was flagged off Kesari Nath Tripathi, the governor, H H Shri Shri Ravishankar, General Abhay Krishna, GOC&C Eastern Command, Arup Biswas, Minister PWD and Sports, T V Narendran, the MD Tata Steel.
The runners drew inspiration from the event ambassador Sourav Ganguly. Mike Powell was at the starting line too, encouraging the contestants. There was a nip in the air in Kolkata but the heat took on the streets with athletes sweating to cross the finishing line in much style.
One witnessed multiple world champion winner Kenenisa run past the post in the maiden appearance of TSK 25K in its with a timing of 1.13.48. Winner Avinash Sable set a course record of 1.15.17 in the Elite national section breaking the previous course record set by G Lakshmanan who came third with a timing of 1.17.13. Kalidas Hirave ran second with a timing of 1.16.18s. All three emerged victorious bettering record timing of 1.17.23 clocked in the last year.
The Ethiopian world champion earlier paced his race such that he stayed in the mix till the 21 kilometer mark and then broke loose. Past the post, his closest competitor was nowhere in sight.
The leading group went through the 7.5km checkpoint in a sluggish 24:24. Just before halfway, Bekele briefly went through a bad patch and drifted off the back of the leaders, with his compatriot Asefa Diro leading at 12km in 39:09 and Bekele seven seconds adrift in fifth place.
"The race was nice. The course is nice and flat all through. I have been training hard and the results showed. This was my first 25K and it feels good to have won it. It was a tactical race and I paced myself depending on the kind of competition I faced," marked Kenenisa.
"I would like to laud Procam for organizing such a well managed race," he said.
Avinash Sable admitted that his aim is the Commonwealth Games next. The ladies left their mark quite impressively. Ethiopian Degitu Azimeraw clocked in a timing of 1.26.0. She was followed by Kenyan Helah Kiprop with a timing of 1.26.04 and Tanzanian Failuna Matanga with 1.26.11. L Surya won from the Indian women clocking in a timing of 1.26.53. Sudha Singh wound up second followed by Manju Yadav. Remarkably, these ladies were from the Railways.
Final Results:
Overall Athlete Men
Kenenisa Bekele (ETH) 1:13:48; Tsegay Tuemay (ERI) 1:14:29; Augustino Sulle (TAN) 1:14:41; Avinash Sable (IND) 1:15:17; Asefa Diro (KEN) 1:15:37.
Overall Athlete Women
Degitu Azimeraw (ETH) 1:26:01; Helah Kiprop(KEN)1:26:04; Failuna Matanga(TAN) 1:26:11; Dibabe Kuma (ETH) 1:26:28; L. Suriya (IND) 1:26:53.
Overall Indian Athlete Men
Avinash Sable (IND) 1:15:17; Kalidas Hirave (IND) 1:16:18; G Lakshmanan (IND) 1:17:13; Govind Singh (IND) 1:22:19; Mukesh Singh(IND) 1:22:21; Shander Singh(IND) 1:22:28.
Overall Indian Athlete Women
L. Suriya L (IND) 1:26:53; Manju Yadav (IND) 1:32:51; Juma Khatun (IND) 1:32:58; Monika Athare (IND) 1:34:30; Monika Raut (IND) 1:36:08; Jyoti Gawate (IND) 1:38:52.

| Edited by: Madhav Agarwal
Read full article
Countdown To
Elections Results
To Assembly Elections 2018 Results