Brazil sure passion will drive 2014 WC
Brazil's top football official brushed aside concerns his country is not ready to host the 2014 World Cup.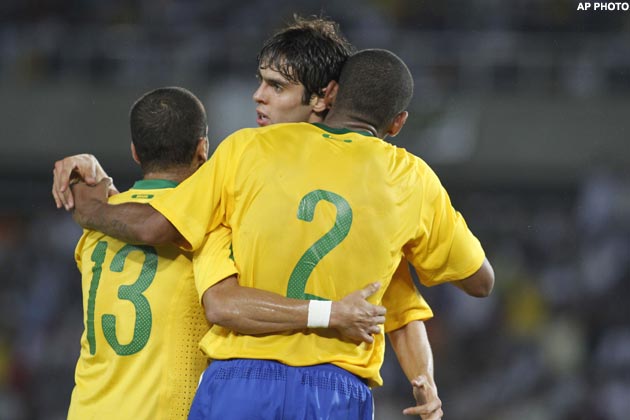 Brazil's top football official brushed aside concerns his country is not ready to host the 2014 World Cup.
Johannesburg: Brazil's top football official brushed aside concerns his country is not ready to host the 2014 World Cup, saying it will be a success because of the passion for football in the South American nation.
There have been concerns over security and transportation as well as the infrastructure, but the president of the Brazilian Football Confederation (CBF), Ricardo Teixeira, said these challenges will be overcome.
"This World Cup is very important for Brazil. It is a return of football, which is loved very dearly by Brazilians. The first gift for any child in Brazil is a soccer ball. There's a passion for soccer in Brazil and with that we will be able to achieve all our objectives in 2014," said the CBF boss.
"For Brazil, the spirit is there. We are all anxious, ecstatic and I'm sure that in 2014, Brazil will be great," added 1994 World Footballer of the Year Romario.
"We expect a wonderful tournament. I'm sure the atmosphere in Brazil will be one of the best and we want to turn the World Cup into a big party, a big spectacle," he said. "We're very hopeful we will show our real face then."
Teixeira admitted that Brazil, which last hosted the event in 1950, faces several challenges, most notably security.
"We do have a security problem in Brazil. But this is a worldwide problem and it's not specific to any country," he said.
"We have therefore sent a big security group to South Africa for a few days to really analyse their own situation and pick on issues that needed to be solved.
"But we have also organised major events like Eco '92 (an Earth Summit in Rio) and the annual Formula 1 championships and we have not had any breach in security."
Transportation will be another major challenge for the organisers in 2014, but Teixeira said Brazil plans to divide the vast country into four regions so as to ease movement of fans and teams during the competition.
"We plan urban mobility, and a budget has been approved in this respect. We will renovate our airports because that is one of our biggest problems," said Teixeira.
The hotbed of football in Brazil Sao Paulo. The country's largest city has been designated to stage both the opening and closing ceremonies, but is in danger of losing out on hosting World Cup games as it does not have a suitable stadium.
"Sao Paulo does not have a stadium. Should it build a new stadium or not? There are therefore certain doubts about what role Sao Paulo should play during the World Cup. There are financial constraints and we do not have financial guarantees," Teixeria said.
Five-time world champions Brazil bowed out of the 2010 World Cup in the quarter-final, but Romario said he hopes the South Americans will annex their sixth title when they host the rest of the world.
"In football, it's all about who wins the final and I believe we can do better than we did in South Africa. I hope we can be champions again. It will be important for us," he said.
The 2014 World Cup will be played from June 13 to July 13, 2014 in 12 venues across Brazil. The South American country will also stage the 2013 FIFA Confederations Cup and the 2015 Copa America as well as the 2016 Olympics.
The draw for the qualifying rounds of the tournament will be made July 31, 2011, six months later than originally planned.
Get the best of News18 delivered to your inbox - subscribe to News18 Daybreak. Follow News18.com on Twitter, Instagram, Facebook, Telegram, TikTok and on YouTube, and stay in the know with what's happening in the world around you – in real time.
Read full article