Brazil vs Serbia, FIFA World Cup 2018 Highlights - As It Happened
Catch all the action from the match between Brazil and Serbia through our live commentary.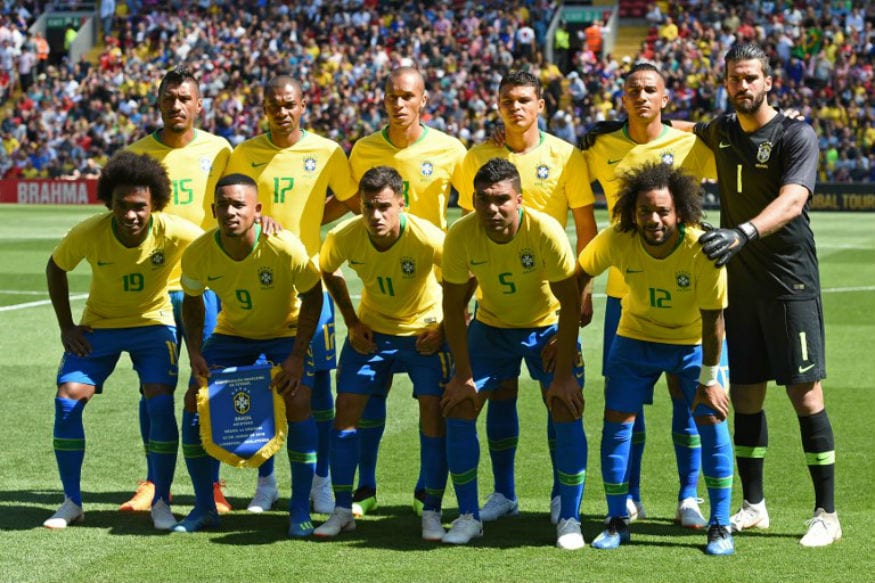 Brazil football team (Image: AFP)
Catch all the action from the match between Brazil and Serbia through our live commentary.
Brazil may have been one of the big disappointments so far at the Russia World Cup, but the pressure is on their opponents Serbia in their final Group E match in Moscow on Wednesday. Brazil, whose only defeats by the Balkan side came against the old Yugoslavia in 1930 and 1934, need just a draw to secure qualification for the last 16. For Serbia, who will want to be masters of their own fate, a win would guarantee their progress, although a draw could see them through if the Swiss are beaten by Costa Rica by more than one goal in the other group game. Brazil come into the game under fire at home after poor performances in their first two games. They were subdued in their 1-1 draw against Switzerland and had to wait until injury time to finally secure the goals and the win against a limited Costa Rica side. Full back Fagner believes the pressure is a result of their own spectacular showing leading up to the tournament, a period in which they lost only one match in 21, scoring 47 goals and conceding just five.
"I believe that because of all we did in the qualifiers and friendlies there is a huge expectation that we win our games," Fagner told reporters at Brazil's training camp. "Our opponents prepare well to neutralise us, but I think as games go on we will create chances either with plays from the professor (coach Tite) or through our own improvisations. Each result and win generates more confidence." Brazil are expected to be unchanged from the side that beat Costa Rica, although their biggest opponent may be themselves. The five-times World Cup winners have been criticised at home with striker Neymar bearing the brunt of the opprobrium. The most expensive player in the world and a constant presence on billboards, television and social media, Neymar has not lived up to the hype and broke down in tears after the last-gasp win over Costa Rica. Fagner brushed off suggestions that the pressure was already having an effect on Tite's side and said it was a natural reaction to – and maybe even a welcome consequence of – their own high standards. "We have created an expectation and that leads to pressure. We know we can get better, and that leaves us enthused because we know over the tournament you get better each game," he said.
Commentary:
90:Andrija Zivkovic has a go from outside the box but misses wide of the post.
89:Luka Jovic (on). Aleksandar Mitrovic (off). (Serbia)
86:Neymar has a go after a busted play which deflects off a Serbian player and right into his path. Vladimir Stojkovic gets out quick to slap the ball away.
83:Neymar unleashes a first time shot after a cross from Willian, but can't hit the frame from the bouncing ball.
82:Filip Kostic is subbed out for Nemanja Radonjic.
82:Nemanja Radonjic (on). Filip Kostic (off). (Serbia)
80:Philippe Coutinho is subbed out for Renato Augusto. Brazil's last substitution for the day.
80:Renato Augusto (on). Philippe Coutinho (off). (Brazil)
79:Nemanja Matic has a go on the volley, but gets under it too much and sends it over the bar.
78:Casemiro has a go from far away but skies it into row Z.
75:Adem Ljajic comes out for Andrija Zivkovic.
75:Andrija Zivkovic (on). Adem Ljajic (off). (Serbia)
71:Filipe Luis unleashes a rocket from outside the box but is parried away by Vladimir Stojkovic.
71:Aleksandar Mitrovic gets a yellow card for jawing at the referee.
70:Philippe Coutinho has a go after a beautiful run by Neymar down the left flank, but is deflected by the Serbian defense for a corner.
70:Aleksandar Mitrovic (Serbia)
68:Thiago Silva scores off a header from a corner whipped in by Neymar. 2-0 Brazil. Serbia have a lot of work ahead of them if they are to get into the knock-out stage.
68:Thiago Silva. Assist by Neymar (Brazil)
66:Paulinho, the goal scorer, has been replaced by Fernandinho. Tite will look for Fernandinho to regain control of the midfield.
66:Fernandinho (on). Paulinho (off). (Brazil)
65:Aleksandar Mitrovic gets on the end of a cross and jumps over Fagner, but heads it right into Alisson's arms.
63:Serbia have been knocking many balls into the box, but cannot get an open shot off.
61:Aleksandar Mitrovic heads tho ball right into Thiago Silva after the Alisson parried it right into his path. Mitrovic will want that one back.
57:Philippe Coutinho plays Neymar through on the counter but Dusan Tadic closes Neymar down and Vladimir Stojkovic parries the near post shot away.
56:Adem Ljajic whips in a ball which causes a clearance by Miranda which was too far away from the net.
55:Sergej Milinkovic-Savic has Serbia's first shot of the half from outside the box after a nice possession play but gets blocked on the way to the net.
48:Nemanja Matic trips Gabriel Jesus when Jesus was trying to start the counter and goes down in the referee's book.
48:Nemanja Matic (Serbia)
46:The teams switch sides as Brazil now attacks from left to right, and the second half is underway. As things stand now, Brazil will win Group E and Serbia will be eliminated.
45:Alireza Faghani blows the whistle and the half is over. Paulinho has the goal that has put Brazil up 1-0.
45:Neymar looks for a far post curler but misses just inches wide. Filipe Luis with the skillful pass to set up the shot.
40:Adem Ljajic forces Alisson for another punch off the corner kick. The rebound is hit by Dusan Tadic who mishits it above the bar.
36:Paulinho came through from a beautiful through ball from Philippe Coutinho and pokes it over the keeper in to the back of the net. 1-0 Brazil.
36:Paulinho. Assist by Philippe Coutinho (Brazil)
34:Dusan Tadic crosses in for Aleksandar Mitrovic but is behind him and misses the goal on the volley.
33:Adem Ljajic gets a yellow for a slide on Neymar.
33:Adem Ljajic (Serbia)
29:Gabriel Jesus recieves a beautiful through ball from Casemiro but his shot gets blocked on the way through, and the ball goes out for a corner.
25:Neymar looks to place the ball pack post but Vladimir Stojkovic gets a hand to it to deny Neymar and Brazil the first goal of the game.
21:Adem Ljajic whips in an inswinging ball from the corner which forces Alisson to punch it away.
15:Aleksandar Mitrovic tries to control the box near the penalty spot, but Miranda is there to clear the ball away.
14:Filip Kostic has a go on the volley but is deflected wide for a corner.
12:Serbia plays a ball into the box from the free kick which forces Alisson to come out and punch the all away.
10:Filipe Luis (on). Marcelo (off). (Brazil)
9:Marcelo has come off for Filipe Luis. It looks like he took a knock early which has caused the sub.
7:Serbia has been dumping many balls into the Brazilian box, but each attempt is headed out by the Brazilian defense.
4:Gabriel Jesus breaks through by himself and Vladimir Stojkovic parries the ball away one-on-one. Neymar has a go on the rebound but is called offsides.
2:Philippe Coutinho has an early strike at goal after Neymar dribbles through Serbia's defense, but hits it off of Gabriel Jesus who is in an offsides position.
1:Alireza Faghani leads an all Iranian crew today. He blows the whistle, and we are off here at the Otkritie Arena in Moscow. Brazil attacks from right to left and are sporting a yellow and blue kit, while Switzerland are wearing red and red.
0:Serbia (4-2-3-1) - Vladimir Stojkovic; Antonio Rukavina, Nikola Milenkovic, Milos Veljkovic, Aleksandar Kolarov; Nemanja Matic, Sergej Milinkovic-Savic; Dusan Tadic, Adem Ljajic, Filip Kostic; Aleksandar Mitrovic; Mladen Krstajic (M)
0:Brazil Substitutions - Cassio, Ederson Moraes, Pedro Geromel, Filipe Luis, Renato Augusto, Marquinhos, Fernandinho, Fred, Roberto Firmino, Taison
0:Brazil (4-3-3) - Alisson; Fagner, Thiago Silva, Miranda, Marcelo; Paulinho, Casemiro, Philippe Coutinho; Willian, Gabriel Jesus, Neymar; Tite (M)
0:Serbia looks to bounce back from a heartbreaking loss versus' Switzerland in which Xheridan Shaqiri scored in the 90th minute. Serbia will advance with a win against Brazil or a tie and a Switzerland loss. They will look for Nemanja Matic and Sergej Milinkovic-Savic to control the midfield and to stop Brazil's attack.
0:Brazil come into this match after securing a late victory versus' Costa Rica. Brazil will advance with either a win or tie today. They will look for Neymar and Coutinho to lead the line and penetrate Serbia's defense. There are two injuries to take note of, Douglas Costa, the player who sparked the Canary's in the Costa Rica victory, might be out the rest of the tournament with a thigh injury, while Danilo is also out with a thigh injury.
0:Welcome to the final match of Group E for Brazil and Serbia! Both teams have hopes to advance for the knock-out round, so let's take a look at how both these teams have fared in the tournament so far.
| Edited by: Madhav Agarwal
Read full article
Countdown To
Elections Results
To Assembly Elections 2018 Results