Dutch celebrate second place in WC
Houses along the canals were draped in flags and some had giant footballs hanging from their facades.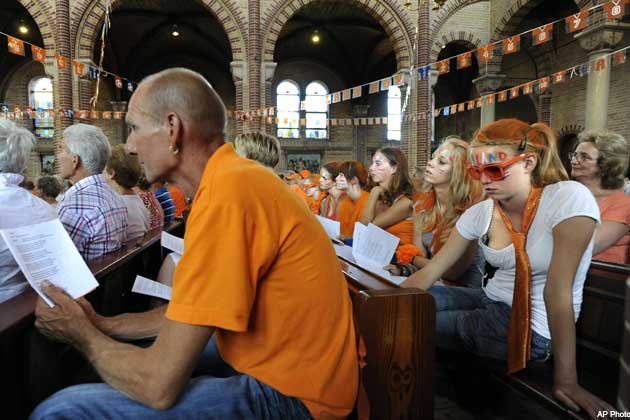 Houses along the canals were draped in flags and some had giant footballs hanging from their facades.
Amsterdam: Tens of thousands of fans lined Amsterdam's web of canals to cheer the World Cup runner-up Netherlands on an open-top boat tour of the waterways on Tuesday.
An hour before the team was due to arrive, two fans leapt into the murky waters of the Brouwersgracht canal cheered by hoards of orange-clad, flag-waving supporters — despite warnings from authorities that swimming in the canals could expose them to anything from E. coli bacteria to sunken bicycles and shopping carts.
"It's a bit much, considering we lost," said Loes Olden, who was sipping a glass of white wine at the water's edge at a table decked in an orange tarp, two ornate candle sticks and a bowl of oranges. "It's over the top, but we're enjoying it."
Houses along the canals were draped in flags and some had giant footballs hanging from their facades.
Earlier, the team was honored by Prime Minister Jan Peter Balkenende at the start of a hectic day of celebrations.
Under bunches of orange balloons, coach Bert van Marwijk and retiring captain Giovanni van Bronckhorst were given the honorary title of "Knight in the Order of Oranje Nassau" at a reception in front of Balkenende's official Catshuis residence.
The team then was driven by coach to meet Queen Beatrix at her Noordeinde Palace in The Hague.
Later Tuesday, an Air Force helicopter was whisking the team to Amsterdam for its boat tour and an open-air party at Museum Square, where fans watched the action from South Africa on giant screens throughout the tournament.
City officials were expecting up to a million fans to descend on Amsterdam to cheer their team.
Orange-clad supporters began pouring into the grassy square, flanked on two sides by the Rijksmuseum and Van Gogh Museum, hours before the party's scheduled 5 p.m. (1500 GMT) start.
Around midday, a small barge full of fans wearing bright orange vests and pumping out dance music chugged through one canal heading for the start point of the team's boat tour.
Security staff were posted next to a handful of house boats along the route in an effort to prevent fans clambering onto their roofs. When the Netherlands won its only international title, the 1988 European Championship, several house boats were badly damaged and a few sank amid wild scenes of jubilation.
The Dutch lost 1-0 in extra time to Spain in Sunday's final — the third time the country has lost the final after defeats in 1974 and '78.
Dennis Nuitermans, who runs a car showroom in the southern city of Breda, traveled to Amsterdam on his 32nd birthday for the celebration.
"It doesn't happen often that we are second in the world so we're coming for a great day out in Amsterdam," he said.
While Nuitermans was pleased with the team's second place, he was critical of its style of play. Van Marwijk ditched the trademark Dutch flowing, attacking style known the world over as "total football" and replaced it with patient passing and uncompromising tackling he calls "result football."
"It was not really Dutch, but it was efficient," Nuitermans said. "The final was not exactly charming. It was pretty ugly at times."
Eight Dutchmen were booked and defender John Heitinga was sent off in an ill-tempered final in Johannesburg, where five Spain players were also booked.
Netherlands winger Arjen Robben said his missed chance on the hour was still haunting him. The Bayern Munich star had only Iker Casillas to beat, but the Spain goalkeeper deflected Robben's shot wide with his outstretched foot.
"You want nothing more than to score that goal. It was a big chance," he said. "It hurts to miss a chance like that."
Get the best of News18 delivered to your inbox - subscribe to News18 Daybreak. Follow News18.com on Twitter, Instagram, Facebook, Telegram, TikTok and on YouTube, and stay in the know with what's happening in the world around you – in real time.
Read full article