F1: Lewis Hamilton Fastest In Third and Final Practice at Russian Grand Prix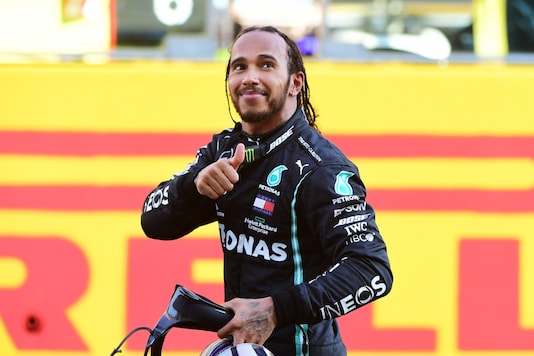 Lewis Hamilton (Photo Credit: Twitter)
Formula One: Lewis Hamilton timed 1 minute, 33.279 in the third and final practice session ahead of qualifying as well as .776 better than his Mercedes teammate Valtteri Bottas at Russian Grand Prix
Last Updated: September 26, 2020, 23:29 IST
FOLLOW US ON:
SOCHI, Russia: Lewis Hamilton took a step closer to equaling the Formula One win record on Saturday by clinching pole position at the Russian Grand Prix, after narrowly avoiding early elimination when Sebastian Vettel crashed.
Hamilton charged to a track-record time of 1 minute, 31.304 seconds, beating the Red Bull of Max Verstappen by .563 for his fifth straight pole position. Hamilton can achieve his 91st career win in the race on Sunday, matching the record held by Michael Schumacher.
Hamilton's Mercedes teammate, Valtteri Bottas, was beaten into third by Verstappen's fast run at the end of the session and was .652 off Hamilton's time.
Vettel lost control of his car over the kerb on the inside of the 90-degree, right-hand turn four and spun into the wall, before the Ferrari bounced back onto the track. Teammate Charles Leclerc was following closely behind and narrowly missed the wrecked car, driving over its discarded front wing.
Oh my god, that was very, very close," Leclerc told his team over the radio. Leclerc qualified 11th and Vettel 15th as Ferrari failed to reach the top-10 shootout with either car for the third time in four races.
Vettel's crash meant the red flag was waved while Hamilton was trying to set his first valid lap time to make the third session after his first attempt was earlier ruled out for going off the track.
After the track was cleared and the session restarted, Hamilton had to rush his out-lap to make it over the line in time for another flying lap with just a second to spare.
___
More AP sports: https://apnews.com/apf-sports and https://twitter.com/AP_Sports
First Published: September 26, 2020, 15:51 IST
Next Story