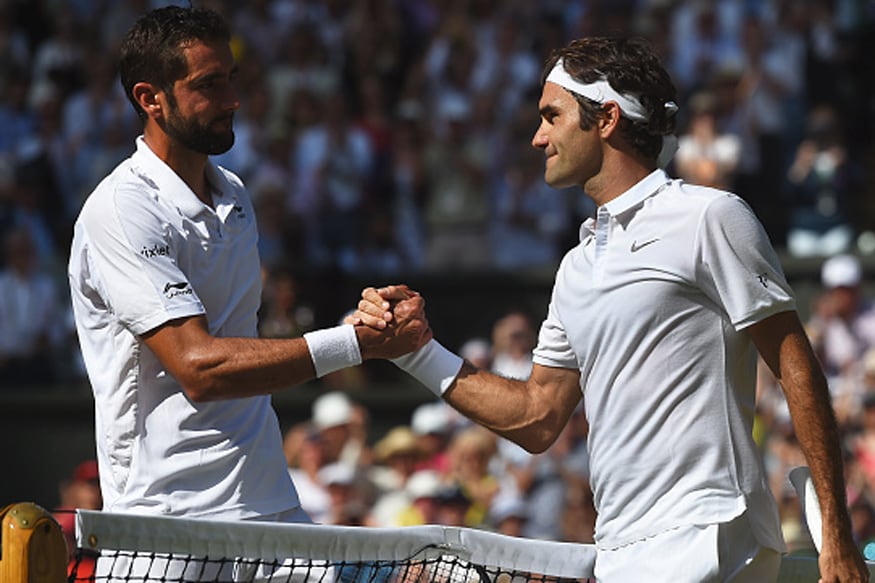 (Getty Images)

Victory over Croatian giant Marin Cilic will also give him a 19th career Grand Slam title and second in three majors this year after sweeping to a fifth Australian Open in January following a six-month absence.

"I was hoping to be in good shape when the grass court season came around," said Federer who, for good measure, also pocketed back-to-back Masters at Indian Wells and Miami as well as a ninth Halle grass court crown.

"The first three, four months were just like a dream really. So this is something I was working towards, you know, Wimbledon, to be in good shape. I'm happy it's paying off here now."

When Cilic won his only Slam in New York three years ago, he demolished Federer in straight sets in the semi-finals.

"I don't want to say it's more relaxed going into it because I have a good head-to-head record against Marin, even though the matches were extremely close," said Federer.

"But it's not like we've played against each other 30 times. You feel like you have to reinvent the wheel.

"It's more straightforward, in my opinion. I think that's nice in some ways. It's a nice change, but it doesn't make things easier."

Cilic is only the second Croatian man to reach the Wimbledon final after Goran Ivanisevic, his former coach, who swept to a memorable title victory in 2001.

A win on Sunday would also make him the first Wimbledon champion outside of Federer, Murray, Djokovic and Nadal since Lleyton Hewitt triumphed in 2002.

However, he has only won one of his last 12 matches against a top five player at the Slams, even if that was over Federer in New York three years ago.

Cilic has fired 130 aces at Wimbledon this year and dropped just 10 service games.


11 Dec, 2019 |

West Indies in India

IND
vs
WI
240/3

20.0 overs

173/8

20.0 overs

India beat West Indies by 67 runs

08 Dec, 2019 |

West Indies in India

IND
vs
WI
170/7

20.0 overs

173/2

18.3 overs

West Indies beat India by 8 wickets

06 Dec, 2019 |

West Indies in India

WI
vs
IND
207/5

20.0 overs

209/4

18.4 overs

India beat West Indies by 6 wickets

29 Nov - 02 Dec, 2019 |

Pakistan in Australia

AUS
vs
PAK
589/3

127.0 overs

302/10

94.4 overs

Australia beat Pakistan by an innings and 48 runs

29 Nov - 03 Dec, 2019 |

England in New Zealand

NZ
vs
ENG
375/10

129.1 overs

476/10

162.5 overs

New Zealand drew with England