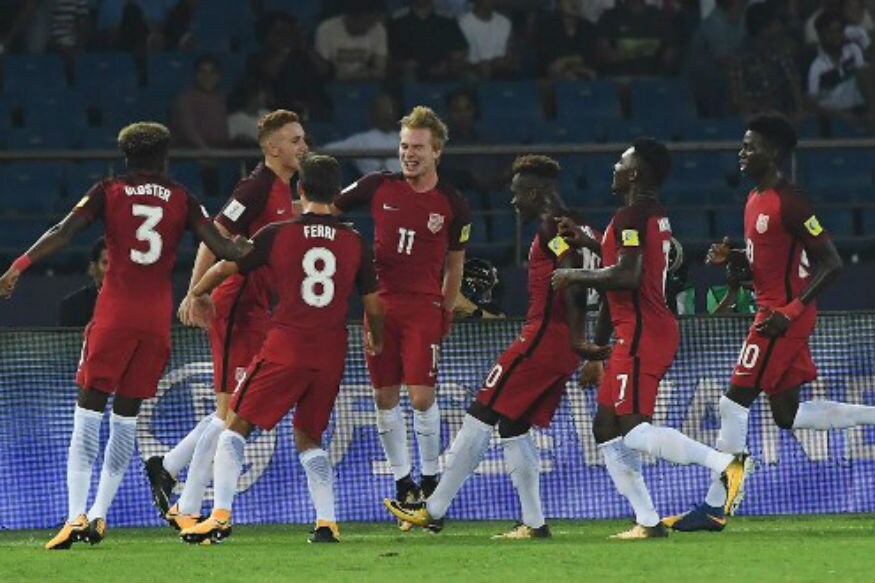 A file photo of USA U-17 football team. (AFP)

"The fact that the senior team has not done well does, fortunately or unfortunately have an effect on the boys. It is a challenge and a lesson."

"We want to do well for the fans," added the coach John Hackworth in a pre-match press conference.

The USA are literally the veterans of the U-17 tournament, having played their part in 16 editions. Led by Josh Sargent and his experience of a U-20 World Cup, this team has been clinical for the better part of the first round which eventually saw them finish top of Group A.

"We had one bad half out of six in the first three games. But now there are no second chances. Our performance in the second half against Colombia isn't indicative of our real potential," said Hackworth.

The likes of James Sands, Chris Durkin and Justin Garces have conceded thrice and kept two clean sheets in three games. While the trio of Sargent, Tim Weah and Andrew Carleton have helped keep the attacking flow intact, the team has managed to find the back of the net only 5 times.

"One of our main objectives will be to sharpen our attacking skills. We have to work on that as we look to counter Paraguay's plans. They are a very strong team."

Paraguay come into this game high on confidence as they are unbeaten having registered morale boosting wins against New Zealand, Mali and Turkey. They scored at least thrice on each of the occasions.

"We came through a difficult first round, but now against USA is where the World Cup really begins," said the coach Gustavo Morinigo.

Led by Alex Duarte, the South Americans came through group stages at a canter, and are well aware of the damage the Group A toppers can cause to them.

"The US is really a complicated team, the individuals, the captain himself, it has one of the best players and the team is really good," Morinigo told reporters.

Morinigo's free scoring side have taken their preparations very seriously, and are expected to come out firing at all cylinders, just like they have taken the game to their opponents in the previous outings.

"We have been practicing with this for a year at least. The team has not only prepared themselves mentally but also technically. The fact that they are representing their country in itself is a big motivation," concluded the coach.

Considering the attacking powers both sides bring to the fore in the second tie of the Round of 16, one expects USA vs Paraguay to be an open game with lots of goals to light up this Monday evening.



11 Dec, 2019 |

West Indies in India

IND
vs
WI
240/3

20.0 overs

173/8

20.0 overs

India beat West Indies by 67 runs

08 Dec, 2019 |

West Indies in India

IND
vs
WI
170/7

20.0 overs

173/2

18.3 overs

West Indies beat India by 8 wickets

06 Dec, 2019 |

West Indies in India

WI
vs
IND
207/5

20.0 overs

209/4

18.4 overs

India beat West Indies by 6 wickets

29 Nov - 02 Dec, 2019 |

Pakistan in Australia

AUS
vs
PAK
589/3

127.0 overs

302/10

94.4 overs

Australia beat Pakistan by an innings and 48 runs

29 Nov - 03 Dec, 2019 |

England in New Zealand

NZ
vs
ENG
375/10

129.1 overs

476/10

162.5 overs

New Zealand drew with England