FIFA U-17 World Cup, Brazil vs Niger Highlights - As It Happened
Catch all the action with our LIVE commentary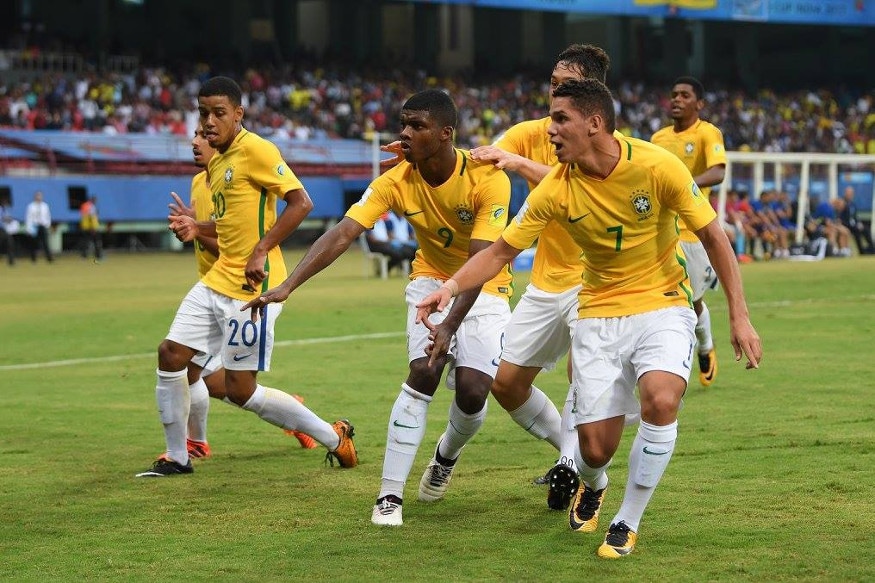 Brazil U-17 Team Celebrate in Kochi (Image - FIFA)
PREVIEW BRA vs NIG:
Assured of a pre-quarterfinal spot in the FIFA U-17 World Cup, three-time champions Brazil would look to entertain the Goan crowd with yet another win when they take on debutants Niger in their last Group D match here on Friday.
The Teams (From): Brazil: Gabriel Brazao, Wesley, Vitao. Lucas Halter, Victor Bobsin, Weverson, Paulinho, Marcos Antonio, Lincoln, Alan, Lucao, Matheus Stockl, Rodrigo Guth, Luan Candido, Victor Yan, Rodrigo Nestor, Vitinho, Yuri Alberto, Brenner, Yuri Sena.
Niger: Moussa Laouali, Yacine Wa Massamba, Mahamadou Mahamane, Nasser Mahaman, Farouk Idrissa, Ismael Issaka, Habibou Sofiane, Kairou Amoustapha, Rachid Alfari, Karim Tinni, Djibrilla Ibrahim, Yacouba Aboubacar, Kader Aboubacar, Rachid Soumana, Abdoulaye Boubacar, Ibrahim Boubacar, Ibrahim Namata, Salim Abdourahmane, Hamid Galissoune, Khaled Lawali.
Catch the Biggest Newsmakers and the Biggest Newsbreaks on CNN-News18, your favourite English TV news channel. Keep watching CNN-News18 at just 50 Paise per Month. Contact your cable /DTH operator Now!
*Rental / capacity fee of Rs.130/- as charged by cable / DTH operator may apply. **GST extra.


FIFA U-17 World Cup, 2017
1:27
Throw-In - Niger : Nasser Mahaman
1:54
Throw-In - Brazil : Weverson Costa
3:16
Throw-In - Niger : Ibrahim Namata
3:30
Throw-In - Niger : Ibrahim Namata
4:42
Cross - Brazil : Paulo Filho
4:47
On Target - Brazil : Lincoln Santos
4:47
Goal - Brazil : Lincoln Santos
6:28
Corner - Brazil : Victor Oliveira
6:34
Cross - Brazil : Brenner Silva
6:38
On Target - Brazil : Lincoln Santos
7:5
Goal Kick - Niger : Khaled Lawali
7:53
Throw-In - Niger : Ibrahim Namata
8:42
Cross - Brazil : Weverson Costa
9:6
Goal Kick - Niger : Khaled Lawali
9:15
On Target - Brazil : Victor Oliveira
9:31
Throw-In - Brazil : Weverson Costa
9:52
Foul - Brazil : Paulo Filho
12:23
Throw-In - Niger : Ibrahim Namata
13:5
Off Target - Niger : Nasser Mahaman
13:23
Goal Kick - Brazil : Gabriel Brazao
13:52
Throw-In - Brazil : Weverson Costa
13:58
Foul - Niger : Farouk Idrissa
14:49
Free Kick - Brazil : Victor Oliveira
15:13
Throw-In - Brazil : Weverson Costa
16:13
Offside - Niger : Kairou Amoustapha
16:30
Free Kick - Brazil : Wesley Andrade
17:19
Corner - Brazil : Victor Oliveira
17:24
Foul - Niger : Yacine Massamba
17:53
Free Kick - Brazil : Victor Oliveira
17:57
Cross - Brazil : Victor Oliveira
18:18
Corner - Brazil : Victor Oliveira
18:30
Off Target - Brazil : Brenner Silva
18:53
Goal Kick - Niger : Khaled Lawali
20:4
Throw-In - Brazil : Weverson Costa
20:44
Throw-In - Niger : Ibrahim Namata
21:21
Throw-In - Brazil : Wesley Andrade
22:3
On Target - Brazil : Wesley Andrade
23:13
Corner - Brazil : Victor Oliveira
24:12
Throw-In - Brazil : Wesley Andrade
24:17
Off Target - Brazil : Victor Oliveira
24:37
Goal Kick - Niger : Khaled Lawali
27:2
Throw-In - Niger : Farouk Idrissa
27:16
Cross - Brazil : Victor Oliveira
27:33
Throw-In - Brazil : Weverson Costa
28:5
Throw-In - Brazil : Lucas Halter
28:25
Foul - Niger : Ibrahim Namata
30:21
Free Kick - Brazil : Weverson Costa
30:45
Cross - Brazil : Marcos Santos
30:49
Off Target - Brazil : Victor Oliveira
31:26
Goal Kick - Niger : Khaled Lawali
32:3
Corner - Brazil : Victor Oliveira
32:53
Foul - Niger : Djibrilla Ibrahim
33:40
Yellow Card - Niger : Djibrilla Ibrahim
34:56
Free Kick - Brazil : Brenner Silva
34:58
Goal - Brazil : Brenner Silva
35:6
On Target - Brazil : Brenner Silva
36:7
Throw-In - Niger : Kairou Amoustapha
36:22
Off Target - Niger : Habibou Sofiane
36:47
Goal Kick - Brazil : Gabriel Brazao
37:21
Throw-In - Niger : Ibrahim Namata
37:50
Goal Kick - Brazil : Gabriel Brazao
39:9
Foul - Niger : Nasser Mahaman
39:44
Free Kick - Brazil : Victor Oliveira
40:3
Throw-In - Niger : Ibrahim Namata
40:31
Throw-In - Brazil : Wesley Andrade
41:7
Foul - Niger : Yacine Massamba
41:17
Free Kick - Brazil : Victor Pereira
41:50
Foul - Niger : Karim Tinni
42:4
Free Kick - Brazil : Wesley Andrade
42:16
Foul - Brazil : Wesley Andrade
42:28
Free Kick - Niger : Nasser Mahaman
43:0
Cross - Niger : Ibrahim Namata
44:17
Foul - Niger : Kairou Amoustapha
44:32
Free Kick - Brazil : Wesley Andrade
45:0
Substitution - Brazil (In: Helio Junio, Out: Victor Oliveira)
45:0
Throw-In - Niger : Rachid Soumana
45:0
Throw-In - Niger : Rachid Soumana
45:0
Off Target - Brazil : Brenner Silva
45:0
Corner - Brazil : Brenner Silva
45:0
Throw-In - Niger : Rachid Soumana
45:0
Throw-In - Niger : Ibrahim Namata
46:1
Start of Second Half
46:29
Off Target - Brazil : Helio Junio
46:49
Goal Kick - Niger : Khaled Lawali
47:10
Cross - Niger : Yacine Massamba
47:17
Off Target - Niger : Habibou Sofiane
47:55
Substitution - Niger (In: Salim A'urahmane, Out: Karim Tinni)
48:14
Goal Kick - Brazil : Gabriel Brazao
48:45
Corner - Niger : Yacine Massamba
49:20
Free Kick - Brazil : Lucas Halter
50:59
Throw-In - Brazil : Wesley Andrade
52:1
Substitution - Niger (In: Ibrahim Boubacar, Out: Kairou Amoustapha)
52:17
Goal Kick - Brazil : Gabriel Brazao
54:42
Cross - Brazil : Weverson Costa
55:3
Throw-In - Niger : Habibou Sofiane
55:28
On Target - Niger : Yacine Massamba
57:18
Throw-In - Brazil : Weverson Costa
59:20
Off Target - Brazil : Lincoln Santos
59:35
Goal Kick - Niger : Salim A'urahmane
60:37
Goal Kick - Brazil : Gabriel Brazao
61:21
Goal Kick - Niger : Khaled Lawali
61:44
Cross - Niger : Rachid Soumana
61:51
Cross - Niger : Djibrilla Ibrahim
62:17
Throw-In - Niger : Rachid Soumana
62:27
Throw-In - Brazil : Wesley Andrade
63:8
Throw-In - Brazil : Wesley Andrade
63:31
On Target - Niger : Yacine Massamba
64:2
Corner - Niger : Salim A'urahmane
64:11
Cross - Niger : Salim A'urahmane
66:18
Goal Kick - Brazil : Gabriel Brazao
67:12
Cross - Niger : Salim A'urahmane
67:16
On Target - Niger : Ibrahim Boubacar
68:48
Off Target - Niger : Habibou Sofiane
69:35
Foul - Niger : Djibrilla Ibrahim
70:49
Throw-In - Niger : Ibrahim Namata
72:22
Throw-In - Brazil : Wesley Andrade
72:27
Foul - Niger : Farouk Idrissa
73:4
Free Kick - Brazil : Brenner Silva
73:5
Cross - Brazil : Brenner Silva
74:30
Foul - Brazil : Helio Junio
74:58
Substitution - Brazil (In: Rodrigo Bertalia, Out: Paulo Filho)
76:44
Free Kick - Niger : Khaled Lawali
76:55
Cross - Niger : Ibrahim Namata
77:44
Throw-In - Niger : Rachid Soumana
78:5
Throw-In - Brazil : Wesley Andrade
78:53
Corner - Brazil : Helio Junio
79:2
Cross - Brazil : Helio Junio
79:17
Goal Kick - Niger : Khaled Lawali
79:39
Foul - Niger : Ibrahim Boubacar
79:50
Substitution - Niger (In: Innoussa Amadou, Out: Farouk Idrissa)
80:11
Free Kick - Brazil : Vitor Matos
80:34
Cross - Brazil : Weverson Costa
80:54
Goal Kick - Niger : Khaled Lawali
81:4
Throw-In - Brazil : Weverson Costa
81:59
Cross - Niger : Rachid Soumana
82:50
Substitution - Brazil (In: Luan Almeida, Out: Weverson Costa)
83:10
Throw-In - Niger : Ibrahim Namata
83:57
Goal Kick - Brazil : Gabriel Brazao
84:29
Goal Kick - Niger : Khaled Lawali
84:45
Cross - Niger : Habibou Sofiane
86:5
Foul - Niger : Ibrahim Boubacar
86:15
Free Kick - Niger : Kader Aboubacar
86:53
Throw-In - Brazil : Helio Junio
87:9
Throw-In - Niger : Rachid Soumana
87:19
Cross - Niger : Ibrahim Boubacar
88:2
Throw-In - Niger : Ibrahim Namata
90:28
Off Target - Brazil : Wesley Andrade
90:52
Goal Kick - Niger : Khaled Lawali
90:0
Foul - Brazil : Victor Pereira
90:0
Free Kick - Niger : Kader Aboubacar
90:0
Foul - Niger : Nasser Mahaman
90:0
Free Kick - Brazil : Helio Junio
90:0
Cross - Brazil : Wesley Andrade
90:0
Foul - Brazil : Brenner Silva
90:0
Off Target - Brazil : Helio Junio
90:0
Goal Kick - Niger : Khaled Lawali
90:0
On Target - Niger : Ibrahim Boubacar
90:0
Corner - Niger : Yacine Massamba
Read full article
Countdown To
Elections Results
To Assembly Elections 2018 Results