GET Stock

Quotes


FIFA U-17 World Cup, England vs Japan Highlights - As It Happened
Follow all the live action from FIFA U-17 World Cup as England take on Japan.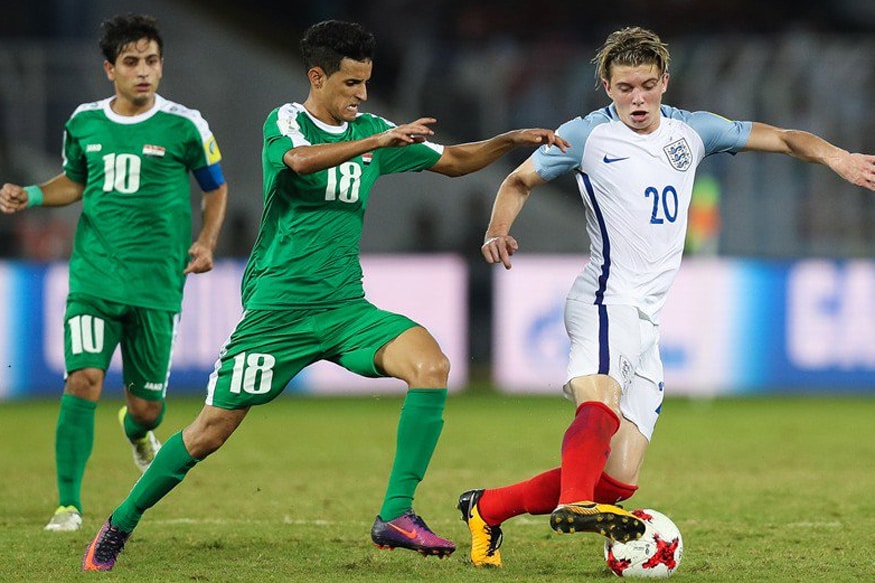 England in action against Iraq. (FIFA/Twitter)
PREVIEW: Even without star player Jadon Sancho, in-form England start as hot favourites against Asian heavyweights Japan in their FIFA U-17 World Cup pre-quarterfinal clash at the Vivekananda Yuva Bharati Krirangan here on Tuesday.
FIFA U-17 World Cup, 2017
1:47
Goal Kick - England : Curtis Anderson
2:34
Goal Kick - England : Curtis Anderson
3:12
Foul - Japan : Hinata Kida
3:24
Free Kick - England : Callum Odoi
4:15
Throw-In - Japan : Toichi Suzuki
4:43
On Target - Japan : Soichiro Kozuki
6:11
Throw-In - England : Jonathan Panzo
6:19
Foul - Japan : Hinata Kida
7:6
Throw-In - England : Jonathan Panzo
8:46
Throw-In - England : Philip Foden
9:29
Corner - England : Philip Foden
10:1
Throw-In - Japan : Kosei Tani
10:18
Throw-In - Japan : Hinata Kida
10:39
Foul - Japan : Yuki Kobayashi
10:49
Yellow Card - Japan : Yuki Kobayashi
11:41
Free Kick - England : Philip Foden
12:5
Throw-In - England : Jonathan Panzo
12:13
Throw-In - England : Jonathan Panzo
12:55
Throw-In - Japan : Toichi Suzuki
13:23
Throw-In - England : Steven Sessegnon
14:18
On Target - England : Rhian Brewster
16:16
Foul - England : Philip Foden
16:33
Free Kick - Japan : Yukinari Sugawara
16:40
Foul - Japan : Takefusa Kubo
16:57
Free Kick - England
17:19
Throw-In - England : Jonathan Panzo
17:41
Throw-In - Japan : Toichi Suzuki
18:7
Off Target - Japan : Takefusa Kubo
21:32
Foul - England : Joel L'eaudiere
22:37
Cross - England : Steven Sessegnon
23:3
Throw-In - England : Steven Sessegnon
23:50
Off Target - England : Rhian Brewster
24:18
Goal Kick - Japan : Kosei Tani
24:23
Foul - England : Steven Sessegnon
25:19
Corner - England : Angel Gomes
25:49
Throw-In - Japan : Toichi Suzuki
26:25
Throw-In - England : Jonathan Panzo
27:5
Off Target - England : Rhian Brewster
27:35
Goal Kick - Japan : Kosei Tani
27:53
Throw-In - England : Steven Sessegnon
28:34
Cross - England : Philip Foden
28:41
Off Target - England : Philip Foden
28:57
Throw-In - England : Steven Sessegnon
29:25
Foul - England : Philip Foden
31:16
Free Kick - Japan : Kosei Tani
31:34
Throw-In - England : Steven Sessegnon
33:18
Throw-In - Japan : Toichi Suzuki
33:39
Throw-In - England : Steven Sessegnon
34:28
Corner - England : Philip Foden
35:2
Goal Kick - Japan : Kosei Tani
35:23
Throw-In - Japan : Toichi Suzuki
35:57
Throw-In - England : Callum Odoi
37:14
Foul - England : Jonathan Panzo
37:37
Yellow Card - England : Jonathan Panzo
37:53
Off Target - Japan : Soichiro Kozuki
38:30
Goal Kick - England : Curtis Anderson
39:3
Throw-In - Japan : Hinata Kida
39:15
Foul - England : Rhian Brewster
39:42
Free Kick - Japan : Kosei Tani
39:55
Throw-In - England : Steven Sessegnon
40:6
On Target - England : Philip Foden
41:36
Corner - England : Philip Foden
41:59
Throw-In - England : Jonathan Panzo
42:10
Cross - England : Callum Odoi
42:14
On Target - England : Philip Foden
42:46
Corner - England : Philip Foden
42:53
Off Target - England : Rhian Brewster
43:20
Goal Kick - Japan : Kosei Tani
43:26
Foul - Japan : Takefusa Kubo
43:45
Free Kick - England : George McEachran
43:59
Throw-In - England : Steven Sessegnon
44:0
Goal Kick - Japan : Kosei Tani
45:12
Throw-In - England : Steven Sessegnon
45:0
Throw-In - England : Jonathan Panzo
45:0
Off Target - Japan : Soichiro Kozuki
45:0
Goal Kick - England : Curtis Anderson
46:1
Start of Second Half
46:19
Throw-In - England : Steven Sessegnon
47:25
Foul - Japan : Keito Nakamura
47:34
Free Kick - England : Marc Guehi
48:33
Throw-In - England : Jonathan Panzo
48:59
Foul - Japan : Taisei Miyashiro
49:10
Free Kick - England : George McEachran
49:28
Cross - England : Angel Gomes
49:45
On Target - England : George McEachran
51:3
Cross - England : Callum Odoi
51:23
Throw-In - Japan : Toichi Suzuki
51:51
Throw-In - Japan : Toichi Suzuki
52:26
Throw-In - England : Jonathan Panzo
54:31
Off Target - England : George McEachran
54:59
Substitution - Japan (In: Naoki Tsubaki, Out: Keito Nakamura)
55:17
Goal Kick - Japan : Kosei Tani
57:12
Cross - England : Callum Odoi
57:42
Cross - England : Callum Odoi
57:58
Foul - England : Steven Sessegnon
58:18
Free Kick - Japan : Yuki Kobayashi
59:13
Goal Kick - England : Curtis Anderson
61:25
Off Target - Japan : Takefusa Kubo
61:49
Goal Kick - England : Curtis Anderson
63:29
Corner - Japan : Takefusa Kubo
64:4
Corner - Japan : Takefusa Kubo
64:38
Substitution - England (In: Emile Rowe, Out: Angel Gomes)
65:8
Goal Kick - England : Curtis Anderson
66:45
Cross - Japan : Hinata Kida
67:5
Throw-In - Japan : Hinata Kida
67:13
Foul - Japan : Takefusa Kubo
67:32
Free Kick - England : Curtis Anderson
68:13
Offside - England : Emile Rowe
68:42
Substitution - England (In: Morgan White, Out: Tashan Boothe)
69:38
On Target - Japan : Takefusa Kubo
71:2
Corner - Japan : Takefusa Kubo
73:34
Corner - Japan : Takefusa Kubo
75:55
Throw-In - England : Jonathan Panzo
76:31
On Target - Japan : Taisei Miyashiro
77:22
Throw-In - England : Steven Sessegnon
78:26
Substitution - England (In: Nya Kirbi, Out: George McEachran)
78:49
Throw-In - Japan : Hinata Kida
79:39
Goal Kick - England : Curtis Anderson
80:5
Throw-In - Japan : Hinata Kida
81:6
Foul - Japan : Yuki Kobayashi
81:56
Free Kick - England : Nya Kirbi
83:4
Throw-In - England : Jonathan Panzo
83:21
Off Target - England : Emile Rowe
83:47
Goal Kick - Japan : Kosei Tani
84:32
Cross - England : Callum Odoi
84:35
On Target - England : Nya Kirbi
85:1
Corner - England : Philip Foden
85:21
Throw-In - England : Jonathan Panzo
85:27
Cross - England : Callum Odoi
85:52
Cross - England : Emile Rowe
87:22
Corner - England : Philip Foden
87:37
Throw-In - Japan : Naoki Tsubaki
87:48
Cross - Japan : Naoki Tsubaki
87:52
Off Target - Japan : Taisei Miyashiro
88:20
Corner - England : Philip Foden
89:35
Corner - England : Philip Foden
90:37
Throw-In - England : Callum Odoi
90:0
Throw-In - Japan : Hinata Kida
90:0
Cross - Japan : Toichi Suzuki
90:0
Throw-In - Japan : Hinata Kida
90:0
On Target - Japan : Soichiro Kozuki
90:0
Goal Kick - England : Curtis Anderson
90:0
On Target - England : Nya Kirbi
90:0
Throw-In - England : Steven Sessegnon
90:0
Cross - England : Callum Odoi
0:0
penalty-shootout - England : Rhian Brewster
0:0
penalty-shootout - Japan : Yukinari Sugawara
0:0
penalty-shootout - England : Callum Odoi
0:0
penalty-shootout - Japan : Taisei Miyashiro
0:0
penalty-shootout - England : Philip Foden
0:0
penalty-shootout - Japan : Hinata Kida
0:0
penalty-shootout - England : Curtis Anderson
0:0
penalty-shootout - Japan : Soichiro Kozuki
0:0
penalty-shootout - England : Nya Kirbi
(Get detailed and live results of each and every seat of the state Assemblies in Madhya Pradesh, Rajasthan, Telangana, Chhattisgarh and Mizoram to know which candidate/party is leading or trailing and to know who has won and who has lost and by what margin. Our one-of-its-kind Election Analytics Centre lets you put on the psephologist's hat. Know interesting facts and trivia about the elections. Elections = News18)
Read full article
Countdown To
Elections Results
To Assembly Elections 2018 Results