GET Stock

Quotes


FIFA U-17 World Cup, France vs Spain Highlights - As It Happened
Follow all the live action from FIFA U-17 World Cup as France take on Spain.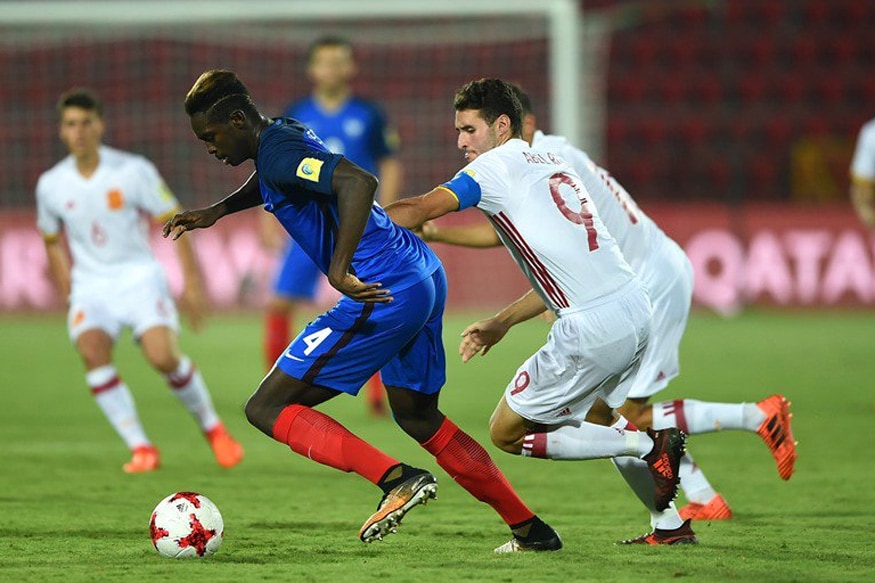 France and Spain. (Twitter/FIFA)
PREVIEW: On a roll after three wins on the trot in the group stage, former champions France face fellow European powerhouse Spain in a potentially high voltage round of 16 clash. France have entered into this tournament not as one of the four automatic qualifiers from Europe but after featuring in a fifth place play-off match. But they have been having a brilliant run of form so far in India though they were placed in a comparatively easier group.
FIFA U-17 World Cup, 2017
3:3
Corner - Spain : Sergio Gomez
4:18
Goal Kick - Spain : Alvaro Fernandez
5:52
Throw-In - France : Vincent Collet
6:18
Throw-In - Spain : Juan Miranda
8:52
Corner - Spain : Sergio Gomez
11:3
Throw-In - France : Vincent Collet
12:17
Foul - France : William Bianda
13:9
Cross - Spain : Sergio Gomez
13:27
Throw-In - Spain : Juan Miranda
13:40
Throw-In - France : Vincent Collet
13:51
Foul - Spain : Mohamed Moukhliss
13:0
Free Kick - France : Claudio Gomes
14:33
Off Target - France : Lenny Pintor
15:23
Offside - Spain : Abel Ruiz
15:35
Free Kick - France : Yahia Fofana
17:53
Cross - Spain : Ferran Torres
18:37
Foul - France : William Bianda
19:30
Free Kick - Spain : Sergio Gomez
19:35
Cross - Spain : Sergio Gomez
19:41
Off Target - Spain : Ferran Torres
20:1
Goal Kick - France : Yahia Fofana
20:58
Corner - France : Alexis Flips
21:12
Cross - France : Yacine Adli
21:35
Off Target - France : Amine Gouiri
23:51
Foul - Spain : Mohamed Moukhliss
24:10
Free Kick - France : Oumar Solet
24:20
Foul - Spain : Ferran Torres
25:11
Free Kick - France : Alexis Flips
25:16
On Target - France : Alexis Flips
26:40
On Target - Spain : Abel Ruiz
27:50
Cross - France : Lenny Pintor
27:0
Off Target - France : Claudio Gomes
28:11
Goal Kick - Spain : Alvaro Fernandez
28:0
Throw-In - France : Maxence Caqueret
29:29
Off Target - France : Maxence Caqueret
31:43
Goal Kick - Spain : Alvaro Fernandez
33:26
Corner - France : Alexis Flips
33:43
Cross - France : William Bianda
33:52
Foul - France : Oumar Solet
33:59
Yellow Card - France : Maxence Lacroix
34:15
On Target - France : Lenny Pintor
34:15
Goal - France : Lenny Pintor
35:47
Off Target - France : Lenny Pintor
36:2
Goal Kick - Spain : Alvaro Fernandez
37:12
Offside - France : Alexis Flips
38:15
Foul - Spain : Ferran Torres
38:47
Free Kick - France : Yahia Fofana
39:10
Foul - France : Maxence Lacroix
39:21
Cross - Spain : Mateu Jaume
39:30
Foul - Spain : Juan Miranda
39:39
Free Kick - France : Oumar Solet
39:53
Foul - Spain : Abel Ruiz
40:4
Free Kick - France : Oumar Solet
40:29
Foul - Spain : Juan Miranda
41:23
Free Kick - France : Alexis Flips
41:28
Cross - France : Alexis Flips
42:13
Corner - France : Alexis Flips
44:6
Cross - Spain : Sergio Gomez
44:16
Cross - Spain : Ferran Torres
44:18
On Target - Spain : Juan Miranda
44:18
Goal - Spain : Juan Miranda
45:57
Foul - Spain : Sergio Gomez
45:0
Free Kick - France : Oumar Solet
45:0
Foul - Spain : Victor Chust
45:0
Free Kick - France : Yacine Adli
46:1
Start of Second Half
47:35
Foul - Spain : Mohamed Moukhliss
49:4
Throw-In - Spain : Juan Miranda
49:40
Throw-In - Spain : Mateu Jaume
50:52
Throw-In - France : Claudio Gomes
51:20
Offside - France : Lenny Pintor
53:30
Cross - France : Maxence Lacroix
53:49
Goal Kick - Spain : Alvaro Fernandez
54:8
Foul - France : Yacine Adli
54:10
Yellow Card - France : Yacine Adli
54:48
Foul - Spain : Ferran Torres
56:13
Throw-In - Spain : Juan Miranda
57:1
On Target - Spain : Sergio Gomez
57:27
Goal Kick - France : Yahia Fofana
57:57
Throw-In - Spain : Mateu Jaume
58:45
Cross - Spain : Ferran Torres
59:51
Goal Kick - France : Yahia Fofana
60:13
Goal Kick - Spain : Alvaro Fernandez
60:43
Cross - Spain : Sergio Gomez
61:18
Goal Kick - France : Yahia Fofana
61:27
Foul - France : Alexis Flips
62:9
Foul - Spain : Juan Miranda
62:23
Free Kick - France : Alexis Flips
63:15
Throw-In - Spain : Mateu Jaume
64:30
Cross - France : Vincent Collet
64:57
Corner - France : Alexis Flips
66:5
Foul - France : William Bianda
67:32
Free Kick - Spain : Sergio Gomez
67:36
Off Target - Spain : Sergio Gomez
68:5
Goal Kick - France : Yahia Fofana
69:9
Cross - Spain : Ferran Torres
69:16
Foul - France : Claudio Gomes
69:29
Yellow Card - France : Claudio Gomes
70:30
On Target - Spain : Victor Chust
70:59
Free Kick - France : Yahia Fofana
71:55
Offside - France : Amine Gouiri
72:38
Substitution - Spain (In: Jose Lara, Out: Cesar Gelabert)
72:54
Free Kick - Spain : Victor Chust
76:5
Foul - Spain : Sergio Gomez
77:58
Yellow Card - Spain : Sergio Gomez
78:9
Free Kick - France : Yacine Adli
78:36
On Target - France : Lenny Pintor
79:40
Substitution - France (In: Wilson Isidor, Out: Alexis Flips)
80:51
Foul - Spain : Mohamed Moukhliss
80:51
Free Kick - France : Claudio Gomes
81:10
Offside - France : Amine Gouiri
82:39
Corner - Spain : Sergio Gomez
82:44
Cross - Spain : Sergio Gomez
83:7
Corner - Spain : Sergio Gomez
83:15
Cross - Spain : Abel Ruiz
85:40
Cross - France : Wilson Isidor
87:30
Substitution - France (In: Willem Geubbels, Out: Lenny Pintor)
87:48
Throw-In - Spain : Mateu Jaume
88:19
Substitution - Spain (In: Nacho Diaz, Out: Sergio Gomez)
88:59
Substitution - France (In: Andy Pelmard, Out: Maxence Lacroix)
89:8
Goal Kick - France : Yahia Fofana
89:36
Foul - France : Oumar Solet
90:50
On Target - Spain : Abel Ruiz
90:50
Penalty Kick - Spain : Abel Ruiz
90:0
Substitution - Spain (In: Alvaro Garcia, Out: Abel Ruiz)
90:0
Throw-In - Spain : Mateu Jaume
90:0
Throw-In - Spain : Ferran Torres
90:0
Cross - France : Maxence Caqueret
90:0
Corner - France : Yacine Adli
Read full article
Countdown To
Elections Results
To Assembly Elections 2018 Results