FIFA U-17 World Cup, Guinea vs Germany: Germany Win 3-1
Follow all the live action as Guinea take on Germany in the FIFA U-17 World Cup.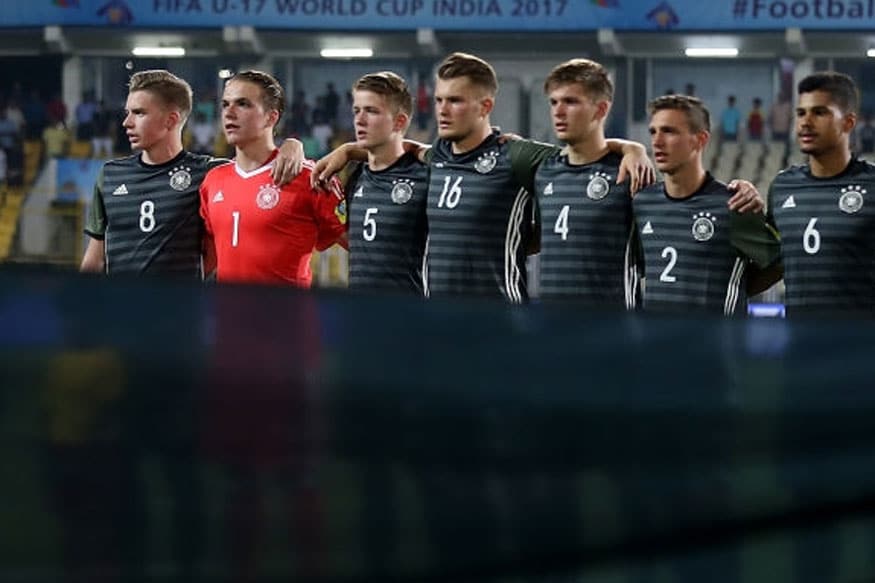 The German u-17 team (Getty Images)
PREVIEW GUI vs GER: A 0-4 humiliation by Iran denting their confidence, European powerhouse Germany face African side Guinea in a must-win match of the FIFA U-17 World Cup here on Friday. Germany, who have qualified for the FIFA U-17 World Cup as fifth place finisher from Europe via a play-off, began their campaign with an unconvincing 2-1 win over Costa Rica before slumping to an embarrassing 0-4 defeat to Iran.
The Teams (From): Germany: Luca Plogmann, Alexander Nitzl, Pascal Hackethal, Dominik Becker, Jan Boller, Noah Awuku, Shaverdi Catin, Eric Majetshcek, Jan-Fiete ARP, Elias Abouchabaka, Nicolas Kuehn, Luis Klatte, Dennis Jastrzembski, Yannik Keitel, Kilian Ludewig, Lars Mai, maurice Malone, John Yeboah, Jessic Ngankam, Yann Bisseck and Marian Prins.
Guinea: Guinea: Ibrahima Sylla, Samuel Conte, Ibrahima Soumah, Charif Camara, Issiaga Camara, Fandje Toure, Lape Bangoura, Doss Soumah, Aguibou Camara, Djibril Sylla, M Bemba Camara, Seydouba Cisse, Salia Bangoura, Blaise Camara, Abdoulaye Doumbouya, Ismael Traore, Elhedj Bah, Naby Bangoura, Aly Soumah and Mohamed Camara.
FIFA U-17 World Cup, 2017
1:30
Foul - Guinea : Ismael Traore
1:32
Yellow Card - Guinea : Ismael Traore
1:0
Free Kick - Germany : Yannik Keitel
3:23
Corner - Germany : Elias A'uchabaka
3:28
Off Target - Germany : Yannik Keitel
3:56
Offside - Germany : Jann Arp
4:43
Throw-In - Guinea : Ibrahima Soumah
5:43
Throw-In - Germany : Dominik Becker
5:54
Foul - Germany : Alexander Nitzl
6:4
Free Kick - Guinea : Samuel Conte
8:14
Throw-In - Guinea : Samuel Conte
8:36
On Target - Germany : Jann Arp
8:36
Goal - Germany : Jann Arp
9:57
Throw-In - Germany : Dominik Becker
10:10
Throw-In - Guinea : Samuel Conte
10:55
Throw-In - Germany : Josha Vagnoman
11:11
Throw-In - Germany : Josha Vagnoman
11:50
Throw-In - Germany : Josha Vagnoman
12:35
Foul - Guinea : Doss Soumah
12:58
Free Kick - Germany : Dominik Becker
13:10
Foul - Germany : Nicolas Kuhn
13:23
Free Kick - Guinea : Ibrahima Soumah
13:58
Throw-In - Germany : Dominik Becker
14:26
Cross - Germany : Dennis J'rzembski
14:45
Goal Kick - Guinea : Mohamed Camara
15:5
Throw-In - Germany : Josha Vagnoman
15:44
Throw-In - Guinea : Samuel Conte
15:50
Off Target - Guinea : Doss Soumah
16:15
Goal Kick - Germany : Luca Plogmann
16:55
Goal Kick - Guinea : Mohamed Camara
17:17
Cross - Guinea : Samuel Conte
18:27
Foul - Germany : Lars Mai
19:29
Free Kick - Guinea : Sekou Camara
19:40
Throw-In - Guinea : Samuel Conte
19:54
Foul - Guinea : Aguibou Camara
20:15
Goal Kick - Germany : Luca Plogmann
20:50
Corner - Germany : Elias A'uchabaka
22:6
Throw-In - Guinea : Ibrahima Soumah
22:19
Off Target - Guinea : Seydouba Cisse
22:35
Goal Kick - Germany : Luca Plogmann
23:19
Off Target - Guinea : Ibrahima Soumah
24:23
Foul - Germany : Jann Arp
25:9
Cross - Guinea : Doss Soumah
25:28
Goal Kick - Germany : Luca Plogmann
25:51
Throw-In - Guinea : Samuel Conte
26:5
On Target - Guinea : Ibrahima Soumah
26:5
Goal - Guinea : Ibrahima Soumah
27:10
Throw-In - Guinea : Samuel Conte
28:1
Corner - Guinea : Fandje Toure
28:18
Corner - Guinea : Aguibou Camara
29:13
On Target - Germany : Nicolas Kuhn
30:56
On Target - Guinea : Fandje Toure
31:51
Cross - Guinea : Doss Soumah
32:3
Off Target - Guinea : Elhadj Bah
34:13
Goal Kick - Germany : Luca Plogmann
34:32
Throw-In - Germany : Dominik Becker
35:27
Throw-In - Guinea : Samuel Conte
35:38
Foul - Guinea : Sekou Camara
35:58
Free Kick - Germany : Dominik Becker
36:44
Throw-In - Guinea : Seydouba Cisse
37:8
Foul - Germany : Lars Mai
37:22
Yellow Card - Germany : Lars Mai
37:50
Free Kick - Guinea : Aguibou Camara
37:57
Cross - Guinea : Aguibou Camara
38:39
Throw-In - Germany : Dominik Becker
38:50
Cross - Germany : Jann Arp
39:21
Foul - Germany : Dennis J'rzembski
39:25
Free Kick - Guinea : Aguibou Camara
40:18
Cross - Germany : Dennis J'rzembski
40:34
Throw-In - Germany : Elias A'uchabaka
40:45
Throw-In - Germany : Dominik Becker
40:53
Off Target - Germany : Dennis J'rzembski
41:22
Goal Kick - Guinea : Mohamed Camara
42:10
On Target - Germany : Elias A'uchabaka
42:34
Corner - Germany : Nicolas Kuhn
42:56
Cross - Germany : Dominik Becker
45:1
Throw-In - Guinea : Doss Soumah
45:9
Throw-In - Guinea : Samuel Conte
45:17
Cross - Guinea : Ibrahima Soumah
45:0
Throw-In - Guinea : Samuel Conte
45:0
On Target - Guinea : Aguibou Camara
45:0
Throw-In - Guinea : Samuel Conte
45:0
Foul - Guinea : Elhadj Bah
45:0
Foul - Guinea : Aguibou Camara
45:0
Free Kick - Germany : Nicolas Kuhn
45:0
Off Target - Germany : Yann Bisseck
45:0
Goal Kick - Guinea : Mohamed Camara
45:0
Foul - Germany : Lars Mai
45:0
Free Kick - Guinea : Sekou Camara
46:1
Start of Second Half
46:33
Goal Kick - Germany : Luca Plogmann
47:22
Throw-In - Guinea : Ibrahima Soumah
47:30
Cross - Germany : Dennis J'rzembski
47:34
On Target - Germany : Elias A'uchabaka
47:35
On Target - Germany : Nicolas Kuhn
48:7
Corner - Germany : Elias A'uchabaka
48:28
Corner - Guinea : Elhadj Bah
50:39
Throw-In - Guinea : Elhadj Bah
51:3
Offside - Guinea : Aguibou Camara
52:8
Throw-In - Guinea : Samuel Conte
52:17
Off Target - Guinea : Elhadj Bah
52:44
Goal Kick - Germany : Luca Plogmann
52:53
Throw-In - Germany : Dominik Becker
54:40
Goal Kick - Guinea : Mohamed Camara
54:58
Foul - Germany : Nicolas Kuhn
55:40
Throw-In - Germany : Nicolas Kuhn
56:36
Throw-In - Germany : Josha Vagnoman
56:56
Throw-In - Guinea : Ibrahima Soumah
57:8
Foul - Guinea : Cherif Camara
57:41
Yellow Card - Guinea : Cherif Camara
58:1
Free Kick - Germany : Yannik Keitel
58:45
Throw-In - Guinea : Ibrahima Soumah
59:15
Free Kick - Germany : Luca Plogmann
60:58
Foul - Germany : Dennis J'rzembski
61:6
Yellow Card - Germany : Dennis J'rzembski
61:34
Substitution - Germany (In: Jessic Ngankam, Out: Dennis J'rzembski)
61:56
Off Target - Guinea : Ismael Traore
62:53
On Target - Germany : Nicolas Kuhn
62:53
Goal - Germany : Nicolas Kuhn
64:28
Cross - Guinea : Ibrahima Soumah
64:49
Cross - Guinea : Ibrahima Soumah
65:12
Substitution - Guinea (In: Aly Soumah, Out: Doss Soumah)
65:25
Off Target - Germany : Nicolas Kuhn
65:40
Goal Kick - Guinea : Mohamed Camara
66:5
Cross - Guinea : Seydouba Cisse
66:9
Off Target - Guinea : Fandje Toure
66:33
Goal Kick - Germany : Luca Plogmann
66:44
Foul - Guinea : Aly Soumah
67:3
Foul - Germany : Yann Bisseck
67:6
Free Kick - Guinea : Cherif Camara
68:15
Throw-In - Guinea : Sekou Camara
70:6
Throw-In - Guinea : Seydouba Cisse
70:28
Corner - Guinea : Samuel Conte
70:49
Foul - Guinea : Aguibou Camara
71:20
Free Kick - Germany : Dominik Becker
71:31
Offside - Germany : Jessic Ngankam
71:43
Free Kick - Guinea : Mohamed Camara
72:6
Off Target - Germany : Jann Arp
72:38
Substitution - Guinea (In: Djibril Sylla, Out: Elhadj Bah)
73:7
Throw-In - Guinea : Ibrahima Soumah
73:11
Cross - Guinea : Aguibou Camara
73:39
Foul - Germany : Nicolas Kuhn
75:53
Free Kick - Guinea : Mohamed Camara
76:10
Foul - Germany : Jessic Ngankam
76:17
Free Kick - Guinea : Seydouba Cisse
76:41
Corner - Guinea : Aguibou Camara
77:29
Cross - Guinea : Samuel Conte
78:14
Cross - Guinea : Fandje Toure
78:34
Substitution - Germany (In: Shaverdi Cetin, Out: Elias A'uchabaka)
79:12
Corner - Guinea : Aly Soumah
79:31
Foul - Guinea : Djibril Sylla
80:7
Throw-In - Germany : Dominik Becker
80:30
On Target - Germany : Jessic Ngankam
80:42
On Target - Germany : Nicolas Kuhn
80:55
Off Target - Guinea : Aguibou Camara
81:27
Goal Kick - Germany : Luca Plogmann
81:44
Cross - Guinea : Samuel Conte
82:26
Throw-In - Germany : Dominik Becker
82:34
Throw-In - Germany : Dominik Becker
83:15
Corner - Guinea : Aly Soumah
83:54
Off Target - Germany : Jann Arp
84:2
Goal Kick - Guinea : Mohamed Camara
84:14
Cross - Guinea : Samuel Conte
86:7
Substitution - Germany (In: Jan Boller, Out: Josha Vagnoman)
87:35
Cross - Germany : Nicolas Kuhn
88:16
Throw-In - Guinea : Ibrahima Soumah
88:51
Corner - Guinea : Ibrahima Soumah
89:1
On Target - Guinea : Aguibou Camara
89:52
Corner - Germany : Shaverdi Cetin
90:7
Corner - Germany : Shaverdi Cetin
90:19
Foul - Germany : Jann Arp
90:31
Free Kick - Guinea : Mohamed Camara
90:0
Throw-In - Germany : Dominik Becker
90:0
Foul - Guinea : Sekou Camara
90:0
On Target - Germany : Shaverdi Cetin
90:0
Penalty Kick - Germany : Shaverdi Cetin
| Edited by: Arjit Dabas
Read full article