GET Stock

Quotes


FIFA U-17 World Cup Highlights: Mali vs New Zealand - As It Happened
Catch all the action of the FIFA Under 17 World match between Mali and New Zealand through our live blog.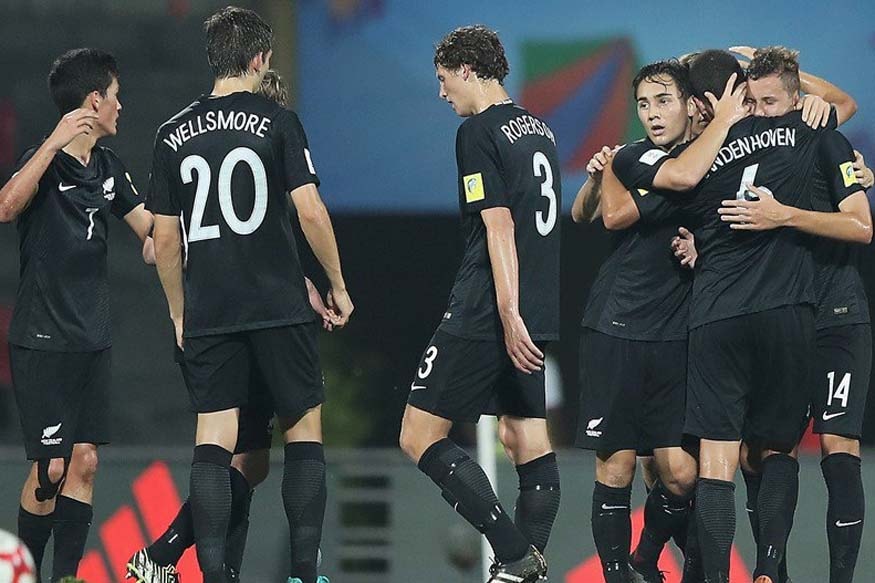 New Zealand under 17 team will want to fight it out against Mali. (FIFA Twitter)
Catch all the action of the FIFA Under 17 World match between Mali and New Zealand through our live blog.
Preview:
African champions Mali will fancy their chances of sealing a knockout berth when they lock horns with New Zealand in their final group game of the FIFA U-17 World Cup. Mali will be high on confidence after their 3-0 drubbing of Turkey in their previous Group B game at the D Y Patil Stadium. They were keen to make a statement after their opening defeat to Paraguay and that they managed to do so, speaks about the character of the team.
The 2015 edition finalist will be up against a spirited New Zealand side whose best performance in its seven outings remains reaching the pre-quaterfinals thrice. Though they lost 4-2 to Paraguay, New Zealand will take solace from the fighting spirit they showed against the South American giants. New Zealand, who drew 1-1 with Turkey, were playing without their regular skipper Max Mata, who missed their last match because of two yellow cards he received in their tournament opener.
His coming back will bolster the side and lift its morale. It was Mata who scored in the stalemate against Turkey, and he will again look to register his name in the score-sheet at the Jawaharlal Nehru Stadium. Leading by a goal in the half time against Paraguay, New Zealand's defence fell apart after the break, and this remains an area of concern. With the likes of Oliver Whyte and skipper Mata, the New Zealanders have a strong attack and their mid-fielders and defenders will have to ensure that the side gives a tough competition to their superior opponents.
With a draw and a loss, New Zealand reached the capital with hopes of improving their record in the current edition of the tournament. The task that awaits them, however, is difficult. Having reached the title clash in 2015, the physically and tactically superior Africans are looking to go a step better this time around. The likes of strikers Lassana N'Diaye and Hadji Drame have been clicked upfront and they are expected to test the New Zealand defence.
FIFA U-17 World Cup, 2017
1:12
Off Target - Mali : Salam Giddou
1:30
Goal Kick - New Zealand : Zac Jones
2:28
Goal Kick - New Zealand : Zac Jones
3:59
On Target - New Zealand : Max Mata
4:18
Throw-In - New Zealand : Liberato Cacace
5:30
Cross - Mali : Fode Konate
5:39
On Target - Mali : Mohamed Camara
7:35
Cross - Mali : Ibrahiim Kane
7:49
Cross - Mali : Djemoussa Traore
8:30
Throw-In - New Zealand : Emlyn Wellsmore
8:52
Foul - Mali : Hadji Drame
9:58
Free Kick - New Zealand : Zac Jones
10:35
On Target - Mali : Ibrahiim Kane
11:3
Cross - Mali : Ibrahiim Kane
11:19
Throw-In - Mali : Fode Konate
11:52
Throw-In - New Zealand : Kingsley Sinclair
13:1
Cross - Mali : Mohamed Camara
13:13
Foul - Mali : Fode Konate
13:35
Free Kick - New Zealand : Zac Jones
14:41
Cross - Mali : Ibrahiim Kane
15:4
Cross - Mali : Fode Konate
15:58
Goal Kick - New Zealand : Zac Jones
16:4
Foul - New Zealand : Max Mata
16:17
Free Kick - Mali : Mamadou Samake
16:53
Throw-In - New Zealand : Emlyn Wellsmore
17:17
Off Target - Mali : Mamadou Samake
17:43
Goal Kick - New Zealand : Zac Jones
18:4
On Target - Mali : Salam Giddou
18:4
Goal - Mali : Salam Giddou
19:14
Foul - Mali : Mohamed Camara
19:44
Free Kick - New Zealand : Leon Hoven
19:50
On Target - New Zealand : Max Mata
20:15
Cross - Mali : Hadji Drame
21:37
Goal Kick - New Zealand : Zac Jones
23:57
Throw-In - New Zealand : Liberato Cacace
24:12
Throw-In - New Zealand : Liberato Cacace
24:21
Throw-In - New Zealand : Liberato Cacace
24:44
Throw-In - New Zealand : Liberato Cacace
25:5
Throw-In - New Zealand : Liberato Cacace
25:10
On Target - New Zealand : Elijah Just
25:40
Foul - Mali : Mamadou Samake
25:57
Free Kick - New Zealand : Liberato Cacace
26:59
Foul - New Zealand : Matthew Conroy
27:27
Free Kick - Mali : Hadji Drame
27:28
Cross - Mali : Hadji Drame
27:34
Off Target - Mali : Ibrahiim Kane
27:58
Goal Kick - New Zealand : Zac Jones
28:28
Cross - Mali : Djemoussa Traore
29:18
Throw-In - Mali : Ibrahiim Kane
29:32
Cross - Mali : Fode Konate
30:52
Off Target - Mali : Boubacar Haidara
33:6
Goal Kick - New Zealand : Zac Jones
34:43
Foul - Mali : Mamadou Samake
35:4
Free Kick - New Zealand : Leon Hoven
36:20
Throw-In - Mali : Fode Konate
36:49
Foul - New Zealand : Leon Hoven
37:46
Free Kick - Mali : Mohamed Camara
37:48
Off Target - Mali : Mohamed Camara
38:15
Goal Kick - New Zealand : Zac Jones
39:16
Throw-In - New Zealand : Liberato Cacace
39:42
Throw-In - New Zealand : Liberato Cacace
39:0
Throw-In - New Zealand : Liberato Cacace
40:6
Off Target - New Zealand : Elijah Just
41:19
Cross - New Zealand : Emlyn Wellsmore
41:38
On Target - Mali : Salam Giddou
42:6
Foul - New Zealand : Matthew Palmer
42:23
Free Kick - Mali : Boubacar Haidara
43:38
Off Target - Mali : Lassana Ndiaye
43:59
Foul - Mali : Mamadi Fofana
45:11
Corner - Mali : Hadji Drame
45:36
Cross - Mali : Djemoussa Traore
45:46
Corner - Mali : Salam Giddou
45:58
Cross - Mali : Salam Giddou
45:0
Goal Kick - New Zealand : Zac Jones
45:0
Throw-In - Mali : Fode Konate
45:0
Cross - Mali : Ibrahiim Kane
45:0
Corner - New Zealand : Elijah Just
46:1
Start of Second Half
46:1
Substitution - New Zealand (In: Charles Spragg, Out: Matthew Palmer)
46:19
Throw-In - Mali : Fode Konate
47:19
Cross - New Zealand : Matthew Conroy
49:31
Free Kick - New Zealand : Leon Hoven
50:15
Off Target - Mali : Ibrahiim Kane
50:39
Goal Kick - New Zealand : Zac Jones
50:49
Throw-In - New Zealand : Liberato Cacace
50:57
Cross - Mali : Hadji Drame
50:58
Goal - Mali : Djemoussa Traore
51:1
On Target - Mali : Djemoussa Traore
53:5
Goal Kick - New Zealand : Zac Jones
53:16
Throw-In - Mali : Fode Konate
54:22
Foul - Mali : Salam Giddou
55:1
Free Kick - New Zealand : Zac Jones
55:35
Throw-In - Mali : Ibrahiim Kane
56:7
Throw-In - Mali : Fode Konate
56:27
Off Target - Mali : Salam Giddou
57:3
Substitution - New Zealand (In: Oliver Whyte, Out: Kingsley Sinclair)
57:13
Goal Kick - New Zealand : Zac Jones
57:21
Throw-In - Mali : Fode Konate
58:25
Substitution - Mali (In: Cheick Doucoure, Out: Mohamed Camara)
58:50
Goal Kick - Mali : Youssouf Koita
59:8
Throw-In - New Zealand : Emlyn Wellsmore
59:36
Cross - Mali : Fode Konate
59:47
Off Target - Mali : Cheick Doucoure
60:47
Throw-In - New Zealand : Emlyn Wellsmore
61:22
Off Target - Mali : Hadji Drame
61:47
Goal Kick - New Zealand : Zac Jones
62:20
Off Target - Mali : Lassana Ndiaye
63:52
Goal Kick - New Zealand : Zac Jones
64:39
Foul - Mali : Fode Konate
64:53
Free Kick - New Zealand : Liam Moore
65:14
Goal Kick - Mali : Youssouf Koita
65:50
Off Target - Mali : Fode Konate
65:53
Off Target - Mali : Lassana Ndiaye
66:49
Corner - Mali : Hadji Drame
68:17
Substitution - Mali (In: Mamadou Traore, Out: Hadji Drame)
68:43
Throw-In - Mali : Fode Konate
68:59
Cross - Mali : Djemoussa Traore
70:11
On Target - Mali : Fode Konate
70:53
Foul - New Zealand : Charles Spragg
71:1
Free Kick - Mali : Cheick Doucoure
71:33
Corner - Mali : Salam Giddou
71:37
Cross - Mali : Salam Giddou
71:50
Goal Kick - New Zealand : Zac Jones
72:16
Cross - New Zealand : Elijah Just
72:23
On Target - New Zealand : Charles Spragg
72:23
Goal - New Zealand : Charles Spragg
73:7
Off Target - Mali : Mamadou Traore
73:32
Goal Kick - New Zealand : Zac Jones
73:57
Cross - New Zealand : Charles Spragg
74:16
Off Target - Mali : Lassana Ndiaye
76:31
Goal Kick - New Zealand : Zac Jones
78:19
Throw-In - New Zealand : Emlyn Wellsmore
78:45
Throw-In - New Zealand : Elijah Just
79:56
Off Target - Mali : Mamadou Samake
80:48
On Target - Mali : Ibrahiim Kane
81:49
Cross - Mali : Djemoussa Traore
82:11
Throw-In - Mali : Fode Konate
82:25
Cross - Mali : Fode Konate
82:28
On Target - Mali : Lassana Ndiaye
82:28
Goal - Mali : Lassana Ndiaye
83:36
Goal Kick - Mali : Youssouf Koita
84:24
Off Target - Mali : Lassana Ndiaye
84:48
Substitution - Mali (In: Siaka Sidibe, Out: Fode Konate)
85:10
Corner - Mali : Salam Giddou
85:20
Foul - Mali : Ibrahiim Kane
86:4
Foul - New Zealand : Charles Spragg
86:18
Substitution - New Zealand (In: Kieran Richards, Out: Elijah Just)
87:1
Foul - New Zealand : Liberato Cacace
87:8
Free Kick - Mali : Mamadou Traore
88:6
Corner - Mali : Mamadou Traore
88:32
Corner - Mali : Salam Giddou
88:37
Cross - Mali : Salam Giddou
88:55
Corner - Mali : Mamadou Traore
88:58
Cross - Mali : Mamadou Traore
89:12
Goal Kick - New Zealand : Zac Jones
89:52
Throw-In - Mali : Salam Giddou
90:53
Cross - Mali : Djemoussa Traore
90:0
Off Target - Mali : Salam Giddou
90:0
Goal Kick - New Zealand : Zac Jones
90:0
Cross - New Zealand : Matthew Conroy
90:0
Throw-In - Mali : Siaka Sidibe
90:0
On Target - Mali : Ibrahiim Kane
90:0
On Target - Mali : Lassana Ndiaye
Read full article
Countdown To
Elections Results
To Assembly Elections 2018 Results