GET Stock

Quotes


FIFA U-17 World Cup, Iran vs Mexico Highlights - As It Happened
Follow all the live action from FIFA U-17 World Cup as Iran take on Mexico.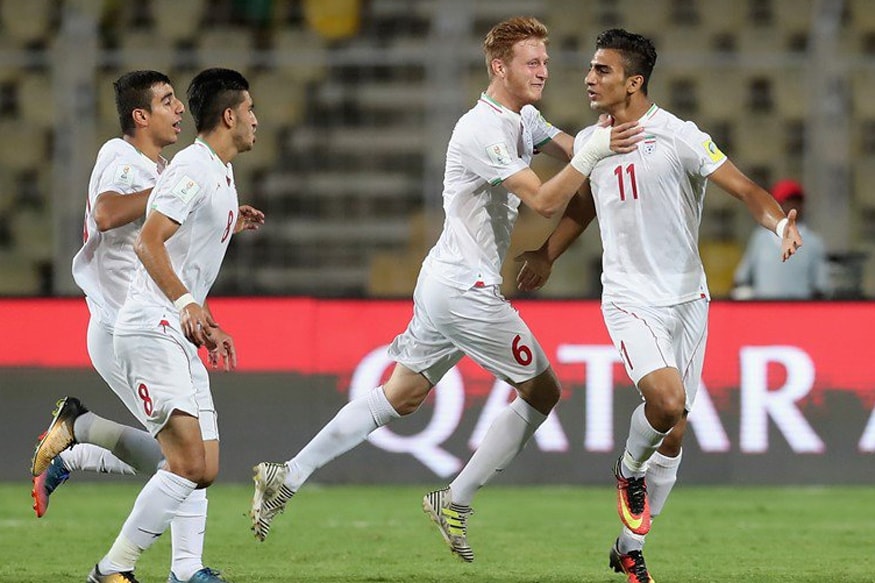 Iran players celebrate after scoring against Germany. (Twitter/FIFA)
PREVIEW: High on confidence after a strong show in the group stage, Asian powerhouse Iran would look to keep their unbeaten run intact when they face Mexico in a pre-quarterfinal match of the FIFA U-17 World Cup. Iran have enjoyed a good run in this tournament, beating Guinea (3-1), Germany (4-0) and Costa Rica (3-0) to top Group C. They had would be looking to keep the momentum going in their bid to reach the quarterfinals for the first time in their fourth appearance in the tournament.
FIFA U-17 World Cup, 2017
2:8
Foul - Iran : Ahmad Jalali
2:59
Free Kick - Mexico : Jairo Torres
3:3
Cross - Mexico : Jairo Torres
3:6
On Target - Mexico : Roberto Rosa
3:8
On Target - Mexico : Raul Sandoval
3:16
Offside - Mexico : Raul Sandoval
3:40
Throw-In - Iran : Ali Satavi
5:9
Offside - Mexico : Daniel Lopez
5:22
Free Kick - Iran : Ali Zadeh
5:32
Foul - Mexico : Luis Gamiz
6:17
Free Kick - Iran : Younes Delfi
6:28
Cross - Iran : Ahmad Jalali
6:32
Foul - Iran : Mohammad Ghaderi
7:19
On Target - Iran : Mohamad Sharifi
7:19
Penalty Kick - Iran : Mohamad Sharifi
8:23
Throw-In - Mexico : Raul Sandoval
9:27
Goal Kick - Iran : Ali Zadeh
9:48
Goal Kick - Mexico : Cesar Lopez
10:42
Goal Kick - Iran : Ali Zadeh
11:1
Cross - Mexico : Daniel Lopez
11:9
On Target - Iran : Allahyar Sayyad
11:9
Goal - Iran : Allahyar Sayyad
12:48
Corner - Mexico : Jairo Torres
13:10
Throw-In - Iran : Mohammad Ghaderi
13:24
Foul - Mexico : Luis Gamiz
13:52
Free Kick - Iran : Mohamad Sharifi
13:55
Cross - Iran : Mohamad Sharifi
14:56
Foul - Mexico : Raul Sandoval
15:36
Throw-In - Iran : Ali Satavi
15:42
Cross - Mexico : Jairo Torres
16:6
Throw-In - Iran : Taha Shariati
16:22
Throw-In - Mexico : Daniel Lopez
16:58
Goal Kick - Iran : Ali Zadeh
17:10
Foul - Iran : Ali Davaran
17:53
Free Kick - Mexico : Jairo Torres
20:15
Throw-In - Iran : Ali Satavi
20:24
Cross - Iran : Allahyar Sayyad
20:38
Cross - Iran : Ali Davaran
21:5
Foul - Mexico : Diego Lainez
22:44
Free Kick - Iran : Mohamad Sharifi
22:57
Goal Kick - Mexico : Cesar Lopez
23:54
Foul - Iran : Allahyar Sayyad
23:0
Free Kick - Mexico : Adrian Vazquez
27:50
Throw-In - Iran : Ali Satavi
27:56
Cross - Iran : Ali Satavi
28:54
Throw-In - Mexico : Jairo Torres
28:0
Cross - Mexico : Jairo Torres
29:56
Off Target - Mexico : Jairo Torres
30:12
Corner - Mexico : Jairo Torres
32:23
Goal Kick - Iran : Ali Zadeh
32:30
Foul - Iran : Allahyar Sayyad
32:34
Free Kick - Mexico : Luis Olivas
33:51
Corner - Iran : Mohamad Sharifi
34:48
Corner - Iran : Younes Delfi
35:53
Cross - Mexico : Roberto Rosa
35:59
On Target - Mexico : Jairo Torres
36:10
Foul - Iran : Allahyar Sayyad
36:39
On Target - Iran : Younes Delfi
37:10
Corner - Iran : Mohamad Sharifi
37:45
On Target - Mexico : Diego Lainez
37:50
On Target - Mexico : Roberto Rosa
37:50
Goal - Mexico : Roberto Rosa
39:30
Throw-In - Iran : Majid Nasiri
40:9
Offside - Mexico : Roberto Rosa
41:57
Foul - Mexico : Roberto Rosa
42:19
Free Kick - Iran : Ali Zadeh
43:5
Throw-In - Iran : Ali Satavi
43:32
Throw-In - Iran : Ali Satavi
44:8
Throw-In - Iran : Ahmad Jalali
44:32
Throw-In - Iran : Ahmad Jalali
45:17
Throw-In - Mexico : Adrian Vazquez
45:0
Foul - Iran : Mohammad Ghaderi
45:0
Yellow Card - Iran : Mohammad Ghaderi
45:0
Foul - Mexico : Raul Sandoval
45:0
Throw-In - Mexico : Adrian Vazquez
45:0
Goal Kick - Iran : Ali Zadeh
45:0
Off Target - Mexico : Roberto Rosa
45:0
Goal Kick - Iran : Ali Zadeh
46:1
Start of Second Half
46:50
Foul - Iran : Allahyar Sayyad
46:0
Free Kick - Mexico : Carlos Robles
48:12
Goal Kick - Mexico : Cesar Lopez
48:26
Throw-In - Mexico : Adrian Vazquez
48:53
Throw-In - Mexico : Adrian Vazquez
49:18
Offside - Mexico : Daniel Lopez
49:37
Free Kick - Iran : Ali Zadeh
49:54
Cross - Mexico : Daniel Lopez
50:14
Corner - Mexico : Diego Lainez
51:11
Throw-In - Iran : Ali Satavi
51:40
Corner - Iran : Ahmad Jalali
51:47
Cross - Iran : Ahmad Jalali
52:12
Off Target - Iran : Younes Delfi
52:0
Throw-In - Mexico : Adrian Vazquez
53:47
Cross - Mexico : Raul Sandoval
54:4
Cross - Mexico : Diego Lainez
54:18
On Target - Iran : Allahyar Sayyad
54:43
Cross - Mexico : Daniel Lopez
54:52
Off Target - Mexico : Diego Lainez
55:21
Goal Kick - Iran : Ali Zadeh
55:0
Throw-In - Iran : Ahmad Jalali
56:29
Offside - Mexico : Daniel Lopez
56:39
Free Kick - Iran : Majid Nasiri
57:56
Goal Kick - Iran : Ali Zadeh
58:34
Cross - Iran : Mohamad Sharifi
59:26
Substitution - Mexico (In: Cesar Huerta, Out: Daniel Lopez)
59:37
Throw-In - Mexico : Adrian Vazquez
59:53
Corner - Mexico : Diego Lainez
60:7
Cross - Mexico : Diego Lainez
60:10
Off Target - Mexico : Luis Olivas
60:41
Goal Kick - Iran : Ali Zadeh
61:13
Cross - Mexico : Raul Sandoval
61:39
Foul - Iran : Majid Nasiri
61:46
Free Kick - Mexico : Diego Lainez
61:53
Cross - Mexico : Raul Sandoval
62:29
Substitution - Iran (In: Amir Zadeh, Out: Ali Davaran)
62:43
Corner - Mexico : Diego Lainez
64:45
Corner - Iran : Ahmad Jalali
65:5
Goal Kick - Mexico : Cesar Lopez
66:12
Throw-In - Mexico : Jairo Torres
67:8
Foul - Iran : Mohamad Sharifi
67:25
Substitution - Mexico (In: Deivoon Magana, Out: Adrian Vazquez)
68:5
Free Kick - Mexico : Jairo Torres
68:11
Off Target - Mexico : Jairo Torres
70:13
Corner - Mexico : Jairo Torres
70:39
Corner - Mexico : Diego Lainez
73:12
Goal Kick - Iran : Ali Zadeh
73:28
Throw-In - Iran : Ahmad Jalali
73:35
Foul - Mexico : Roberto Rosa
73:55
Free Kick - Iran : Taha Shariati
74:49
Throw-In - Mexico : Deivoon Magana
75:11
On Target - Mexico : Diego Lainez
75:55
Throw-In - Iran : Ahmad Jalali
76:28
Throw-In - Mexico : Deivoon Magana
77:48
Substitution - Mexico (In: Jesus Perez, Out: Alexis Gutierrez)
78:7
Throw-In - Iran : Ahmad Jalali
78:33
Throw-In - Mexico : Raul Sandoval
79:14
Goal Kick - Iran : Ali Zadeh
79:0
Cross - Mexico : Jesus Perez
80:24
Goal Kick - Iran : Ali Zadeh
80:46
Throw-In - Mexico : Jairo Torres
81:2
Foul - Iran : Ali Satavi
81:15
Yellow Card - Iran : Younes Delfi
81:49
Free Kick - Mexico : Raul Sandoval
81:53
Cross - Mexico : Raul Sandoval
82:25
Cross - Mexico : Jesus Perez
83:52
Foul - Iran : Allahyar Sayyad
83:58
Yellow Card - Iran : Allahyar Sayyad
84:42
Substitution - Iran (In: Amir Moradi, Out: A'rhossien H'einzadeh)
84:56
Free Kick - Mexico : Jairo Torres
85:46
Throw-In - Mexico : Raul Sandoval
86:10
Off Target - Iran : Younes Delfi
86:52
Substitution - Iran (In: Vahid Namdari, Out: Younes Delfi)
87:24
Throw-In - Iran : Majid Nasiri
89:12
Corner - Mexico : Diego Lainez
90:13
On Target - Iran : Allahyar Sayyad
90:0
Throw-In - Iran : Ali Satavi
90:0
Cross - Mexico : Jesus Perez
90:0
Foul - Mexico : Roberto Rosa
90:0
Free Kick - Iran : Ahmad Jalali
90:0
Foul - Iran : Vahid Namdari
90:0
Free Kick - Mexico : Diego Lainez
90:0
Cross - Mexico : Jairo Torres
90:0
Goal Kick - Iran : Ali Zadeh
90:0
Foul - Mexico : Deivoon Magana
90:0
Free Kick - Iran : Ahmad Jalali
90:0
Foul - Iran : Mohamad Sharifi
90:0
Free Kick - Mexico : Diego Lainez
Read full article
Countdown To
Elections Results
To Assembly Elections 2018 Results