GET Stock

Quotes


FIFA U-17 World Cup Quarter-final 3, Spain vs Iran, Highlights: As It Happened
Follow all the live action from FIFA U-17 World Cup as Spain take on Iran.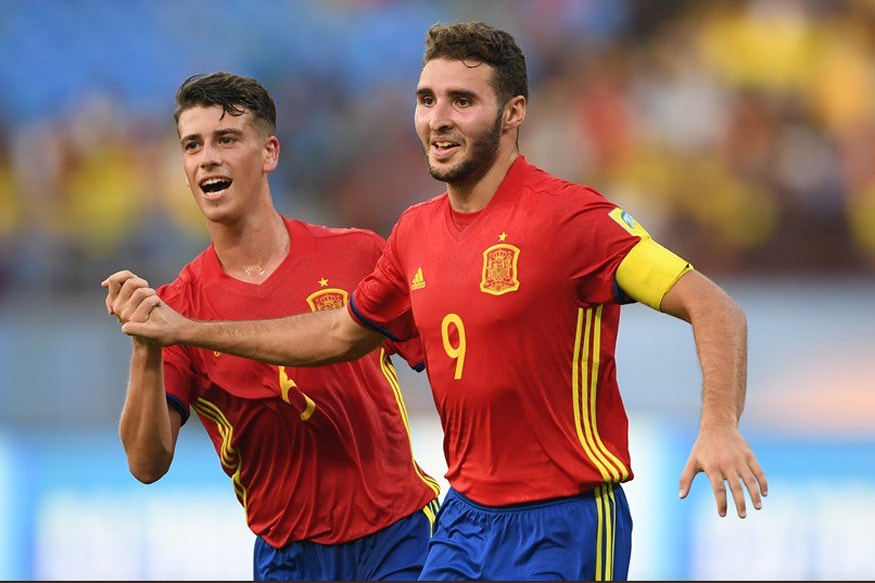 Spain celebrate after scoring a goal. (Twitter/FIFA)
PREVIEW: European champions Spain are the overwhelming favourites as they brace up to play rank outsider Iran in their quarterfinal match of the FIFA U-17 World Cup.
Going by form and pedigree, the three-time runners-up have their nose ahead, but the Asian surprise package has show tremendous grit and purpose on its way to the last eight stage in the ongoing edition.
FIFA U-17 World Cup, 2017
1:53
Throw-In - Spain : Sergio Gomez
2:15
Throw-In - Iran : Ahmad Jalali
3:29
Cross - Spain : Sergio Gomez
3:42
On Target - Spain : Mateu Jaume
3:48
Foul - Spain : Ferran Torres
4:10
Throw-In - Spain : Mateu Jaume
6:41
Throw-In - Spain : Mateu Jaume
7:32
Cross - Spain : Juan Miranda
7:52
Throw-In - Iran : Mohammad G'beishavi
9:21
Cross - Spain : Mateu Jaume
9:37
Throw-In - Spain : Juan Miranda
10:33
Throw-In - Spain : Mateu Jaume
11:2
Cross - Spain : Cesar Gelabert
11:8
Off Target - Spain : Mateu Jaume
11:41
Goal Kick - Iran : Ali Zadeh
13:1
Cross - Spain : Ferran Torres
13:8
On Target - Spain : Abel Ruiz
13:13
On Target - Spain : Abel Ruiz
13:13
Goal - Spain : Abel Ruiz
14:23
Foul - Spain : Cesar Gelabert
15:28
Cross - Spain : Abel Ruiz
15:59
Goal Kick - Iran : Ali Zadeh
18:13
Foul - Iran : Amir Zadeh
19:5
Free Kick - Spain : Sergio Gomez
19:8
Cross - Spain : Sergio Gomez
19:33
Off Target - Spain : Cesar Gelabert
19:38
Goal Kick - Iran : Ali Zadeh
19:49
Foul - Spain : Cesar Gelabert
20:11
Free Kick - Iran : Ahmad Jalali
21:5
Cross - Spain : Sergio Gomez
22:59
Goal Kick - Iran : Ali Zadeh
24:16
Foul - Iran : Ahmad Jalali
24:26
Free Kick - Spain : Ferran Torres
24:55
Throw-In - Iran : Ahmad Jalali
25:52
Throw-In - Spain : Juan Miranda
26:48
Throw-In - Spain : Juan Miranda
27:17
Cross - Spain : Ferran Torres
27:35
Throw-In - Spain : Mateu Jaume
30:4
Throw-In - Spain : Mateu Jaume
31:15
Corner - Spain : Sergio Gomez
31:28
Cross - Spain : Sergio Gomez
31:50
Off Target - Spain : Ferran Torres
31:0
Throw-In - Spain : Mateu Jaume
32:31
Throw-In - Spain : Mateu Jaume
32:53
Foul - Iran : A'rhossien H'einzadeh
33:20
Free Kick - Spain : Mateu Jaume
34:7
Cross - Spain : Ferran Torres
34:10
On Target - Spain : Cesar Gelabert
34:35
Corner - Spain : Sergio Gomez
35:14
Throw-In - Iran : Ahmad Jalali
36:54
Throw-In - Spain : Mateu Jaume
38:38
Goal Kick - Spain : Alvaro Fernandez
40:13
Foul - Spain : Antonio Blanco
40:24
Yellow Card - Spain : Antonio Blanco
42:21
Cross - Spain : Mohamed Moukhliss
42:27
Cross - Spain : Hugo Guillamon
42:37
Throw-In - Spain : Victor Chust
42:59
Yellow Card - Iran : Mohammad Ghaderi
43:2
Foul - Iran : Mohammad Ghaderi
43:15
Free Kick - Spain : Victor Chust
45:2
Throw-In - Iran : Ali Satavi
45:55
Throw-In - Spain : Mateu Jaume
45:0
Off Target - Iran : A'rhossien H'einzadeh
45:0
Corner - Spain : Sergio Gomez
45:0
Throw-In - Spain : Juan Miranda
46:1
Start of Second Half
46:47
Cross - Spain : Juan Miranda
46:51
On Target - Spain : Ferran Torres
47:54
Cross - Iran : Allahyar Sayyad
48:10
Cross - Spain : Mohamed Moukhliss
49:13
Throw-In - Spain : Mateu Jaume
49:27
Offside - Iran : Allahyar Sayyad
49:39
Free Kick - Spain : Antonio Blanco
50:31
Throw-In - Iran : Taha Shariati
50:42
Throw-In - Iran : Taha Shariati
51:6
Goal Kick - Spain : Alvaro Fernandez
51:36
Foul - Spain : Cesar Gelabert
52:7
Free Kick - Iran : Amir Zadeh
52:10
Cross - Iran : Amir Zadeh
52:15
On Target - Iran : Taha Shariati
52:51
On Target - Spain : Ferran Torres
53:16
Corner - Spain : Sergio Gomez
54:6
Throw-In - Iran : Taha Shariati
54:51
Cross - Spain : Ferran Torres
55:16
Corner - Spain : Sergio Gomez
55:30
Cross - Spain : Abel Ruiz
56:27
Goal Kick - Spain : Alvaro Fernandez
56:40
Throw-In - Spain : Juan Miranda
58:3
Foul - Spain : Abel Ruiz
58:12
Free Kick - Iran : Taha Shariati
59:7
Foul - Iran : Ali Satavi
59:15
Free Kick - Spain : Mateu Jaume
59:54
Cross - Spain : Juan Miranda
60:55
On Target - Spain : Sergio Gomez
60:55
Goal - Spain : Sergio Gomez
62:16
Substitution - Iran (In: Saeid Karimi, Out: Mohammad Ghaderi)
62:50
Cross - Iran : Ali Satavi
63:16
Cross - Iran : Ali Satavi
63:20
Off Target - Iran : Taha Shariati
65:22
Substitution - Iran (In: Mohammad Sardari, Out: A'rhossien H'einzadeh)
65:50
Substitution - Spain (In: Alvaro Garcia, Out: Sergio Gomez)
66:30
Cross - Iran : Allahyar Sayyad
67:6
Corner - Iran : Amir Zadeh
67:33
Throw-In - Iran : Ali Satavi
67:50
Cross - Spain : Mohamed Moukhliss
67:53
On Target - Spain : Ferran Torres
67:53
Goal - Spain : Ferran Torres
69:45
Substitution - Spain (In: Jose Lara, Out: Antonio Blanco)
69:58
Goal - Iran : Saeid Karimi
70:3
On Target - Iran : Saeid Karimi
70:58
Substitution - Iran (In: Amir Moradi, Out: Ahmad Jalali)
72:20
Foul - Spain : Jose Lara
72:33
Yellow Card - Spain : Jose Lara
72:45
Free Kick - Iran : Amir Zadeh
72:50
Cross - Iran : Amir Zadeh
73:32
Cross - Spain : Juan Miranda
73:36
Off Target - Spain : Abel Ruiz
75:23
Goal Kick - Iran : Ali Zadeh
76:24
Foul - Iran : Taha Shariati
77:2
Free Kick - Spain : Mohamed Moukhliss
77:12
Cross - Spain : Jose Lara
77:16
Off Target - Spain : Abel Ruiz
77:40
Foul - Iran : Mohamad Sharifi
77:50
Free Kick - Spain : Juan Miranda
78:31
Foul - Spain : Mohamed Moukhliss
79:16
Free Kick - Iran : Mohamad Sharifi
79:33
Throw-In - Iran : Ali Satavi
80:9
Cross - Iran : Allahyar Sayyad
81:11
Cross - Spain : Jose Lara
81:18
On Target - Spain : Cesar Gelabert
83:38
Cross - Iran : Allahyar Sayyad
83:42
On Target - Iran : Mohammad Sardari
83:0
Corner - Iran : Amir Zadeh
84:2
Substitution - Spain (In: Pedro Ruiz, Out: Abel Ruiz)
85:34
Corner - Spain : Jose Lara
86:2
Corner - Spain : Cesar Gelabert
86:59
Throw-In - Spain : Mateu Jaume
87:4
Cross - Spain : Pedro Ruiz
87:15
On Target - Spain : Ferran Torres
87:41
Corner - Spain : Jose Lara
88:9
Cross - Spain : Ferran Torres
88:17
Throw-In - Iran : Ahmad Jalali
88:25
Foul - Spain : Mateu Jaume
88:36
Free Kick - Iran : Ali Zadeh
89:25
Foul - Spain : Jose Lara
89:58
Off Target - Spain : Juan Miranda
90:22
Foul - Spain : Ferran Torres
90:33
Free Kick - Iran : Taha Shariati
90:40
Foul - Iran : Mohammad Sardari
90:0
Free Kick - Spain : Mateu Jaume
90:0
Off Target - Spain : Pedro Ruiz
90:0
Corner - Spain : Ferran Torres
90:0
Off Target - Spain : Jose Lara
90:0
Goal Kick - Iran : Ali Zadeh
90:0
Throw-In - Iran : Saeid Karimi
90:0
Foul - Iran : Allahyar Sayyad
90:0
Yellow Card - Iran : Allahyar Sayyad
90:0
Free Kick - Spain : Juan Miranda
90:0
Foul - Iran : Taha Shariati
90:0
Free Kick - Spain : Mohamed Moukhliss
90:0
Throw-In - Iran : Allahyar Sayyad
90:0
Corner - Iran : Amir Moradi
Read full article
Countdown To
Elections Results
To Assembly Elections 2018 Results