FIFA U-17 World Cup, Spain vs DPR Korea Highlights - As It Happened
Catch all the action with our LIVE commentary.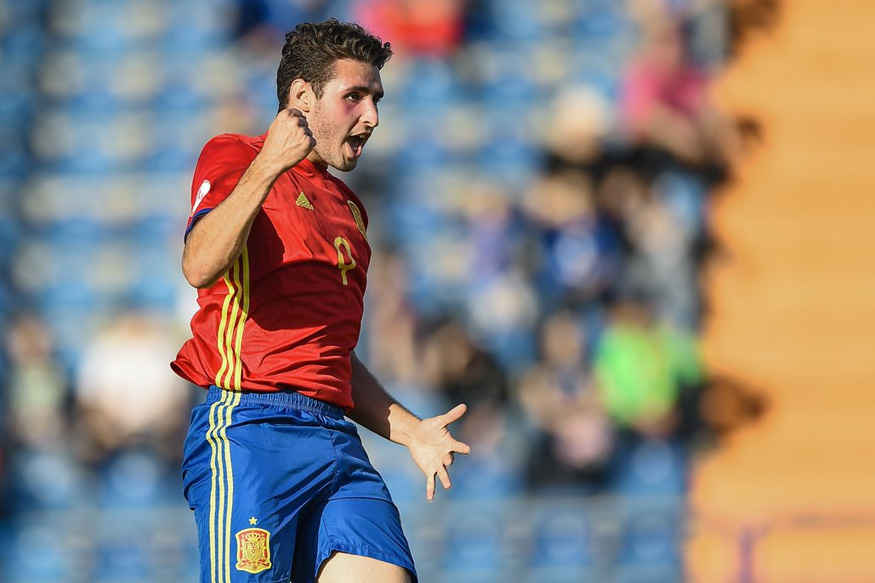 Catch all the action with our LIVE commentary.
PREVIEW SPA vs DPR:
European champions Spain will enter their final group match against DPR Korea as the firm favourites, looking to secure a Round of 16 berth in the FIFA U-17 World Cup here on Friday.
Teams (from):Spain: Alvaro Fernandez, Mateu Jaume, Juan Miranda, Hugo Guillamon, Victor Chust, Antonio Blanco, Ferran Torres, Mohamed Moukhliss, Abel Ruiz, Sergio Gomez, Nacho Diaz, Pedro Ruiz. Marc Vidal, Alvaro Garcia, Eric Garcia, Diego Pampin, Jose Lara, Cesar Gelabert, Carlos Beitia, Victor Perea, Alfonso Pastor.
North Korea: Sin Tae Song, Ri Hyok Sin, Kim Kyong Sok, Kye Tam, Sin Kwang Sok, Han Kyong Hun, Kim Hwi Hwang, Kim Ju Song, Kim Chung Jin, Kim Pom Hyok, Kung Jin Song, Ri Kang Guk, Ri Hyon Il, Han Jin Bom, Cha Kwang, Ri Il Ju, Yun Min, Jong Ryong Hun, Kwon Nam Hyok, Paek Kwang Min, Kim Chol Jin.
Catch the biggest newsmakers and the biggest newsbreaks on CNN-News18, the only news destination. Keep watching CNN-News18 at just 50 paise per month. Contact your cable/DTH operator now!

*Rental/capacity fee of Rs. 130/- as charged by cable/DTH operator may apply. **GST extra.
FIFA U-17 World Cup, 2017
1:59
Cross - Spain : Sergio Gomez
2:7
Foul - Spain : Antonio Blanco
2:20
Free Kick - DPR Korea : Sin Sok
3:1
Off Target - Spain : Cesar Gelabert
4:20
On Target - Spain : Mohamed Moukhliss
4:20
Goal - Spain : Mohamed Moukhliss
5:44
Throw-In - DPR Korea : Han Hun
6:33
Cross - Spain : Juan Miranda
7:1
Goal Kick - DPR Korea : Sin Song
8:46
Corner - DPR Korea : Yun Min
8:49
Off Target - DPR Korea : Sin Sok
9:57
Goal Kick - DPR Korea : Sin Song
10:23
Throw-In - Spain : Mateu Jaume
11:10
On Target - Spain : Abel Ruiz
12:13
Foul - DPR Korea : Kim Jin
13:36
Cross - Spain : Sergio Gomez
13:42
Throw-In - Spain : Juan Miranda
14:34
Throw-In - DPR Korea : Han Hun
15:24
Cross - Spain : Abel Ruiz
15:29
On Target - Spain : Sergio Gomez
16:32
Throw-In - Spain : Mateu Jaume
17:1
Throw-In - Spain : Juan Miranda
17:40
Foul - DPR Korea : Kim Jin
18:40
Free Kick - Spain : Sergio Gomez
18:52
Off Target - Spain : Mohamed Moukhliss
19:19
Goal Kick - DPR Korea : Sin Song
21:21
Cross - Spain : Juan Miranda
21:25
Off Target - Spain : Sergio Gomez
22:40
Goal Kick - DPR Korea : Sin Song
23:41
Throw-In - Spain : Juan Miranda
24:17
Cross - Spain : Abel Ruiz
24:42
Throw-In - DPR Korea : Han Hun
24:49
Foul - Spain : Victor Chust
25:12
Free Kick - DPR Korea : Han Hun
26:11
Foul - Spain : Cesar Gelabert
26:27
Free Kick - DPR Korea : Sin Sok
27:41
Corner - Spain : Sergio Gomez
27:42
On Target - Spain : Juan Miranda
27:46
Off Target - Spain : Cesar Gelabert
28:17
Corner - Spain : Sergio Gomez
28:20
On Target - Spain : Juan Miranda
28:42
Corner - Spain : Sergio Gomez
28:51
Off Target - Spain : Abel Ruiz
30:45
Goal Kick - DPR Korea : Sin Song
31:19
Throw-In - DPR Korea : Kim Sok
31:58
Throw-In - Spain : Mateu Jaume
33:15
Throw-In - Spain : Mateu Jaume
34:7
Throw-In - Spain : Mateu Jaume
34:13
Off Target - Spain : Cesar Gelabert
36:7
Foul - DPR Korea : Cha Kwang
36:16
Yellow Card - DPR Korea : Cha Kwang
36:36
Free Kick - Spain : Mohamed Moukhliss
37:12
Throw-In - DPR Korea : Kim Sok
37:18
Cross - DPR Korea : Kim Sok
37:32
Cross - Spain : Abel Ruiz
37:47
Cross - Spain : Abel Ruiz
39:57
Throw-In - Spain : Mateu Jaume
40:17
Throw-In - Spain : Juan Miranda
40:20
Cross - Spain : Mohamed Moukhliss
40:26
On Target - Spain : Cesar Gelabert
41:5
Foul - DPR Korea : Kim Sok
41:36
On Target - Spain : Sergio Gomez
42:6
Foul - DPR Korea : Kim Hyok
42:12
Yellow Card - DPR Korea : Kim Hyok
42:44
Cross - Spain : Juan Miranda
43:17
Corner - Spain : Sergio Gomez
43:23
On Target - Spain : Sergio Gomez
43:29
Foul - Spain : Victor Chust
43:0
Free Kick - DPR Korea : Sin Song
44:12
Cross - DPR Korea : Kim Hyok
44:31
Throw-In - Spain : Juan Miranda
44:47
Throw-In - Spain : Ferran Torres
45:0
Cross - Spain : Ferran Torres
45:0
On Target - Spain : Cesar Gelabert
45:0
Off Target - Spain : Ferran Torres
45:0
Foul - Spain : Sergio Gomez
45:0
Free Kick - DPR Korea : Sin Song
46:1
Start of Second Half
47:1
Throw-In - DPR Korea : Kim Sok
47:8
Off Target - DPR Korea : Han Hun
48:33
Cross - Spain : Juan Miranda
50:41
Foul - DPR Korea : Kim Hyok
52:45
Cross - DPR Korea : Yun Min
53:23
Cross - Spain : Ferran Torres
56:8
Off Target - Spain : Cesar Gelabert
57:48
Cross - Spain : Ferran Torres
58:11
Substitution - DPR Korea (In: Paek Min, Out: Kim Jin)
58:29
Corner - Spain : Sergio Gomez
58:35
Cross - Spain : Sergio Gomez
58:40
Off Target - Spain : Juan Miranda
60:25
Throw-In - DPR Korea : Yun Min
60:56
Cross - Spain : Juan Miranda
61:20
Cross - DPR Korea : Yun Min
62:45
Throw-In - DPR Korea : Han Hun
63:6
Throw-In - Spain : Mateu Jaume
64:20
On Target - Spain : Abel Ruiz
64:43
Foul - Spain : Antonio Blanco
64:53
Free Kick - DPR Korea : Paek Min
68:33
Cross - Spain : Sergio Gomez
68:35
Off Target - Spain : Abel Ruiz
69:17
Substitution - Spain (In: Jose Lara, Out: Ferran Torres)
70:6
Substitution - DPR Korea (In: Ri Il, Out: Cha Kwang)
70:26
Throw-In - Spain : Mateu Jaume
71:20
Cross - Spain : Jose Lara
71:25
On Target - Spain : Cesar Gelabert
71:25
Goal - Spain : Cesar Gelabert
74:58
Substitution - Spain (In: Eric Garcia, Out: Victor Chust)
76:6
Foul - DPR Korea : Yun Min
76:8
Yellow Card - DPR Korea : Yun Min
76:39
Foul - DPR Korea : Kwon Hyok
76:49
Free Kick - Spain : Mateu Jaume
80:2
Foul - DPR Korea : Kim Hyok
80:41
Substitution - Spain (In: Alvaro Garcia, Out: Antonio Blanco)
81:4
Foul - Spain : Abel Ruiz
81:13
Free Kick - DPR Korea : Ri Il
83:2
Goal Kick - DPR Korea : Sin Song
83:30
Foul - DPR Korea : Kim Sok
83:43
Yellow Card - DPR Korea : Kim Sok
84:9
Free Kick - Spain : Hugo Guillamon
84:15
Red Card - DPR Korea : Paek Min
86:26
Cross - Spain : Juan Miranda
87:50
Foul - Spain : Abel Ruiz
88:3
Substitution - DPR Korea (In: Ri Guk, Out: Kwon Hyok)
88:18
Free Kick - DPR Korea
90:19
On Target - Spain : Abel Ruiz
90:37
Cross - Spain : Mateu Jaume
90:0
Corner - Spain : Sergio Gomez
90:0
Off Target - Spain : Cesar Gelabert
90:0
Off Target - Spain : Sergio Gomez
90:0
Goal Kick - DPR Korea : Sin Song
90:0
Throw-In - DPR Korea : Han Hun
90:0
Foul - Spain : Alvaro Garcia
90:0
Yellow Card - Spain : Alvaro Garcia
90:0
On Target - DPR Korea : Yun Min
90:0
On Target - Spain : Abel Ruiz
90:0
Foul - Spain : Hugo Guillamon
90:0
Free Kick - DPR Korea : Yun Min
90:0
Cross - DPR Korea : Yun Min
Read full article
Countdown To
Elections Results
To Assembly Elections 2018 Results