FIFA U-17 World Cup: We Were Nervous After Conceding First Goal, Says Brazil Coach
Brazil coach Carlos Amadeu conceded that his players were a bit nervous after conceding an early goal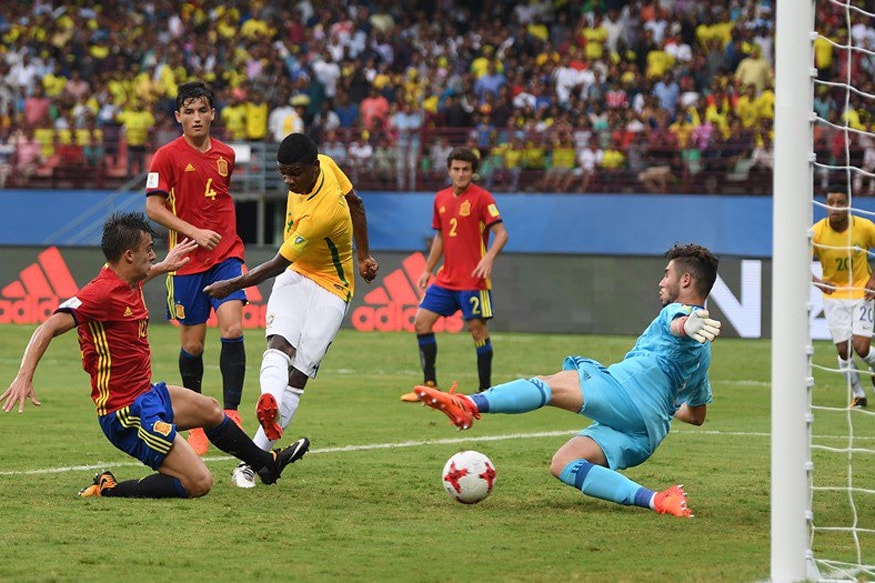 Brazil coach Carlos Amadeu conceded that his players were a bit nervous after conceding an early goal
Kochi: Brazil coach Carlos Amadeu conceded that his players were a bit nervous after conceding an early goal but gave credit to his players for regrouping themselves to score two goals and beat Spain 2-1 in their FIFA U-17 World Cup campaign opener here on Saturday. "They (Spain) scored a goal in the beginning of the match and it was difficult. Our players were a bit nervous after the goal but they remained calm and started to play their football to score two goals," Amadeu said after the match.
"In the second half, Spain were better. They had many corner kicks but our defence was very solid. Spain could not shoot the ball over. Our goalkeeper played very well today. It was was a really an equal game," he said. Praising his players, the coach said, "It (Conceding the goal early) was bad for us for sure. Professional teams, professional players would have to bear with the situation.
You can imagine these guys are playing their first World Cup. After the first goal, we kept getting better in the first half and could score two goals." He said he was a relieved man that his side began their campaign with a win. "It was the first game in such a high level. We know how important is to win the first match. In the last U-17 World Cup in 2015 we lost our first game and we went to the second game against England totally nervous. Thank god we could win today. It was very difficult for us today. Spain played a very nice football."
Amadeu thanked the crowd for the overwhelming support to his team. "When we got into the pitch the crowd was shouting for us and supporting us. It was really nice. We have to congratulate
you for this kind of public. It is very important to have the crowd in your side. We wanted to give it back because it is very important for us all over the competition," the Brazil coach said.
"It's a good pitch. It's a very nice facility to play football and we could play our football here. We are feeling like home since we got here." Spain Santiago Denia rued that his side did not take the chances that came their way. "It was an equally contested match. We played well in the first 10 minutes. After the first goal, Brazil started to attack and they had a very good first half. We played better in the second half and we could have equalised. We had chances but could not score," he said.
Asked about the impact of humidity on his players, he said, "So many players, not just from Spain but from Brazil had muscular problems. Humidity played its part. We have been here just for four days and still we have to adapt. We will try to adapt with the climate."
Get the best of News18 delivered to your inbox - subscribe to News18 Daybreak. Follow News18.com on Twitter, Instagram, Facebook, Telegram, TikTok and on YouTube, and stay in the know with what's happening in the world around you – in real time.
| Edited by: Madhav Agarwal
Read full article