Former India Coach V.Baskaran Backs Hockey India Over Oltmans Sacking
Former India coach V.Baskaran backed Hockey India's decision to sack coach Roelant Oltmans, saying that the team's performances under the Dutchman wasn't satisfactory.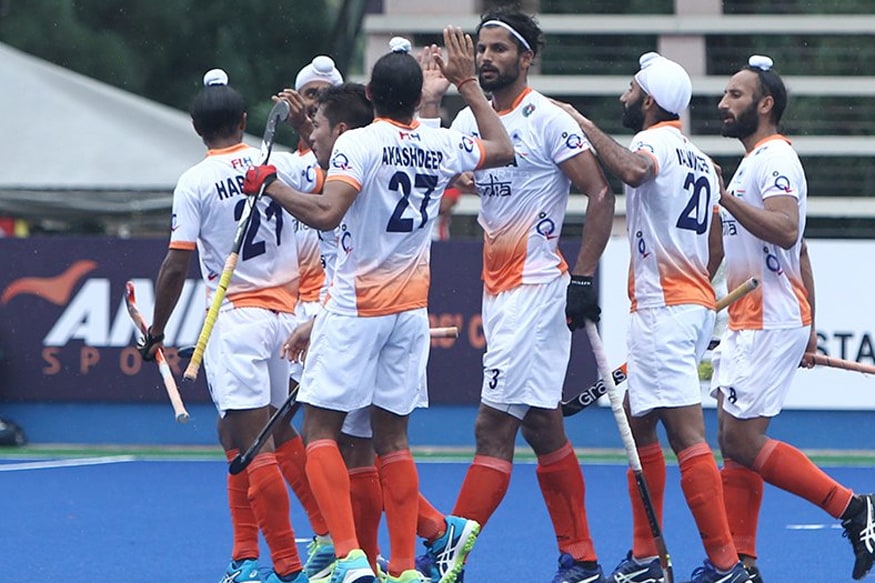 A file photo of the Indian hockey team. (Image credit: Hockey India.)
New Delhi: Former India coach V.Baskaran backed Hockey India's decision to sack coach Roelant Oltmans, saying that the team's performances under the Dutchman wasn't satisfactory.
India moved up from World No.11 to world no.6 in the rankings but poor performances against lower ranked teams and a quarter-final exit from Rio Olympics went against Oltmans.
"If someone is getting that much of money, then there should be accountability. I feel performance of the team could have been much better. He wasn't willing to listen to the negative parts of his approach. One should be professional enough to accept shortcomings," said Baskaran in an exclusive chat to News18.
Baskaran, who captained the last Indian hockey team to win a gold medal at the Olympics in 1980 also said that an Indian coach who understands Indian hockey should be at helm rather than a foreign coach.
"Speaking as a former coach, I feel it will be much better if an Indian is the coach. He(Oltmans) was a Dutchman and the boys struggled to adapt to the Dutch style of hockey. " Baskaran added.
Baskaran said that the media's infatuation with a foreign coach was puzzling considering that the country has enough capable Indian coaches.
"Why don't you have a foreigner as DG of SAI(Sports Authority of India) or as a finance minister? You shouldn't differentiate between Indian and foreign coaches. It finally comes down to your abilities. The likes of Gopichand, Prakash Padukone, PT Usha have all delivered as coaches and they are all Indians."
Spanish coach Jose Brasa, who also had a stint with the Indian team said that only a foreign coach can make the team world beaters in the coming years.
"I think India needs a foreign coach only since Indian coaches are not well prepared. India does not have any hockey university. Foreign coach, equipped with experience, can do wonders provided given a long tenure," Brasa was quoted as saying.
But Baskaran hit back at Brasa saying that he failed to perform as coach of India, "We have no dearth of coaches, why isn't he(Brasa) coaching the Spanish team or some other team if he is that good. You see big teams like Netherlands, England preferring local coaches then why not India," Baskaran said, questioning Brasa's wisdom.
Hockey India has come in for criticism for their decision to sack Oltmans, with the Dutchman also saying that foreign coaches find it difficult to work in India, especially in the sports sector considering the bureaucratic and political hurdles they face, but Baskaran felt these are all excuses for their lack of performance.
"I don't agree with all these statements, finally it comes down to your abilities. You can't keep focusing on the processes without getting the results. If you don't get the results, you should be bold enough to face the action. When these guys were appointed with their huge salary packages, they didn't object to Hockey India. Let's not be childish and take the decision sportingly and move on," Baskaran said while signing off.
Get the best of News18 delivered to your inbox - subscribe to News18 Daybreak. Follow News18.com on Twitter, Instagram, Facebook, Telegram, TikTok and on YouTube, and stay in the know with what's happening in the world around you – in real time.
| Edited by: Arjit Dabas
Read full article