News18
»
Formula One
3-min read
Formula One Takes On a New Look for 2017
Formula One has undergone major rule changes, with wider cars and fatter tyres providing a new look and bigger challenge.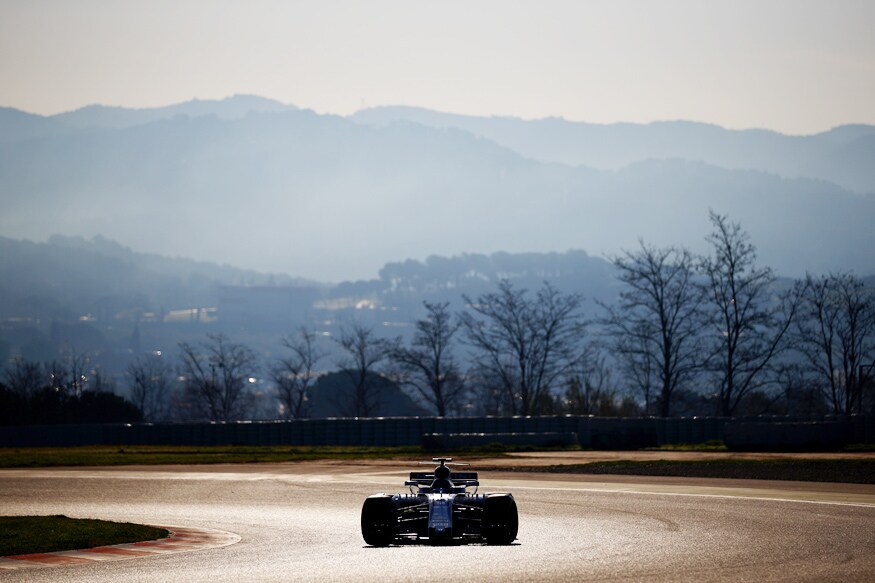 Image credit: Getty Images.
London: Formula One has undergone major rule changes, with wider cars and fatter tyres providing a new look and bigger challenge.
The sport is also under new ownership, with Liberty Media taking over and former commercial supremo Bernie Ecclestone sidelined.
The following looks at what differences fans will see when the championship starts in Australia on March 26.
LAP TIMES
Cars are expected to lap between three and five seconds faster due to revised aerodynamics and the tyre changes. The fastest lap in Barcelona testing was quicker than any pole position there since 2007.
The gain is coming through the corners, with many taken flat out thanks to improved downforce and grip. That means higher G-forces on drivers. Straight line speeds will be slower but drivers can stay on the throttle for longer.
"It's quite unreal. It's amazing. I'm coming through some of these corners...and I'm like a kid on a roller-coaster ride because it's so much better than it was before," says Mercedes' triple world champion Lewis Hamilton.
TYRES
Tyres are fatter. The width of the rears has expanded from 325mm to 405. The fronts are 305mm compared to a previous 245mm. The wheel rims remain unchanged.
Pirelli expects the tyres to offer about 25 percent more grip and last longer, which is likely to mean fewer pitstops.
"I think the strategy elements that we've seen in the last seasons will be greatly reduced," says Pirelli motorsport head Paul Hembery. "I'm quite sure we'll see a lot more one-stop races."
AERODYNAMICS
Front wings are wider, stretching out to 1,800mm from a previous 1,650. Rear wings are also wider but lower, helping give the cars a more aggressive look.
Cars are wider, longer and heavier. The total width has been expanded to 2,000mm, up from 1,800mm - a return to pre-1988 dimensions.
The cars are 20kg heavier at 722kg and "Shark fins" have appeared on most of them, leading off the airbox behind the driver's head. The revised aero could make it harder to overtake, however.
"Now the turbulence is easily twice as powerful from the car, coming out of the back," says Hamilton.
FUEL
The fuel allowance has been raised by five kg to 105kg to compensate for increased consumption due to the extra grip, but there are concerns that is not enough. That could lead to evident fuel saving at the end of some races.
CHAMPIONS
For the first time since 1994, the season after Alain Prost won his fourth title and then retired, Formula One will have no reigning champion on the starting grid with Nico Rosberg quitting in December.
Jenson Button, the 2009 champion, has also departed but four previous titleholders remain - Hamilton, four-times champion Sebastian Vettel (Ferrari), 2007 winner Kimi Raikkonen (Ferrari) and double champion Fernando Alonso (McLaren).
TEAMS
The grid has shrunk to 10 teams, and 20 drivers, following the demise of Manor.
Toro Rosso have switched from Ferrari to Renault power.
RACES
The season has 20 races, one fewer than 2016, due to Germany's absence for financial reasons and no new additions.
NEW FACES
Button, Rosberg, Brazilian Felipe Nasr and Mexican Esteban Gutierrez have left.
In come Belgian Stoffel Vandoorne at McLaren and 18-year-old Canadian Lance Stroll with Williams.
Other paddock moves are Finland's Valtteri Bottas to Mercedes, France's Esteban Ocon to Force India, Germany's Pascal Wehrlein to Sauber, Denmark's Kevin Magnussen to Haas and Germany's Nico Hulkenberg to Renault.
FAREWELLS
Ecclestone is no longer in charge, but has an undefined "Emeritus" role.
Renault have split with team principal Frederic Vasseur and not replaced him.
Technical head Paddy Lowe has left Mercedes and former Ferrari man James Allison has taken his place. Engineering head Pat Symonds is gone from Williams.
Get the best of News18 delivered to your inbox - subscribe to News18 Daybreak. Follow News18.com on Twitter, Instagram, Facebook, Telegram, TikTok and on YouTube, and stay in the know with what's happening in the world around you – in real time.
| Edited by: Amit Kumar
Read full article