News18
»
Other Sports
3-min read
Gaurav Solanki Fights Struggles to Pack a Golden Punch
Gaurav Solanki, a 20-year-old boxer from Ballabhgarh, Haryana, who won the gold medal in Commonwealth Games 2018 in 52kg category, has another interesting tale to tell.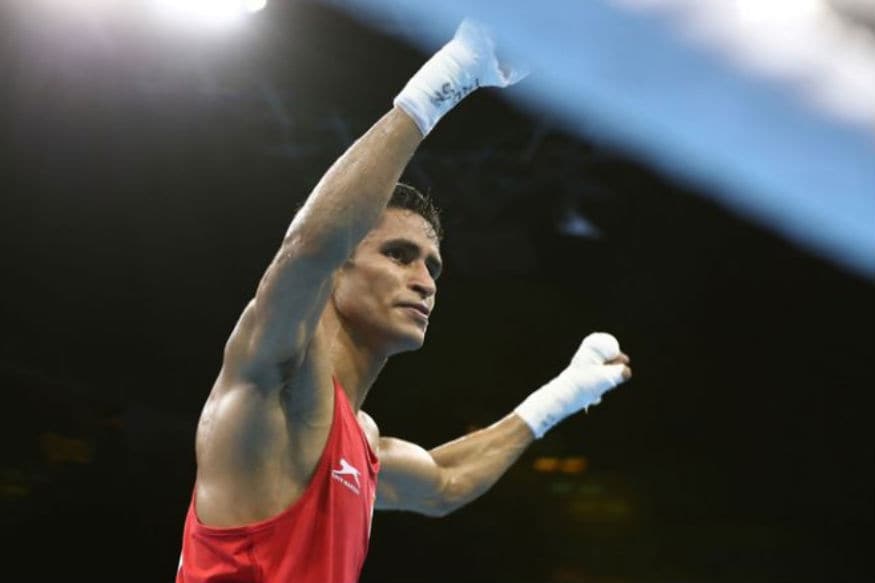 Twitter/ Doordarshan News
New Delhi: Indian sports persons, most of them, have a distinct similarity among them. The sport, discipline and category may remain the same but what binds them is their rags to riches story.
Take any successful Indian athlete on the global arena, and invariably their struggle would be the same. Weak financial background, parents' resistance to let their child pursue sport as a career, and lack of facilities to excel. And yet, each story has it's own, different charm to it that takes the athletes' stature to a new high.
Gaurav Solanki, a 20-year-old boxer from Ballabhgarh, Haryana, who won the gold medal in Commonwealth Games 2018 in 52kg category, has another interesting tale to tell.
One would think that hailing from Haryana, a hotbed of boxing in India, would have made life easy for Gaurav. But to everyone's surprise the village had no sporting leaning unlike other places in the state that are mad for their sport. It was sheer coincidence that boxing was introduced in his school, and he took that up to try his hand at it.
In an exclusive chat with News18 Sports, Gaurav says, "I have seen a lot of ups and downs and struggle in my career. I have learnt from the hard times, and because of that only I have managed to win this gold medal.
I come from a place where there is not a very strong culture of boxing. But when boxing was introduced in my school (Bansi Vidya Niketan), I took that up. So I started boxing in the morning before classes began. And that's how my interest developed in boxing."
As one would expect, he had to face his parents' resistance after he took up boxing. A man of few words, Gaurav described how his father wanted him to concentrate on academics and leave boxing. But in the end, the pugilist had his way and convinced his parents to let him become a boxer.
"There was resistance from my family when I started boxing. My studies had started to take a toll and my parents were against it. They wanted me study and not waste my time on boxing. I was often told that I'm losing focus from academics. But I persisted despite my parents' resistance.
"In fact the opposition to boxing did not stop there. As it's a contact sport, you are bound to get hurt. So it was difficult hiding from my parents, especially my mother. But after they saw that there is no coming back for me from the path I had chosen, they just allowed me to pursue it. Even, they saw me winning which really made them change their decision," an excited Gaurav said.
But despite his family opposing his decision to become a boxer, he only has father and mother to thank for the success that he has tasted. He remembers how his mother cried when she came to know that her son had done the country proud.
"The credit for my success goes to my mother. When I called to tell her that I won, she just cried over the phone. She couldn't even say anything. She used to spend all her time praying for me, when I was at the Games. Her best wishes have brought me luck. My father supported me when we were financially not very strong. But he never told us about his struggles. He used to fulfill every demand of mine. Now I think this kind of struggle will end."
Not one the to boast of his own achievement, Gaurav just hints at how the competition in his category has made him a better boxer. He mentions about the time when he was struggling to find form, and how he learnt from his mistakes to become a better boxer.
"There is a lot of competition in my weight category in India. There are a lot of youngsters who are coming in and proving their mettle. So I always have to be always on my toes, that nobody takes my place in the team. This CWG, I was focused and prepared to do well. I knew where I stood before the competition started as well. But I need to keep up the performance in Asian Games as well," he signed off.
Get the best of News18 delivered to your inbox - subscribe to News18 Daybreak. Follow News18.com on Twitter, Instagram, Facebook, Telegram, TikTok and on YouTube, and stay in the know with what's happening in the world around you – in real time.
| Edited by: Madhav Agarwal
Read full article