Ashley Cole: Premier League important for Chelsea
Chelsea's left-back claims that domestic matters are the most important.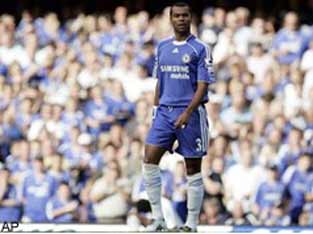 Chelsea's left-back claims that domestic matters are the most important.
Ashley Cole has insisted that the Premier League, not the Champions League, is the most important trophy for Chelsea to win.
Many observers have seen Carlo Ancelotti's appointment as manager as a sign that the club are focusing their intentions on capturing their first Champions League trophy, but Cole does not see it that way.
Speaking to The Guardian, he said, "Some players here might want to win the Champions League but, for me, winning the Premier League again is my main aim for the season.
"That's the best trophy to have. It's the best league to play in and that feeling you have when you win it makes you realise it's a great achievement for any club.
"It makes the players proud. It's a tough old season in the Premier League and it's only getting harder so, if you win the title, you are true champions."
"Sometimes, the best team doesn't always win the Champions League. It depends more on how you play on a certain day. In the league you have play consistently well."
"Of course it would be nice to reach a Champions League final again and win it but the Premier League is the best trophy to win, maybe because I'm English and have won it twice."
Cole then praised Ancelotti's initial efforts, continuing, "He has brought in a few new ideas and hopefully we can put them into our play.
"We are starting to understand the way he wants us to play now but it will take time.
"We are playing with two up [front] and we are trying to get used to the formation in pre-season so that it works when we start the Premier League."
Finally, Cole had a dig at his former club, Arsenal, by indicating that he would like to see Manchester City finish above them.
He said, "This year might be tough for them [City] but, next year, you never know given the guys they are buying.
"The players they are bringing in are good quality. You never know, they may just gel, click, straight away and it's magic.
"But you won't really know until you see them play. I hope they do.
"I have friends there and I hope they do really well – and they finish above Arsenal."
Get the best of News18 delivered to your inbox - subscribe to News18 Daybreak. Follow News18.com on Twitter, Instagram, Facebook, Telegram, TikTok and on YouTube, and stay in the know with what's happening in the world around you – in real time.
Read full article