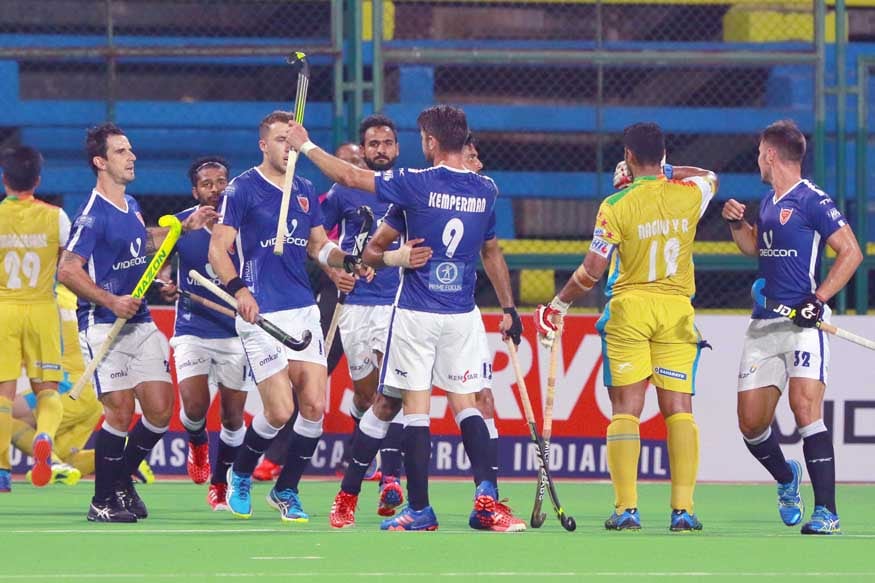 Dabang Mumbai in action in the Hockey India League. (Image Credits: HIL)

Dabang Mumbai had failed to reach the semi-finals in the last two years of existence and this year they have changed that by displaying top-class hockey which enabled them to finish first in the league phase.

Even though Delhi got off to a slow start but the Cedric D'Souza-coached side made remarkable comeback in the league phase with some fine victories against defending champions Jaypee Punjab Warriors, Kalinga Lancers and Uttar Pradesh Wizards that ensured a spot in the knockout.


17 Jun, 2019 |

ICC World Twenty20 Europe Qualifier

DEN
vs
NOR
141/7

20.0 overs

/

overs

Denmark beat Norway by 46 runs

16 Jun, 2019 |

ICC World Twenty20 Europe Qualifier

ITA
vs
GGY
121/10

19.2 overs

/

overs

Italy beat Guernsey by 11 runs

16 Jun, 2019 |

ICC World Twenty20 Europe Qualifier

JER
vs
NOR
160/5

20.0 overs

/

overs

Jersey beat Norway by 80 runs

17 Jun, 2019 |

ICC Cricket World Cup

WI
vs
BAN
321/8

50.0 overs

322/3

41.3 overs

Bangladesh beat West Indies by 7 wickets

16 Jun, 2019 |

ICC World Twenty20 Europe Qualifier

GER
vs
ITA
134/8

20.0 overs

/

overs

Italy beat Germany by 5 wickets