Hockey World Cup: Happy That Dad Will be Able to See me Play Now, Says Sreejesh After Attending to Ailing Father
His father Raveendran Parattu had been admitted to a hospital in Kochi a night before and the family had not let the news reach the goalkeeper, who was to play an important match.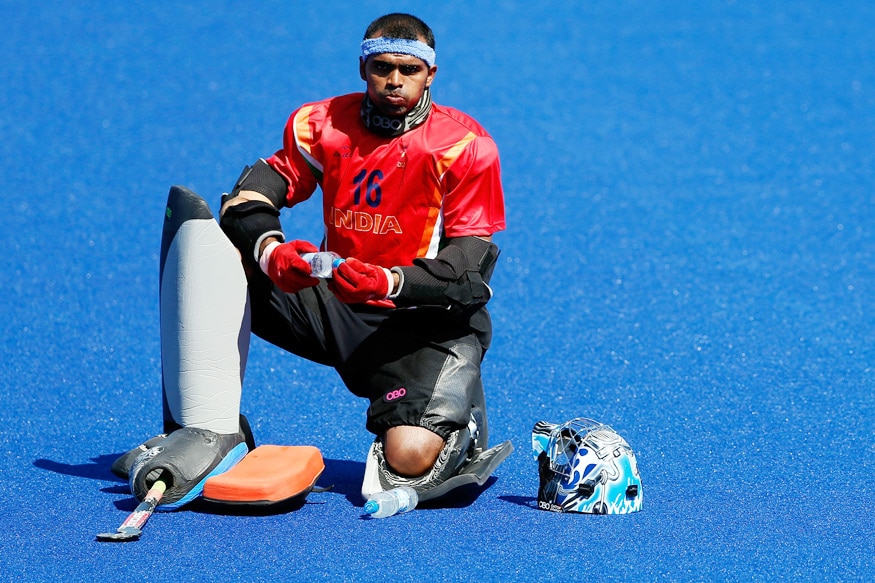 PR Sreejesh. (Getty Images)
Bhubaneswar: India's 2-2 draw against World Number 3 Belgium in their World Cup Pool C match on December 2nd here evoked a lot of praise from all corners, but goalkeeper Sreejesh PR could not savour any of it. Moments after the game, a message on his phone left the former captain and Padma Shri awardee heartbroken.
His father Raveendran Parattu had been admitted to a hospital in Kochi a night before and the family had not let the news reach the goalkeeper, who was to play an important match.
Hours after the match, Sreejesh left for his hometown Ernakulam to attend to his ailing father — Sreejesh was given special permission to go back home as there was a five-day gap before India's next match — and will rejoin the team on Wednesday evening here.
"My father is a heart patient and he has been on medicines since last one year," Sreejesh told News18 from Kochi ahead of taking a flight back to Bhubaneswar to join his team mates. "My father underwent an angioplasty yesterday and I rushed back to see him. Thankfully, there were rest days in between and Hockey India and my coaches were kind enough to allow me to go back home at this time."
"I am very close to my father and I am glad I could get to see him. The World Cup is a very important tournament for us and it was tough on me to see him like this.
"But the surgery has gone well and he will be shifted to the ward soon. I am thankful he is fine now. I will rejoin the team soon and with my father's blessings, I am raring to play the next match against Canada."
Sreejesh, who did not have a good game against Belgium, said he could feel something was not right.
"A night before the Belgium match, I could not sleep properly," said Sreejesh. "Something in me said all was not well. My father was in the hospital at that time but I had no idea. Usually before the match, I speak to my parents but before the match against Belgium my parents did not answer my calls. I went into the match with a strange mindset thinking how did this happen for the first time."
The news of his father's illness reached him after the match.
"I reached Kochi and went straight to the hospital. My father, who had undergone an angioplasty that afternoon, was very surprised to see me and asked why have you come in between of the World Cup?
"Now, he is recovering after the surgery and I also feel fine that I have seen him. Had I been away, I would have been very tense. Now, I feel relieved and I am happy that he will be back home soon and would be able to see my matches on TV," said the 30-year-old.
Sreejesh, a veteran of 200 plus matches, is the team's go-to-man in crisis situations and the very vocal goalkeeper keeps the team's spirits high with his consent energy and directions on the field.
India, who beat South Africa 5-0 in their opening match and drew Olympic silver medallists Belgium 2-2 in the next game, are in a good position to qualify for the quarter-finals. And Sreejesh's presence and good form is vital for the team's campaign.
Sreejesh says his father has always inspired him. "He played a huge role in making me a professional player and I want to give my parents all the happiness," he said.
Sreejesh's humble background meant the goalkeeper struggled during his initial days at the junior camp. He did not have proper clothes, shoes or a kit and would sew up his torn jersey on most nights since he could not afford a new one.
When Sreejesh first joined the junior national camp in 2003, his father had taken a loan of Rs 3,500 to get his son a goalkeeping kit. "I am blessed to have parents like them," says Sreejesh.
Get the best of News18 delivered to your inbox - subscribe to News18 Daybreak. Follow News18.com on Twitter, Instagram, Facebook, Telegram, TikTok and on YouTube, and stay in the know with what's happening in the world around you – in real time.
| Edited by: Abhimanyu Sen
Read full article