News18
»
Other Sports
3-min read
Charley Hoffman, William McGirt Lead US Masters Heading Into 2nd Round
Charley Hoffman and William McGirt were the first to take advantage of Dustin Johnson's absence at the Masters.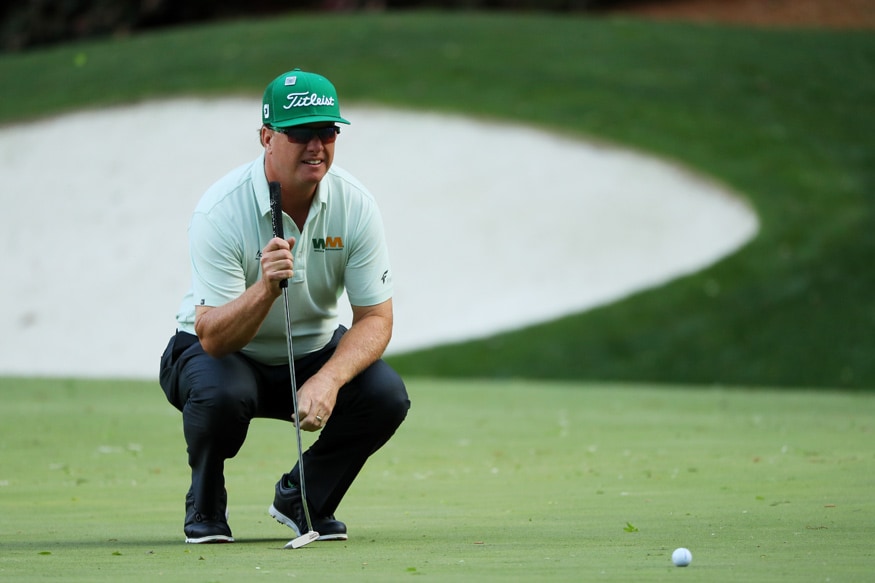 Charley Hoffman. (Getty Images)
Augusta: Charley Hoffman and William McGirt were the first to take advantage of Dustin Johnson's absence at the Masters.
The odds are they won't be the last.
Hoffman had a 7-under 65 to dominate a wind-swept opening round. His four-shot lead over McGirt is the largest at Augusta National after the opening round in 62 years.
But with conditions expected to improve through the weekend, there's a host of capable challengers looking to fill the void left by the withdrawal of Johnson, the world's No. 1 player and a heavy favorite at the season's first major.
Hoffman acknowledged he was simply trying to make pars in the tricky conditions — gusts approached 40 mph, flung hats off patrons' heads and sent egg-salad sandwich wrappers blowing across greens and fairways — so he wouldn't shoot himself out of the event.
He did that, and then some.
Hoffman found himself in better spots than he hoped and "was able to convert those birdies and turn it into a fantastic round."
He had birdies on seven of his final 11 holes to surge past McGirt, whose gutsy 69 looked like it might rule the round.
"It's one of those things where I almost wanted to sign my card and go back to the first tee today," McGirt said.
Lee Westwood, perhaps the best player without a major, was next at 2-under. The group at 1-under including three-time Masters champion Phil Mickelson, Olympic gold medalist Justin Rose and former PGA champion Jason Dufner.
Some other things to keep an eye on in Friday's second round:
NO NUMBER 1: Dustin Johnson was the overwhelming favorite . He had won his past three events — two of them World Golf Championship titles — and felt he was in as good a shape as ever coming to Augusta National. But he injured his back falling down some steps Wednesday at his rental home. He made the difficult decision to withdraw. "I don't feel there's any chance of competing," he said. His absence opens the doors for, well, take your pick.
MICKELSON'S START: Phil Mickelson, 46, is hoping to catch the same lightning that Jack Nicklaus mustered to win the 1986 Masters at the same age. And Mickelson got off to a positive start with a rousing eagle on No. 2 and a birdie two holes later. The winds caught up with Lefty during a middle stretch where he made four bogeys in seven holes. He rallied with a pair of birdies to finish at 71, among just 11 players to break par heading into Friday.
SPIETH'S BIG NUMBER: For a second straight year, Jordan Spieth put up a crazy number at Augusta. This time, he minimized the damage. In 2016, Spieth had a quadruple bogey 7 on the par-3 12th in the final round to give away his likely green jacket. On Thursday, he took another quad with a 9 on the par-5 15th. He followed that gaffe with a birdie-2 on the 16th and was at 75, certainly still with a chance to pick up more ground in the second round.
WESTWOOD'S TURNAROUND: Lee Westwood started with a disastrous front nine, then caught fire with five straight birdies on the back to finish with a 70 — good for third on the leaderboard. "I wasn't too disappointed," Westwood said of shooting 3-over par the first nine holes. "I was just trying to not make any silly mistakes on 10, 11, 12, and play my way out of the tournament."
IT'S WINDY: Don't think the winds were bad at Augusta National on Thursday? Then talk to Thomas Pieters, who held the lead at 5-under for a time early before a pair of double bogeys on the back nine dropped him to even-par 72. "If you catch the wrong gust at the wrong time, then you look stupid, like I did on 12," Pieters said. "But that's just Augusta, I guess." The winds are expected to be a factor again on Friday, just not as much.
Read full article
Countdown To
Elections Results
To Assembly Elections 2018 Results