Holland vs Brazil: battle of the playmakers
Kaka has had a below par World Cup and Wesley Sneijder is yet to dominate in the way he does for Inter Milan.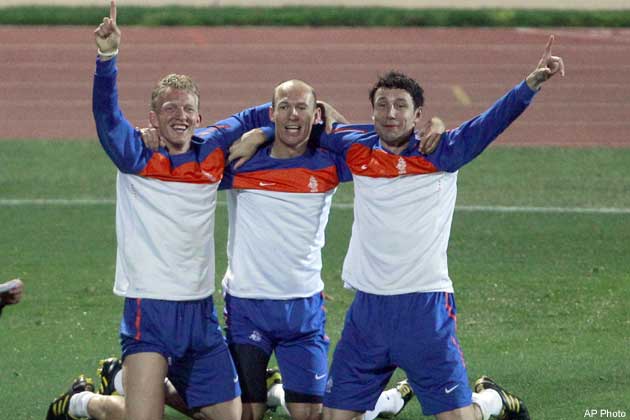 Kaka has had a below par World Cup and Wesley Sneijder is yet to dominate in the way he does for Inter Milan.
Port Elizabeth: It is a clash between the number one and the number four side in the world. There has been no shortage of magic from the Selaccao and the five-time world champion would want to carry on and win their sixth title. The Dutch, on the other hand, have adopted a far more pragmatic and hard-to-beat approach.
And the winner could well be decided by who wins the battle of the playmakers. Kaka has had a below par World Cup including a send-off and Wesley Sneijder is yet to dominate in the way he does for Inter Milan. The stage is set for one or both to take control.
Unspectacular but effective Oranje
Dutch football is synonymous with Total Football but the Netherlands' football in the World Cup so far has been anything but total. The Oranje have won all the matches in South Africa and have a boastful 100 per cent record - it is actually better than Brazil and Spain - but coach Bert van Marwijk has been criticised in failing to adopt a more liberal attacking style.
However, the Dutch teams of yore played with panache but generally lost their way in knockout stages, rendering their entertaining football eye-catching but fruitless. This time, though, it could be different and the Dutch will surely be optimistic. The 4-2-3-1 formation has been very effective in suffocating the opposition of possession and control in the midfield and has also seen the Dutch score goals upfront.
So far the Oranje have flown freely in the competition, beating the likes of Denmark, Japan and Cameroon in the group stage with virtually no trouble and then breezing past Slovakia in the last-16 without really increasing the tempo.
Robin Van Persie has yet to come to life for Holland while Arjen Robben has just recovered full match fitness. Wesley Sneijder has been their most effective player so far and creative play from the midfield on Friday afternoon will weigh heavily on his shoulders again.
The Dutch will also be up for revenge at the Nelson Mandela Bay Stadium in Port Elizabeth. The last time the Europeans confronted Brazil in a major internationals finals was in France '98 and at the time the South Americans won on penalties. However, under van Marwijk Holland have their longest ever unbeaten run in internationals - 23 matches - and they will be boosted by that when they take to the pitch against the Selecao on Friday afternoon.
Un-Brazilian style, Brazilian results
Brazil have been one of the most impressive teams in the World Cup so far, having demolished oppositions and walked over their graves without mercy. Topping Group G was easy enough - two successive wins against North Korea and Ivory Coast, and a draw with Portugal didn't come with much trouble - and against the very attack-minded Chile the South American giants were even more ruthless, winning 3-0 against a side that had given Spain a scare in the group stage.
Yet the media back in Brazil, as well as some sections of the team's followers, have not been fully enamoured by this Brazil side. The Selecao are arguably the most popular international team of all time and much of this fame and popularity has stemmed from the fact that they played the beautiful game beautifully - with panache, finesse and grace. This Dunga-led Brazil side have won matches but they have never awarded great significance to aesthetics.
Not that it matters much to coach Dunga. A renowned defensive midfielder in his playing career, the 46-year-old focuses more on getting the result than on winning matches in style. The 2007 Copa America triumph, the 2009 Confederations Cup conquest and top spot in the South American qualifying campaign for the World Cup finals all attest just how good a coach the former Fiorentina player has been.
Even in the World Cup, Brazil have not been exactly boring - unspectacular though they have been on occasions - as they showed that against Chile in the last 16 when, after going a goal up, they controlled the flow of the match and scored two more goals.
Brazil are arguably the most dangerous and quickest team on counter-attacks, and against a Dutch team that is not exactly formidable at the back, Kaka, Robinho et al will be looking to exploit this aspect of their game to the maximum. Defensively Brazil look very strong too, and they wouldn't be scared to take on a Dutch side that has yet to fully stretch out its wings in South Africa.
Form guide
Netherlands
June 28: Netherlands 2-1 Slovakia (World Cup)
June 24: Cameroon 1-2 Netherlands (World Cup)
June 19: Netherlands 1-0 Japan (World Cup)
June 14: Netherlands 2-0 Denmark (World Cup)
June 5: Netherlands 6-1 Hungary (Friendly)
Brazil
June 28: Brazil 3-0 Chile (World Cup)
June 25: Portugal 0-0 Brazil (World Cup)
June 20: Brazil 3-1 Ivory Coast (World Cup)
June 15: Brazil 2-1 North Korea (World Cup)
June 7: Tanzania 1-5 Brazil (Friendly)
Team News
Netherlands
The Dutch have no injury concerns. Arjen Robben will start again and coach Bert van Marwijk is unlikely to chance his lineup. In a 4-2-3-1 formation, Mark van Bommel and Nigel De Jong will be the two central midfielders entrusted with the task of protecting the back four and breaking Brazilian moves while Arjen Robben and Dirk Kuyt will be the two widemen with Wesley Sneijder playing through the middle behind lone striker Robin van Persie.
Probable Lineup (4-2-3-1): Stekelenburg, Van der Wiel, Heitinga, Mathijsen, Van Bronckhorst; Van Bommel, De Jong; Robben, Sneijder, Kuyt; Van Persie
Brazil
Coach Dunga has a few injury and suspension worries. Ramires is suspended while Elano has been confirmed to be out with an ankle injury. Felipe Melo is training normally but he may not start on Friday afternoon. Daniel Alves will be the replacement for Elano while Josue or Kleberson will be drafted in as replacement for Ramires.
Probable Lineup (4-2-3-1): Julio Cesar, Maicon, Lucio, Juan, Bastos; Gilberto Silva, Josue; Alves, Kaka, Robinho; Luis Fabiano
Players to watch
Arjen Robben (Netherlands)
The Dutch international winger didn't play too much of a role in the Oranje's group games as he was still carrying an injury. However, Robben started against Slovakia in the second round and scored after just 18 minutes. It was a trademark goal as the Bayern Munich star cut in from the right and drilled in a shot from just outside the 18-yard box that seared into the Slovak net. Robben, placed fifth in the Castrol Rankings, was uncontainable against the Slovaks and he will be Oranje's main weapon against Brazil.
Robinho (Brazil)
The former Real Madrid star has been very good in the World Cup so far, but is still short of his best. His move to Santos for the second half of the 2009-2010 campaign and appears to have rejuvenated the clever dribbler. Against a Dutch backline that looks vulnerable when opposition attackers run at them, Robinho could prove to be the destroyer.
Get the best of News18 delivered to your inbox - subscribe to News18 Daybreak. Follow News18.com on Twitter, Instagram, Facebook, Telegram, TikTok and on YouTube, and stay in the know with what's happening in the world around you – in real time.
Read full article