News18
»
Other Sports
5-min read
Hope Floats Amidst The Oh So Familiar Chaos as Asian Games Near
The 18th Asian Games are now less than a week away, but there's a few medals in India's kitty already.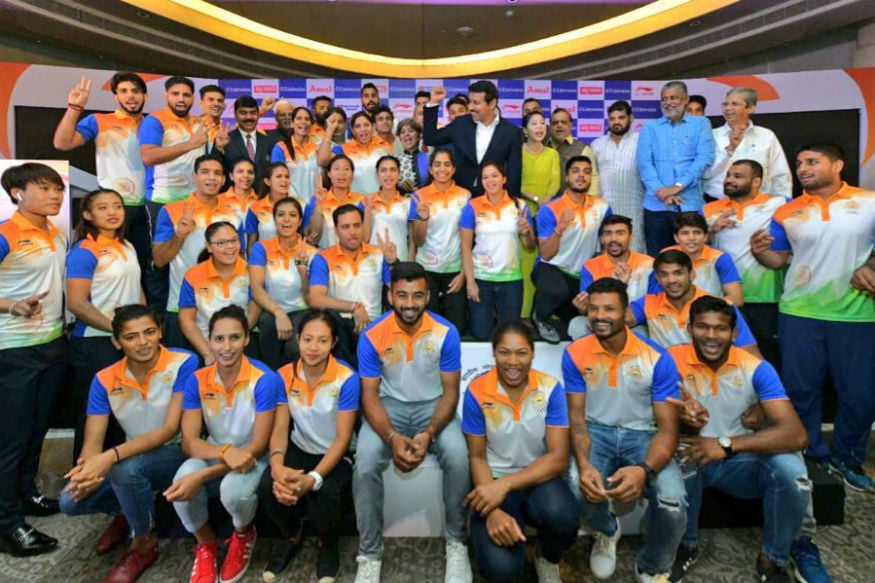 (Image: Rajyavardhan Rathore/Twitter)
The 18th Asian Games are now less than a week away, but there's a few medals in India's kitty already.
Bronze: Priorities
Silver: Disorganisation
Gold: Suspense
Feel free to swap the order around, because not much is going to change. Things like management, organisation and clarity have never really been Indian sport's strength. However, the build up to these games has been particularly chaotic and mystery-filled, as the powers that be have achieved stellar success in taking the attention away from the most important person in the middle of their personal bickering and egos – the Indian athlete.
From the Indian Olympic Association's initial list of 906 participants across 40 disciplines that was sent to the Sports Ministry in June, to 572 in 36 sports as of the 10th of August, plenty has happened. Countless court cases, to start with. Cases on selection, cases on omission, cases on whether or not to even field a team in certain disciplines at the competition.
The Indian Olympic Association, now headed by veteran administrator Dr. Narinder Batra, deserves some credit. It had its heart in the right place, and made the initial selections based on its original criterion – top six in individual events, and top eight in team events to make the cut only. But it didn't take long for the Rajyavardhan Singh Rathore-led Sports Ministry to make its own proposals and demand relaxing in selection norms.
Their argument wasn't entirely flawed. It is indeed a bit challenging to wrap one's head around the selection of a 24-member bridge team, and a 22-member strong squad for a debut discipline called Pencak Silat. The Indonesian martial art form will now have only two representatives from India, as the remaining 20 competitors were found to have fake certificates.
The Indian football team's omission has been widely debated too. But between the U-23 football players who could be sent to Indonesia, and the 24-member bridge team that is being sent, it's honestly difficult to pick a medal winner.
There's pettiness, and then there's the IOA. The chief governing body of Indian sports didn't hesitate even once to pick large number of athletes from minor sports many of which are non-affiliated federations. But when it came to ordering officials kits and uniforms for them, suddenly they became minor.
They were asked to foot their own bill even for the official uniforms for the opening and closing ceremony – blazers, trousers, shirts, ties, pocket squares, and scarves, costing up to almost `11,ooo per set. The Sports Ministry had to step in and sponsor their kits and uniforms eventually.
The selection of Brij Bhushan Sharan Singh, President of the Wrestling Federation of India as the contingent's chef-de-mission in India makes one wonder if we've really run out of options for candidates. Mr. Singh's focus though remains the Panchayat by-polls in Uttar Pradesh, because of which he will be checking into the Games Village a few days later. He will check out earlier too.
"There's a lot of political work because of the Lok Sabha elections, so I can't stay back till the closing ceremony," the MP from Kaiserganj in Uttar Pradesh says. And then there's that little matter of him being one of the several accused in the Babri Masjid case. The case is still pending and he hasn't been convicted yet, but clearly the IOA or the government doesn't seem to think that sending a murder accused in a very crucial role for the national team in an international event may be a bad idea.
Amidst all this, of course, there are matches to be played and medals to be won. The Commonwealth and Asian Games are held almost always in the same calendar year, but that's pretty much where the similarity ends. That doesn't take any credit away at all from the medal winners, but in certain disciplines at least, the competition Asia offers is the toughest in the world. Take badminton for instance, a discipline that India may not be a powerhouse in yet, but is on its way to becoming one.
In the recently concluded badminton World Championships in China, Carolina Marin was the only non-Asian to win a medal – the women's singles gold. Similarly, in shooting, table tennis and wrestling, the Asian Games is as good as a World Championship if not better. And that's exactly why you could call these games a litmus test of sorts, that'll help Indian sport gauge how near or far the athletes really are for the test in Tokyo two years from now – the 2020 Olympics.
Having said that, there's enough to be hopeful about because these Games are going to be a lot about India's young athletes. Close to 200 members of the Indian contingent are in the age group of 16-23. And they bring with them a kind of attitude which is rare in Indian sportspersons. They're not scared of defeat, they're bold and brazen, and a second-place finish does not mean the end of the world to them.
400m wonder Hima Das (18) says she doesn't chase medals, she chases time. Javelin thrower Neeraj Chopra (20) remains unaffected even if the three competitors before him have all thrown 90m. He knows he'll get there. Pistol shooter Manu Bhaker (16) has won gold medals at such a rapid rate this year that you fear she's probably peaked too early, but Bhaker has no such concerns. At the previous edition of the Games, India finished fifth, with 11 golds among its 57 medals. If that has to improve this time around, the key is the youth.
Amidst the cringe worthy in-fighting between the Sports Ministry, Indian Olympic Association and National Sports Federations, if there's something to be optimistic about, it's probably the fact that our junior development programmes are somewhat in place. They're far from perfect, but who said Rome was built in a day. There is a desperate need to have one collective body that gets to select and drop athletes. One organization with which the buck stops, so that athletes and federations don't have to keep running to our already overburdened courts each time.
Utopia, you think?
| Edited by: Suyash Upadhyaya
Read full article
Countdown To
Elections Results
To Assembly Elections 2018 Results