How Spain took down Germany
Seeing the whole of Spain sing together in wild support of La Furia Roja is a sight to behold, indeed.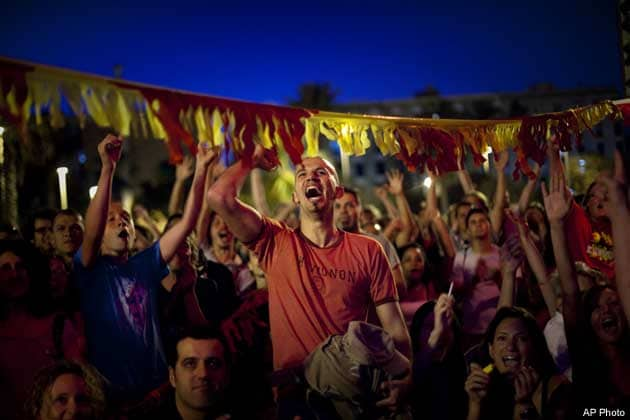 Seeing the whole of Spain sing together in wild support of La Furia Roja is a sight to behold, indeed.
Madrid: Euphoria has overrun the Iberian Peninsula. As Spanish president José Luis Zapatero proudly announced mere moments after Spain's historic 1-0 World Cup semi-final triumph over Germany, "This result is a source of happiness that has gripped the entire country."
In most other countries, one would expect such an ecstatic response as a people, unified behind their national football team, fill their country's streets to celebrate a common sense of identity, belonging, and solidarity. Such was the case in the Netherlands when the Dutch secured their final berth and one would imagine such a reaction in nearly every other World Cup nation.
But within the context of contemporary Spanish history and the ethno-political/linguistic divisions that separate the Spanish country along its semi-autonomous regions, seeing the whole of Spain sing together in wild support of La Furia Roja is a sight to behold, indeed.
With seven players out of Spain's starting XI last night coming out of the Barcelona ranks, with the exception of David Villa (Asturias) and Andres Iniesta (La Mancha); three playing for Real Madrid - one of which is Madrid-born (Casillas), one of which is Andalusian-born (Sergio Ramos), and the third of which is Basque-born (Xabi Alonso); and a lone Villarreal player Capdevila, who actually hails from Catalunya; it is curious to see the people of Spain, from every corner of the country, band together beneath one flag and brand a team made up largely of Catalans as heroic representatives for the entire country. For those who understand the dynamic of the Catalunya-Madrid duality is a certain irony in considering Barcelona's captain, Carles Puyol, is being lauded as Spain's hero.
In a reflection of such relatively newfound camaraderie, AS, a strongly pro-Madrid sports tabloid printed the headline ¡Visca España! after Spain's historic win ("Visca", of course, being Catalan for "Long live!" in lieu of the Castilian Spanish "Viva"). In spite of years of recent friction, the traditionally divisive political narrative that separates, most notably, Madrid, Catalunya, and the Basque country, appears to be transforming in Spain - and football appears to be serving as the catalyst.
It is no wonder, either. In watching Spain beat Ze Germans last night, it is hard to fathom how La Seleccion's attractive play could not inspire a nation to unite in a celebration of both their distinct diversity and common roots.
"We have been beaten by the best team in the world," conceded German coach Joachim Loew after the match - an accurate assessment. But if one had watched Spain face Switzerland, Honduras, Chile, and even Portugal, one would be hard pressed to disburse such praise.
Losing their first match in South Africa, Spain looked a side that had lost its sheen - still a strong team that could cause danger, but one that was not playing with the panache, swagger, and sense of identity that had seen La Roja lift the Euro 2008 trophy.
In curious contrast, Germany began their quest for World Cup glory in opposite fashion, immediately showing off their discipline in defence and their efficient, blitzkrieg attacking style as they dismantled Australia 4-0. While they showed a lack of focus in their subsequent loss to Serbia, Die Mannschaft soon returned to their typical business-as-usual philosophy, dispatching Ghana in their final group stage match before thrashing two tournament heavyweights in England and Argentina through the first two knockout rounds. Heading into Wednesday night's semi-final, the Germans were regarded as the best team in South Africa and were heavily favoured to meet Holland in the final.
But it is important to remember that a World Cup is a month-long tournament and a manager must make sure his team do not peak too early, instead striving for his side to show steady progress and improvement over the course of not just the World Cup, but also the preceding qualifiers, so to be full strength when the true tests of mettle arrive. Both Spain and Holland seem to have followed this model of progression throughout their time preceding this summer and in South Africa; the payoff has been gloriously apparent.
Spain also came into South Africa 2010 in the unique position of having secured their first major title in 44 years, winning the European championship in a most dramatic fashion in 2008. While La Roja's World Cup jitters still seemed to prevail at certain points in the early competition, the maturity that came with European supremacy was invaluable in cooling the traditionally hot Spanish nerves as the opposition began to improve and the stakes began to rise. Against Germany last night, Spain seemed to be playing with the air of having "done it before"; having already had the invaluable experience of superseding 44 years of adversity and emerging victorious.
It was this combination of the physical development and mental evolution that allowed Spain to take on last night's semi-final with a renewed confidence in their own abilities and faith in one another. From Sergio Busquets, Xabi Alonso, Xavi, and Andres Iniesta's beautiful and effortless movement of the ball through the midfield, to David Villa and Pedro Rodriguez's relentless defensive pursuit of the ball up front, to the back line's stalwart blockade of the German attack, to Iker Casillas' exceptional concentration on the rare occasions he was called upon, last night's display constituted a sublime return to Spain's brand of team football.
Against Germany, La Furia Roja personified everything that Spaniards like to characterise as traditional Spanish values: fight, never-say-die vigilance, a determined drive for success, brotherly love, an appreciation for technical class, and a distinct air of Spanish bravado and flair that inevitably elicits emotional and celebratory chants of "¡Olé!".
Now, Spain are in what, for the better part of a century, has seemed like an impossibility: a World Cup final. Ojalá (Spanish for "hopefully", but a word that takes root in the Arabic "Insha'Allah", further exemplifying Spain's rich cultural heritage), destiny will not be denied on Sunday.
Get the best of News18 delivered to your inbox - subscribe to News18 Daybreak. Follow News18.com on Twitter, Instagram, Facebook, Telegram, TikTok and on YouTube, and stay in the know with what's happening in the world around you – in real time.
Read full article