I-League: Defending champions Minerva Looking for First Win Against Aizawl FC
Former champions Aizawl FC play their second home game on the bounce at the Rajiv Gandhi Stadium, hosting defending champions Minerva Punjab FC in the Hero I-League on Saturday.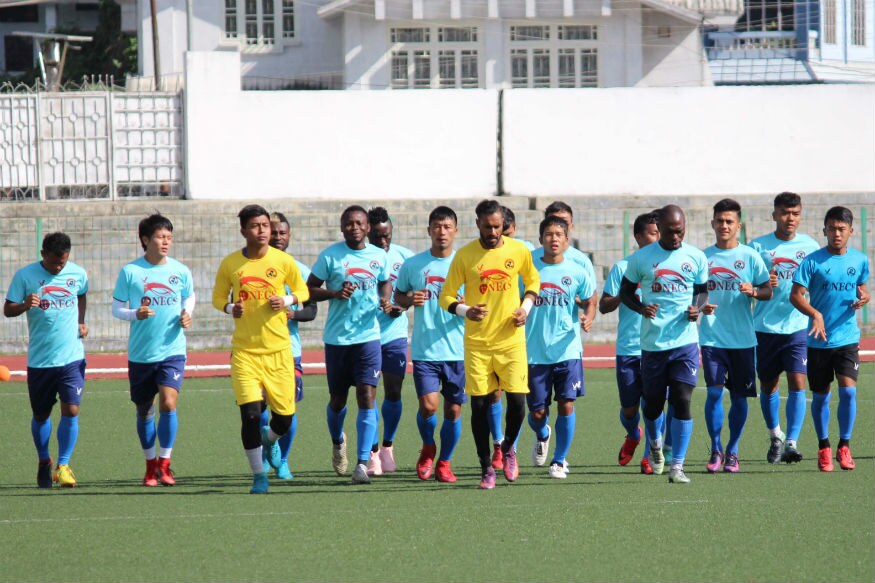 (Image: AIFF)
Aizawl: Former champions Aizawl FC play their second home game on the bounce at the Rajiv Gandhi Stadium, hosting defending champions Minerva Punjab FC in the Hero I-League on Saturday.
Both find themselves at the bottom of the 11-team standing in the early stages. Aizawl are placed ninth with two points from three games while Minerva are right at the bottom with a solitary point from their two outings so far.
Both Aizawl coach Gift Raikhan and Minerva's Irish technical director Paul Munster have been plagued by a misfiring strike force and would be keen to correct that urgently.
While Aizawl have scored thrice in their three games so far, one off a penalty and another of a set-piece, the defending champions surprisingly have not managed to get on the board.
For Aizawl, Liberian striker Ansumanah Kromah has been guilty of extreme profligacy and Lalremsanga who had a good game in their opener against Shillong and has not played since might be an option for Raikhan.
The other positive for him from the previous game against Neroca FC being the first half performance of Kyrgistani Bektur Talgat, where he was building and leading attacks with a lot of skill and purpose.
The back four, led by Nigerian Kareem Nurain and Gurpreet in goal, have been solid giving the coach some sense of comfort.
Raikhan said in the pre-match chat, "We are preparing well to face the defending champions tomorrow. After playing three matches, we have gained confidence because till now, we have faced tough teams such as Mohun Bagan, Shillong and Neroca.
"We will try not to repeat mistakes and steal three points from them. Our spectators need to trust us. Football is all about patience and time. We hope to have a good match tomorrow."
As for the defending champions, it is true that they have almost built an entirely new side from last year and have new strategies as well, but with the kind of talent at their disposal even this year, it defies logic as to why they have not been able to score a single goal.
They have invested heavily in highly rated Japanese frontman Yu Kuboki and the fact that they have not been able to play him yet due to injury might also be a contributing factor.
But even so, with the likes of William Opoku, who scored five times for them last year in their winning campaign, experienced striker Sabeeth, young Akash Sangwan, Dilliram Sanyasi and Nongdamba Naorem in their ranks, there were enough youth and flair in their ranks to get them on the scoreboard and Munster will have to address this sooner rather than later.
He appeared to be aware of the task at hand.
"We came a few days before to acclimatise. It's good to be here early. We have come here for three points. The team knows they need to score. We haven't scored in the first two matches. It's the team's responsibility, not any one individual's."
He also commented on Aizawl's previous game saying, "It was a goalless stalemate. Aizawl and Neroca both had their chances but they couldn't take it. It was an average game."
Given the situation that the two teams find themselves in, and provided that Minerva are able to adapt to the artificial turf at Aizawl quickly, this promises to be an exciting encounter with both teams desperate for a win.
Get the best of News18 delivered to your inbox - subscribe to News18 Daybreak. Follow News18.com on Twitter, Instagram, Facebook, Telegram, TikTok and on YouTube, and stay in the know with what's happening in the world around you – in real time.
| Edited by: Abhimanyu Sen
Read full article