Second edition of I-League starts September 26
This year's edition promises to be bigger and better than before.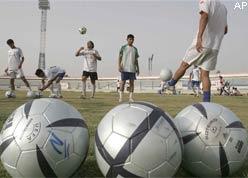 This year's edition promises to be bigger and better than before.
New Delhi: The football leagues in Europe may well be on their way, but coming closer to home shores, the second edition of the Indian I-League is starting from September 26.
Previously referrerd to as the National Football League, the tournament was reinvented last year and this year's edition promises to be bigger and better with a prize money of Rs 1.25 crore.
The inaugural match will be played between East Bengal and Chirag United in Kolkatta on Friday.
The other matches will be in Goa, Mumbai and and Ludhiana.
Meanwhile, the All India Football Federation (AIFF) is planning a couple of friendlies for the national team during the 45-day break between the two legs of I-league.
The I-League will have a 45-day break after the end of the first leg on November 30 to facilitate completion of the Federation Cup's final round, to be held in Delhi and Gurgaon from December 5 to 22.
"Following this the national players will assemble for a camp from January 2 to 10 during, which we are planning the friendlies," AIFF Secretary General Alberto Colaco said during the launch of the second I-League on Wednesday.
"Efforts are on to get China and another team to play against India. This season's I-League will get over by April-end," Colaco added.
The I-League teams are required to have coaches who are A license holders, a must for competing in the 2009 pro-league. But with some coaches still to acquire the license issued by AFC, the AIFF said it was trying to get more time to fulfill the criteria.
"We have requested the AFC to give us some time to so that our coaches can fulfill the criteria," said AIFF President Priyaranjan Dasmunsi. The AIFF chief also said he has approached some corporate houses to sponsor some of the clubs.
(With inputs from agencies)
Get the best of News18 delivered to your inbox - subscribe to News18 Daybreak. Follow News18.com on Twitter, Instagram, Facebook, Telegram, TikTok and on YouTube, and stay in the know with what's happening in the world around you – in real time.
Read full article