Iceland vs Croatia, FIFA World Cup 2018 Highlights - As It Happened
Catch all the action from the match between Iceland and Croatia through our live commentary.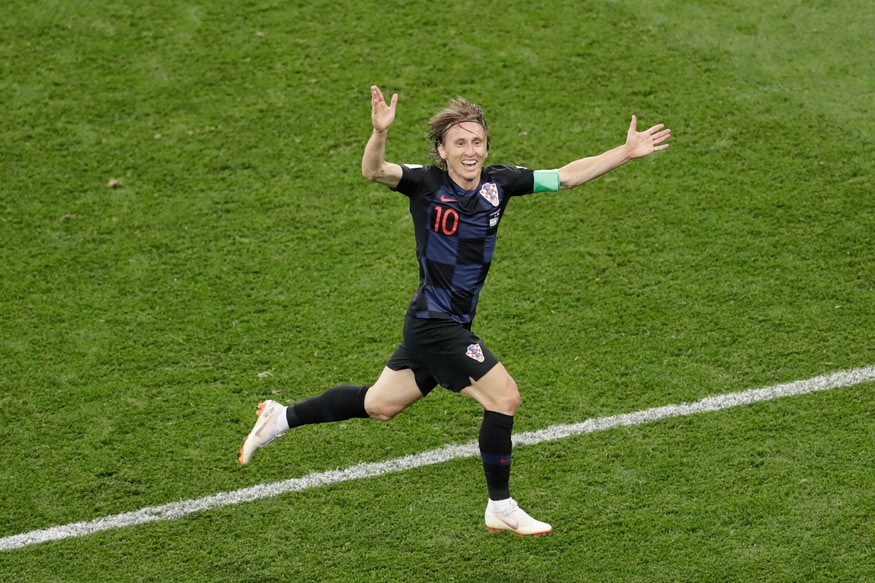 (AP Photo/Michael Sohn)
Catch all the action from the match between Iceland and Croatia through our live commentary.
Nothing less than a win will do for Iceland against Croatia if they are to emulate their Euro 2016 success by making it to the knockout stage at their first World Cup, but it will be a tall order against a familiar foe that leads Group D. The Croatians, who outclassed Argentina with a 3-0 win, are through already and will top the group with a win or a draw against Iceland at the Rostov Arena in Rostov-On-Don. Having drawn with Argentina in their opener, Iceland then lost 2-0 to Nigeria, meaning they need to beat the Croatians, hope Nigeria fail to beat Argentina, and also earn themselves a better goal difference than Nigeria or Argentina. A Nigeria win would send the Icelanders and Argentinians both home. Iceland and Croatia know each other well, with coach Heimir Hallgrimsson likening the pair to old flames due to the number of times they have met in recent years. "We've played Croatia four times in four years, we've often said we're like a married couple - we're trying to get divorced, but we always meet up again," the Iceland coach said at a recent media conference.
Hallgrimsson is expecting a tough game, but the challenge will be to get more out of a goal-shy attack in a team that has drawn two and lost four of its last six games, while creative spark Gylfi Sigurdsson struggled with a knee injury. The Everton midfielder missed a penalty against Nigeria, and his team will need to do more to share the attacking burden, in particular by being more effective at set pieces. Croatia have no such issues, coasting to a 2-0 victory over Nigeria before stunning 2014 World Cup runners-up Argentina, and their fluid, attacking football has made them one of the most attractive sides in the competition. Playmaker Luka Modric has already netted twice and showed some of his best form as the Croatians, who came third at the 1998 World Cup in France, cruised into the knockout stages. Iceland's older hands such as centre back Kari Arnasson will be keen to avenge the playoff defeat that saw the islanders miss out on the 2014 World Cup in Brazil, and they will have to call on their famous never-say-die spirit if they hope to advance. "We were ahead of them in our (qualifying) group and we've already beaten them once in Iceland, so we at least have that confidence with us when we play them," Hallgrimsson said.
Commentary:
90:There will be four minutes added on to the end of this game. Iceland need at least two goals for even a chance to move on in this World Cup.
90:Milan Badelj wins the ball in Iceland's half and plays a pass to Ivan Perisic. He takes the ball into the penalty area and takes his shot well from the near post to beat Hannes Halldorsson.
90:The tired Birkir Bjarnason is subbed off for Arnor Traustason.
90:Ivan Perisic. Assist by Milan Badelj (Croatia)
90:Arnor Traustason (on). Birkir Bjarnason (off). (Iceland)
88:Ivan Rakitic takes the freekick and puts the shot at goal. His shot goes just over the crossbar for a goal kick. The more Croatia threaten, the less Iceland is able to attack. Argentina has taken the lead in the other game which would put Argentina through as the second team.
87:Ivan Rakitic is fouled on the edge of the box by Sverrir Ingi Ingason. This can be a dangerous kick that could lead to a second goal for Croatia.
85:Albert Gudmundsson comes on for Alfred Finnbogason in the final minutes of this match.
85:After winning a freekick in Icelands half, Ivan Perisic takes the kick and attempts a shot on goal. His shot goes over the crossbar and out for a goal kick.
85:Albert Gudmundsson (on). Alfred Finnbogason (off). (Iceland)
84:Birkir Saevarsson (Iceland)
83:A foul by Tin Jedvaj earns himself a yellow to be the second Croatian player cautioned in this game. The resulting freekick is cleared away from the box.
83:Tin Jedvaj (Croatia)
82:Iceland gets a fast break down the field but as the ball gets played to Birkir Bjarnason he is unable to reach the ball due to the tiredness in his legs.
81:Mateo Kovacic gets substituted off for Ivan Rakitic.
81:Ivan Rakitic (on). Mateo Kovacic (off). (Croatia)
80:Croatia has an axcellent attacking opportunity but are content to not have a serious chance on goal and instead play it back to their defenders to maintain and control possession. They are okay with seeing this game out for a draw.
76:After missing a penalty earlier in the tournament, Gylfi Sigurdsson does not waste his second chance. He hammers it into the top of the net and gets the equalizer for his team.
76:Penalty Kick - Goal - Gylfi Sigurdsson (Iceland)
75:Iceland takes the ball down at the Croatian penalty area. Gylfi Sigurdsson tries a cross into the box but it hits the arm of Dejan Lovren who concedes the penalty.
74:The slow attacking build-up by Croatia lulls Iceland to sleep. Josip Pivaric does get off a great shot/cross that almost finds its' way into the net but goes wide.
73:A break down the right side of the field has Alfred Finnbogason rushing down towards the box. He puts a low cross into the box but Birkir Bjarnason is unable to get a good shot and fumbles over the ball.
70:Ragnar Sigurdsson is being taken off for Bjorn Sigurdarson. This change is an attacking minded one with Iceland searching for two goals to give them a lead and a shot at moving on.
70:Bjorn Sigurdarson (on). Ragnar Sigurdsson (off). (Iceland)
70:Dejan Lovren (on). Marko Pjaca (off). (Croatia)
69:Marko Pjaca is replaced by defender Dejan Lovren for Croatia.
66:Andrej Kramaric dribbles the ball in his attacking half and eventually finds space for a shot. His shot is blocked by Sverrir Ingi Ingason and it goes out for a Croatian corner.
65:Filip Bradaric (on). Luka Modric (off). (Croatia)
64:Luka Modric is substituted off for Filip Bradaric. This is Bradaric's first apperance this tournament. This is a tactical substitution to give Modric a rest after three straight starts.
64:Alfred Finnbogason (Iceland)
63:Lovre Kalinic comes out to collect the ball in his penalty area and Alfred Finnbogason slides in to challenge. Finnbogason is very late on the play and slides right into Kalinic. This slide earns him a yellow card.
62:Luka Modric drifts the ball in from the freekick to the back post but Hannes Halldorsson is able to get his hands on it and punch the ball away.
61:Marko Pjaca is fouled near the Iceland penalty area, giving a dangerous freekick to Croatia. Luka Modric stands over the bar.
59:Emil Hallfredsson (Iceland)
58:Emil Hallfredsson goes into a strong sliding tackle into Marko Pjaca but is late on the play and gives away a freekick while getting himself cautioned.
56:Sverrir Ingi Ingason gets his head onto the ball from a corner taken by Gylfi Sigurdsson. His header hits the crossbar and goes over for a goal kick. ICeland are really threatening for an equalizer as they are fighting for their tournament survival.
55:Another long throw-in causes fanger in the area. Lovre Kalinic misses again on the early punch out and Sverrir Ingi Ingason gets a header on target but Kalinic recovers and pushes the ball over the bar for corner.
53:Josip Pivaric makes a strong run on the left to get the ball into the middle of the box. It falls to Milan Badelj and he gets the goal for Croatia. His shot is off the volley and he bounces it off the dirt and into the net.
53:Milan Badelj (Croatia)
51:Croatian take their chance to attack and Milan Badelj gathers the ball at the top of the penalty area. The ball hits the crossbar and goes out.
47:Iceland win a freekick in the Croatian half. Gylfi Sigurdsson takes the kick but the ball is too high and far, Lovre Kalinic grabs it easily.
46:Croatia get the game started. If results hold across both games, Argentina goes out second while Croatia top the group.
45:Iceland have had the better chances in the half and are close to earning the goal that will give them the lead. They need to keep up their attack and balls into the box. Iceland's height has been a big advantage for the team. Crosses into the box continue to be dangerous and have caused the Croatian defense a lot of issues. Croatia has held on defensively with Modric and Kovacic as bright spots for the team. Croatia needs to stay stout defensively and keep Iceland from scoring. Even if Croatia loses, they will still go out top in the group since the Argentina leads Nigeria at the half.
45:That is it for the first-half in this match.
45:Iceland continue to look dangerous and are working in the attacking half for a goal. Aron Gunnarsson takes a shot that is on-target but Lovre Kalinic is there to push the ball away from goal.
45:There will be two minutes of injury time added on to the end of the half.
45:The corner is swung in to the box and Lovre Kalinic misses the initial punch on the ball. It falls to Birkir Bjarnason who takes a shot but Lovre Kalinic is able to come up with a leg save before Iceland commit a foul.
45:It's Hordur Magnusson with the cross this time for Iceland and it almost makes its' way to Alfred Finnbogason but it is cleared for a corner.
44:Off a play that started with a long throw-in, Emil Hallfredsson finds himself with the ball in front of the penalty area. He unleashes a hard shot but the ball goes well over the bar and out.
43:Croatia work the ball down the field and Tin Jedvaj makes a run down the right side. He puts in a low cross towards Andrej Kramaric. Kramaric is unable to control the ball well and it hits his hand for a Iceland freekick.
40:Milan Badelj gets caught in possession in his defensive half. Alfred Finnbogason gets the ball and plays it to Gylfi Sigurdsson whos plays it back to him in open space. Finnbogasson's shot goes nearly wide and is almost a goal for Iceland.
38:As the game has gone on, Iceland look the more dangerous side and have had more of the attacking opportunities though Croatia still dominate possession.
37:Croatia play with the ball in the attacking half and Luka Modric picks out passes to his teammates. Ivan Perisic receives the ball at the top of the penalty area and takes a shot but the ball goes wide for a goal kick.
34:The resulting corner is taken and gets to Aron Gunnarsson. He heads it down to Birkir Bjarnason who takes his shot but that shot gets blocked. The ball bounces in the box but not Iceland player is there to get a shot on goal.
33:Birkir Saevarsson makes a blistering run down the right side and gets his cross in towards the box but Duje Caleta-Car is there to clear the ball for a corner kick.
31:With the freekick, Gylfi Sigurdsson takes a shot on goal. Though the ball is on-target Lovre Kalinic is able to close the distance and grab the ball.
30:After an initial freekick in Croatia's half, Emil Hallfredsson is fouled by Mateo Kovacic near the penalty area and Iceland earn a dangerous freekick.
28:Iceland won a corner on the right side. The ball is swung into the middle by Johann Gudmundsson reaches the head of Hordur Magnusson but his header goes just wide of the post.
26:Iceland win the ball in midfield and make a quick break down the left side but Vedran Corluka blocks Hordur Magnusson cross. Aron Gunnarsson does one of his trademark long throw-ins and Hordur Magnusson attempts to flick it on in front of goal but no Iceland player is able to get to the high ball before it goes out for a goal kick.
22:Mateo Kovacic is doing excellent work in his defensive half, controlling the ball and making sure Iceland does not win the ball. He is also back-tracking to cover defensively. He is making the most of his first start in this tournament.
19:The corner is played short and Luka Modric receives the ball back. His corner finds its' way to Andrej Kramaric whos' header is cleared. Mateo Kovacic gets the ball from the clearance and he attempts a shot but that shot is deflected behind for another corner. The second corner gets cleared away.
19:Mateo Kovacic receives a long throw-in and gets the ball to Ivan Perisic who takes it down the right and puts in a cross that is cleared behind for a corner.
17:Croatia have been playing the ball back-and-forth between teammates as they search for a weak link in the Iceland defense. Iceland is staying compact and are defending well, similar to their match against Argentina. They will need to continue this way and look for opportunities on the counter-attack.
14:Marko Pjaca is given a yellow card for his elbow on Birkir Bjarnason though it seemed to be an accident.
14:Marko Pjaca (Croatia)
12:Birkir Bjarnason takes an errant elbow to the face from Marko Pjaca and he goes down. He is currently receiving treatment on the pitch, his nose is bleeding a lot.
11:Iceland get a chance on the counter-attack after a sloppy giveaway by Andrej Kramaric. Alfred Finnbogason takes the ball down the right but his cross is blocked and Finnbogasson is the last to touch the ball before it goes out for a corner. Neither team has looked truly threatening so far.
8:Tin Jedvaj plays with the ball on the right side with Luka Modric. Jedvaj makes his way towards the byline to put in a cross. Hannes Halldorsson reacts well to grab the ball before it reaches anouther Croatian player.
7:Gylfi Sigurdsson received the ball on the right side of th field and put in a cross towards the box but Croatia was there to clear the ball away from the danger area.
2:Croatia has controlled possession and are content to knock the ball around at mid-field instead of pushing up for an attack. This will be most of their gameplan for today, sit back and don't take too many chances.
1:Iceland gets the action started. Iceland are in their white jersey's while Croatia will be wearing their black jerey's.
0:Croatia and Iceland have lined up for the national anthems in the final group stage match for these two teams.
0:Croatia are coming off a dominant win over Argentina where they thrashed the South American side 3-0. The win secured their spot in the next round as they sit on six points from two wins. The team currently sits first in the group and the only way the fall out of that position is by losing to Iceland and Nigeria beats Argentina by a large margin. With that in mind, Dalic Zlatko has made numerous changes to his side. Luka Modric and Ivan Perisic are the only two remaining starters from the game against Argentina though Croatia stays in the same 4-2-3-1 formation. The squad need only play for a draw and may not attack with as much fervor as they have previously.
Iceland got a wonderous result against Argentina in their first game with a tie but the team collapsed against Nigeria and suffered a 0-2 defeat. They are on the brink of elimination and only a win keeps their hopes alive. A win is the only way the team gets through to the next round. Iceland must come out and attack early to start scoring goals. It will be a tough task since Croatia are likely to sit in and defend this match. Iceland has changed formation and have mixed up the starting team. The team moves to a 4-2-3-1 formation from a 4-4-2. Sverrir Ingason, Emil Hallfredsson, and Johann Gudmondsson get the start and Kari Arnason, Rurik Gisladon, and Jon Bodvarsson head to the bench. This is a must win match for Iceland if they look to replicate their miraculous run in the Euro's two years ago.
| Edited by: Madhav Agarwal
Read full article
Countdown To
Elections Results
To Assembly Elections 2018 Results