Indian Hockey Team is Hungry for a World Cup Medal, Says Drag-Flicker Rupinderpal Singh
After Indian hockey's dominating show in the year 2016 where it scaled new heights, ace drag flicker Rupinderpal Singh said the team's main target is to win a World Cup medal.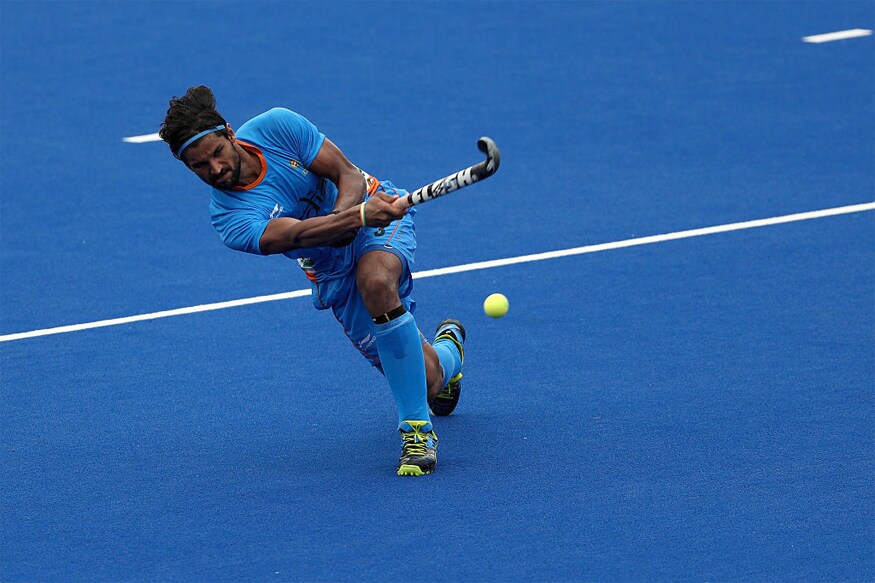 Rupinder Pal Singh. (Getty Images)
New Delhi: After Indian hockey's dominating show in the year 2016 where it scaled new heights, ace drag flicker Rupinderpal Singh said the team's main target is to win a World Cup medal.
"Our team's main target is winning a World Cup medal now. Juniors have done their job and it is time for seniors to deliver," Rupinderpal Singh told News18 Sports in an exclusive interview.
India won the silver medal in Champions Trophy before bagging Gold in Asian Champions Trophy and Rupinderpal feels the current team has the ability to win a medal in the Hockey World Cup in 2018.
India's only gold medal in World Cup came way back in 1975 when they defeated arch-rivals Pakistan 2-1 in Kuala Lumpur, Malaysia. Since then India have failed to reach the final of the mega tournament and have not won any medals.
"We performed really well in 2016 and won two titles. We made mistakes and we learnt quickly. Indian hockey is on winning ways now and we will keep the momentum going," Rupinderpal said.
"I know it is a long period. My team has put two checks in the list. First, Champions Trophy and Asian Champions Trophy, now we are desperate for a World Cup medal. And then we will plan for Commonwealth Games and Asian Games. I am confident of achieving it what we have aimed for," the ace drag flicked said.
"We have a camp in the month of March. It is going to be a crucial camp for us keeping the World Cup in mind. We will have one-and-a-half years to prepare for World Cup and we want to put everything for the mega tournament," Rupinderpal said.
Rupinderpal also said if the team sustains its winning momentum, it can also win an Olympic medal.
"The team is in really a good shape. The year 2016 is a prime example before us. If we continue the way we are performing, I am sure we can achieve what we have been eluded of - an Olympic medal. But we want to take one step at a time," a confident Rupinderpal said.
The Indian hockey star also credited his coach Roelant Oltmans for his role in bringing the glory days in Indian hockey.
Oltmans, who served as High Performance Director before doubling up as chief coach following the sacking of Paul van Ass last year, has been the guiding force behind the Indian hockey team.
"Oltmans has changed the face of Indian hockey. He has made us believe that we can win. We have won the medals under his coaching. We are lucky to have him as coach," Rupinderpal said
"Champions Trophy and Asian Champions Trophy medals are the prime examples. We were 12th in world ranking when he took over the coaching job. Now we are sixth," he said.
Rupinder also hailed the introduction of the Hockey India League (HIL) and termed the league as a stepping stone for the young players to enter the national team.
"HIL has given star players to Indian side. HIL is like a platform where both senior and junior players get chance to share the experiences of foreign players. Our players share the same dressing room, chat sessions and practice sessions with the players from Germany, Argentina, Australia, Argentina and Belgium. We get chance to spend many days with them so that we can see how they maintain and train themselves. We also learn how to perform in pressure games. A team is number one because of players and we can learn a lot from them," Rupinderpal, who is leading the Delhi Waveriders side in the ongoing HIL, said.
"It [HIL] has taken Indian hockey to another level. This tournament has matched the international-level hockey tournaments," the drag flicker said.
Rupinder is one of the best drag flickers in the world. With a height of 6'4, his drag-flicking skill is unmatchable and is a nightmare for the opposition.
"My height helps me a lot in drag flicking. There is a systematic training for this that I follow. I have to take care of my muscles because you need to bent and then make an angle and then drag. It requires a mind game and power too. Thankfully, I am able to do this. I always stick to my basics whether it is gym or practice sessions. It took a lot of time for me to become a good drag flicker. You need to be fit and do recommended exercises to be a long-term drag flicker," Rupinderpal signed off.
@media only screen and (max-width:740px) {
.quote-box{font-size:18px; line-height:30px; color:#505050; margin-top:30px; padding:22px 20px 20px 70px; position:relative; font-style:italic; font-weight:bold}
.special-text{font-size:24px; line-height:32px; color:#505050; margin:20px 40px 20px 20px; border-left:8px solid #ee1b24; padding:10px 10px 10px 15px; font-style:italic; font-weight:bold}
.quote-box img{width:60px; left:6px}
.quote-box .quote-nam{font-size:16px; color:#5f5f5f; padding-top:30px; text-align:right; font-weight:normal}
.quote-box .quote-nam span{font-weight:bold; color:#ee1b24}
}
| Edited by: Arnab Sen
Read full article
Countdown To
Elections Results
To Assembly Elections 2018 Results