Italy aim for back-to-back World Cup crowns
Italy hope to become the first to win back-to-back crowns twice - and the first since Brazil in 1962.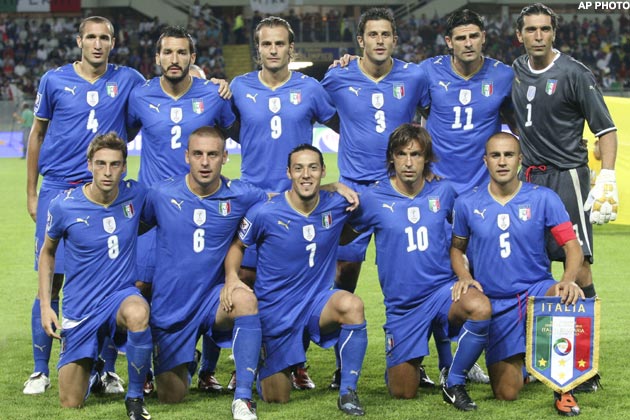 Italy hope to become the first to win back-to-back crowns twice - and the first since Brazil in 1962.
Rome: Only two nations have ever defended their football World Cup title. And reigning world champions Italy hope to become the first to win back-to-back crowns twice - and the first since Brazil in 1962.
The Brazilians were the second country to repeat their world title in 1958 and 1962 after Italy had accomplished the feat in the second and third World Cups in 1934 and 1938.
Italy are also trying to match Brazil as the only other five-time world champions, going along with their other 1982 crown. The task, however, will not be easy for Italy's 2010 boss Marcelo Lippi, who became a national hero for guiding the Azzurri to 2006 glory. Lippi left the team after the Germany spectacle but replaced successor Roberto Donadoni, who could only lead Italy to the Euro 2008 quarter-finals.
Lippi has much of the same group of players as his back, with goalkeeper Gianluigi Buffon, captain Fabio Cannavaro, Fabio Grosso and Gianluca Zambrotta now four years older as they man the defence - their ages ranging from 32 to 36.
Midfielders Gennaro Gattuso and Andrea Pirlo also hope that their experience has increased with age as Lippi has found no rising star among the several newcomers he tested.
Up front there remain questions about top notch quality without a real clinical striker to rely on, unless one among Vincenzo Iaquinta, Alberto Gilardino, Riccardo Pazzini or Antonio Di Natale step up their game.
Especially since Sampdoria's Antonio Cassano, possibly the best supporting striker in the Serie A, never met the favour of Lippi.
The Italians had a solid qualifying campaign, finishing atop Group 8 ahead of Ireland and Bulgaria. Lippi's men did not lose a match and only allowed seven goals in their 10 matches.
In South Africa, the Azzurri will face off against Paraguay, New Zealand and Slovakia in Group F.
And Lippi remains faithful to his trusted veteran guard. "You don't judge a player's quality on age or technical ability alone. Enthusiasm, experience, charisma, wisdom, international experience: they're all part of the equation," Lippi told the FIFA website recently.
"The World Cup is about seven games over a month. We don't necessarily need all the players to be 24 years old. If I had to use this team over an entire league season, I'd probably make some different selections. But for a month, it's not a problem."
Also not a problem this time for Lippi and his players is the corruption scandal which hung over the team in 2006 as Italian football was rocked by the scandal in the buildup to Germany 2006.
Now Lippi and the team can concentrate on a historic repeat.
THE COACH
Before lifting Italy's fourth World Cup in 2006, the 61-year-old Marcello Lippi built his reputation as coach at Juventus. In two stints with the Turin side, he won five Serie A titles between 1994 and 2003.
In 1996, he won the Intercontinental Cup with Juve, which makes him the only trainer to have won world titles with a club and a national team.
In South Africa, Lippi hopes to follow the path of Vittorio Pozzo, who steered Italy to two consecutive world titles in 1934 and 1938. A fifth cup would also bring Italy level with top-winners Brazil.
THE STAR:
With the 2006 world title, Gianluigi Buffon, 31, topped a career that he spent for the most part at Juventus, where he won two Serie A titles, after an early stint at Parma.
Equally effective between the posts and in tackling onrushing strikers, Buffon is the most nominated as best custodian by the International Federation of Football History and Statistics, whose award he received four times.
He closed the 2006 World Cup beaten only by an own goal and a free kick and came in second behind Ballon d'Or winner Fabio Cannavaro.
Get the best of News18 delivered to your inbox - subscribe to News18 Daybreak. Follow News18.com on Twitter, Instagram, Facebook, Telegram, TikTok and on YouTube, and stay in the know with what's happening in the world around you – in real time.
Read full article