Kidambi Srikanth: Gopi Sir Believed in Me More Than Anybody Else
Kidambi Srikanth tells News18 Sports that he doesn't go into a tournament thinking about victory, but is glad to have achieved so much success this year. Srikanth's victory at the French Open meant he became the first Indian badminton player, male or female, to clinch a jaw dropping fourth Superseries title in a calendar year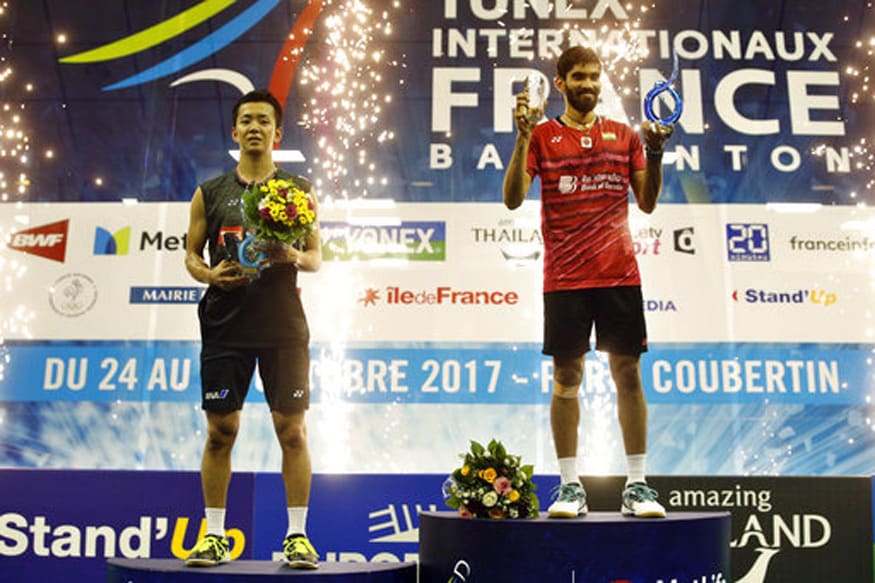 Kidambi Srikanth is the first Indian badminton player to win four Superseries titles in a year. (AP Image)
New Delhi: Kidambi Srikanth isn't your regular modern day sportsperson. He seldom shows emotions, whether on court or off it. Unlike several other stars of his generation, who don't shy away from sharing their joy or disappointment with the world, Srikanth remains in the mould of his mentor Pullela Gopichand, an understated champion.
Srikanth's victory at the French Open meant he became the first Indian badminton player, male or female, to clinch a jaw dropping fourth Superseries title in a calendar year and the win has also catapulted him to a career best second place in the BWF rankings. Speaking exclusively to News18 Sports, Srikanth said that he doesn't go into a tournament thinking about victory, but is glad to have achieved so much success this year.
"I am really happy to have won four Superseries titles this year but this is not something which I had aimed for. I don't think about these things ahead of a tournament. It is always about giving my hundred percent and playing as well as I can," said the Hyderabad based shuttler, who now has six Superseries titles to his name.
Srikanth shot into limelight in the year 2014, when he beat China's multiple world champion and former Olympic gold medallist Lin Dan to win the China Open Superseries premier title. He captured his second Superseries title by winning the 2015 India Open, but a spate of injuries kept him from realising his full potential.
"I think injuries are a part of every sportsperson's life. One can't really predict when they might happen and how much time it will take to come back from them. It is important to be positive and make a swift comeback," said Srikanth when quizzed about his past injuries.
A quarter-final loss to Lin Dan at the 2016 Rio Games capped off a frustrating year, but Srikanth was ready to bounce back. And he did that in style in 2017 by reaching the final of the Singapore Open, only to go down to compatriot B Sai Praneeth. That was just the beginning as the 24-year old soon hit a purple patch and bagged the Indonesia Open and Australia Open titles.
He then created history with back to back wins at Denmark Open and the French Open and the young star hails his support staff for keeping him fit and fresh for these arduous challenges.
"My support staff did a great job in ensuring a speedy recovery and also in keeping me fit for two continuous weeks where I am playing the highest level of badminton. So, huge thanks to them for the efforts," Srikanth said after his French Open triumph.
Srikanth though isn't ready to choose a favourite among his title triumphs, "Every win is important for me and every win has its own place in my heart. I don't want to rank them, they are all special to me," he quipped.
When asked about what has been the biggest change in his game that has helped him turn corner, Srikanth attributed his success to a shift in mindset.
"I think the kind of mindset that has developed in the last eight to ten months has made a lot of different. I am feeling very confident."
"I am just trying to enjoy the sport now and not worried too much about winning or losing," India's top male shuttler said.
Srikanth also singled out India's singles coach Mulyo Handoyo, of Indonesia, for his success and forhelping him and other Indian players perform at a higher level. Handoyo, who coached Taufik Hidayat to an Olympic gold, was roped in earlier this year to ease the workload of national coach Pullela Gopichand.
Ever since Handoyo's appointment, the performance of the singles players, especially the men, has improved sharply.
"Everyone is doing well and the amount of training we have been doing since the new coach has joined is really helping us. We really want to be more consistent as a group in the coming tournaments," Srikanth said.
The Guntur-lad though remains eternally indebted to Pullela Gopichand for his success at the highest level. Gopichand has been responsible for the rise of the likes of Srikanth, PV Sindhu and Saina Nehwal. Srikanth said that it was the former All England champion's belief that kept him going in difficult times.
"He has definitely played a great role in my success. All the credit goes to Gopi sir as he believed in me more than anybody else and that really helped me make a strong comeback," the champion shuttler signed off.
| Edited by: Baidurjo Bhose
Read full article