Korean Muscle Takes on Swiss Grace, Hyeon Chung Has as Much Seoul in Him as Grit
Federer is a hot favourite to take the Australian Open second year in succession but so far Chung has prevailed in Melbourne against all odds.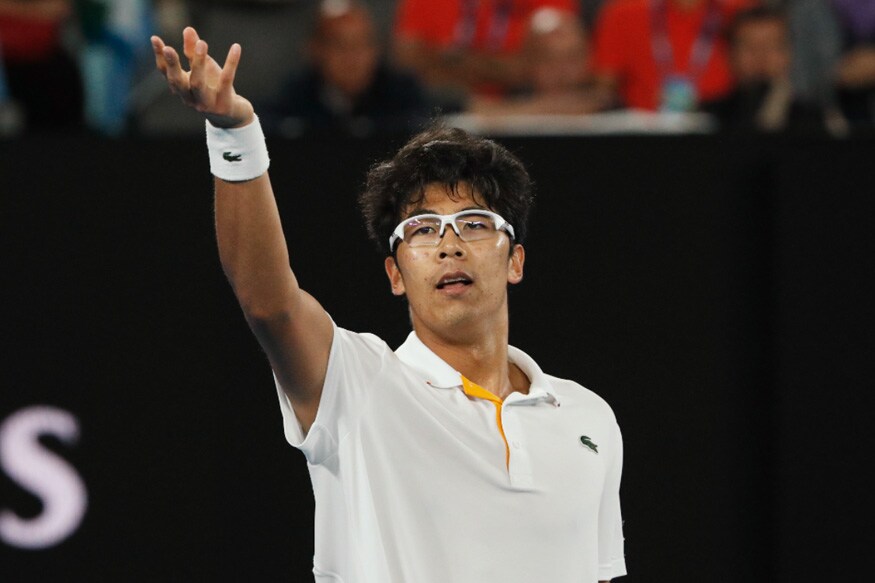 Chung Hyeon in action against Djokovic. (Reuters)
Melbourne:
When the 21-year-old Korean upstart Hyeon Chung takes on Roger Federer in the second semi-final of Australian Open on Friday, tennis will be seeing not just a clash of style and generations. Hanging over the match will be the question of the eternal brilliance of Federer as if it is finally time for the young guys to take over. Federer is a hot favourite to take the Australian Open second year in succession but so far Chung has prevailed in Melbourne against all odds.
Chung was ranked 58th and was languishing in that area for a couple of years through his game was definitely top 20 stuff. He also won the NextGen ATP finals and coming into the Australian Open was all set to break out of his mould of inconsistency and lack of searing ambition. Korean humility sits heavily on him. But ambition has now been embossed in his mind as he becomes the first Korean to reach the semi-final of any Grand Slam event.
Chung's forehand is something to be watched. He is among the top guys for forehand winners in the tournament, collecting 83 winners out of the 985 forehands till before the semi-final compared to Roger Federer's 71 winners out of 913. Chung has 33 backhand winners out of the 985 shots while Federer has around the same — 30 out of 913. Chung is a baseline samurai preferring to dictate terms from the back and has not had a single serve and volley point so far.
His opponents have paid tributes to Chung's forehand. The surprise quarterfinalist Tennys Sandgreen said after he was despatched by Chung: "He does so many cool things with his moves and how he returns and how he plays with his forehand,".
Chung has had a dream run with wins over his childhood idol Novak Djokovic, Alexander Zverev and now he is up against Federer. At the moment he is worried about what he will speak or tell the intrusive on-court interviewer Jim Courier. Sensing his discomfort Courier had given him the mike after the Djokovic match and asked him to speak in Korean to his fans back home.
With thigh muscles that would put a football player to shame and a matching upper body. Chung's power and determination sitting on top of a cool uncaring mind helps approach a match without a care in the world. Andy Murray like determination does not reflect on his face, the reason why defeat has been more of a routine than top finishes.
Now he admits that he has the strength and the will: "I think I am not tired because I win. When I win against a top player, never tired… Just happy, no? Mentally happy, nothing tired. I'm just trying to play like same all the time time, yeah. I'm just trying to fight 100 per cent," Chung said after his semi-final entry.
Chung's forehand has the purring aggression of a Korean car and is as fast. In the match against Djokovic, he raced to a 4-0 lead completely putting the Serbian master in a confused state of mind. Djokovic fought back in all three sets of course but Chung here had more staying power and more gunpowder behind his shots. Surprisingly, he is a bit behind in other aspects. He had only one ace in the match, and zero service winners and no serve and volley points. He can, however, serve above 200 km, 211 being the fastest he has delivered here. His average normally tends to be in the 190s.
Federer with the aloofness of a champion said he does not know much about Chung but does not seem bothered at all about defeating Chung in the semis. "It's great to see new names on the scene. For Chung to beat Novak on this court is particularly difficult. I'm really excited playing against him. He's got nothing to lose. I tell myself the same and we'll see what happens," Federer said after seeing off Tomas Berdych in straight sets as if it was just a formality.
Federer will no doubt use his trademark backhand topspin drops to catch Chung off guard at the baseline. Chung will also have a lot of running to do as Federer pins the ball to the corners of the court. But Chung's powerful legs, now in rippling form will have no trouble racing to pick them up.
| Edited by: Puja Menon
Read full article
Countdown To
Elections Results
To Assembly Elections 2018 Results