Lippi realises Italy need to create more at WC
Azzurri opened the defense of their World Cup title with a less-than-spectacular 1-1 draw against Paraguay.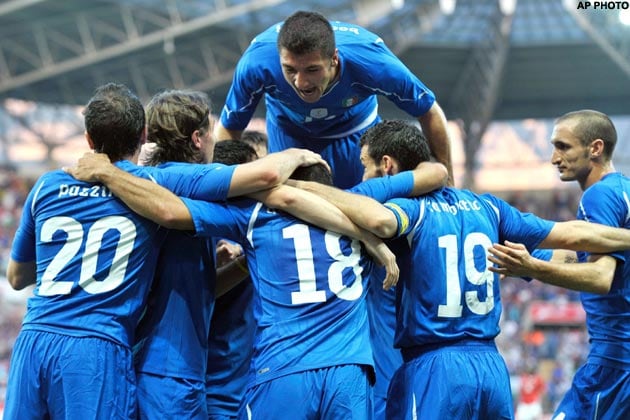 Azzurri opened the defense of their World Cup title with a less-than-spectacular 1-1 draw against Paraguay.
Irene: Starting slowly is nothing new for Italy, and coach Marcello Lippi was far from worried after the Azzurri opened the defense of their World Cup title with a less-than-spectacular 1-1 draw against Paraguay.
When Italy won its third World Cup in 1982, Paolo Rossi and Co. opened with a 0-0 draw against Poland. And in 1994, when the Azzurri went on to reach the final, Arrigo Sacchi's side was beaten 1-0 by Ireland in its first game.
"At a World Cup you've got to build belief, confidence and condition game by game," Lippi said on Tuesday, a day after the match in Cape Town. "I've never seen a team start off at 100 percent and maintain that form for seven games."
Italy did begin its title run four years ago with an encouraging 2-0 win over Ghana, but then stumbled in its next match, drawing 1-1 with the United States, before finding the consistency to reel off five more victories.
"Four years ago in our debut we risked much, much more — although we also created several more chances," Lippi said.
While Paraguay rarely challenged Italy's stalwart defense during open play — scoring on a set piece — Italy struggled to organize its attack, rarely getting the ball to center forward Alberto Gilardino.
"We've got to improve, and I'm sure that we will improve. But so far I haven't seen any perfect squads at this World Cup," Lippi said, adding that he will continue to tinker with his formation.
Lippi started without Serie A scoring leader Antonio Di Natale, bringing him on only for the final 22 minutes. Simone Pepe excelled on the right wing at the start, but then swapped places with Vincenzo Iaquinta for the second half, when midfielder Daniele De Rossi slid in to redirect a corner for the equalizer.
Lippi wasn't interested in making comparisons with Germany's 4-0 win over Australia on Sunday.
"If yesterday we had scored four goals, won 4-0 and dominated of course I would have been happy," Lippi said. "But for something like that to happen it's nearly impossible. It happened to Germany because the match took a certain turn. Let's not forget that they played with an extra man after the Australian was sent off."
Italy next meets New Zealand on Sunday, then closes out Group F play against Slovakia four days later.
"Our condition is improving and as we get better we'll start creating more chances and scoring more goals," the coach said, adding that he was pleased with the performance of Riccardo Montolivo, who replaced injured midfielder Andrea Pirlo.
"Montolivo had a good start and some of the others were not so good," Lippi said, adding that the team played significantly better than in pre-tournament friendlies.
"Our self-confidence will only keep growing game by game. You've also got to consider that we were playing a team that respected us a great deal and sat back virtually the entire time."
Lippi had nothing new to report on goalkeeper Gianluigi Buffon, who was replaced at halftime with a nerve problem in his back, noting that the players were sleeping until noon after flying back from Cape Town overnight.
Get the best of News18 delivered to your inbox - subscribe to News18 Daybreak. Follow News18.com on Twitter, Instagram, Facebook, Telegram, TikTok and on YouTube, and stay in the know with what's happening in the world around you – in real time.
Read full article