News18
»
Other Sports
4-min read
On a High After CWG Success, Sharath Kamal Hopes for India's Best Show at World Championships
This Commonwealth Games in Gold Coast gave everyone a fair idea of what to expect from Indian sports persons in the coming future. India finished a creditable third behind Australia and England with 66 medals. Eight of those came from an unlikely event, table tennis. While youngster Manika Batra, who returned with four medals, emerged as a rising star, there was one man who went about business as usual—Achanta Sharath Kamal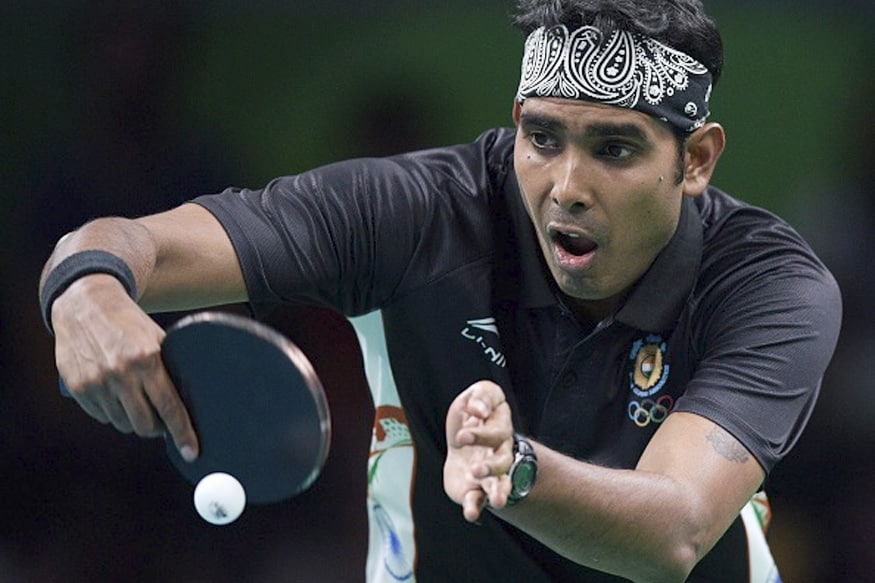 Sharath Kamal. (Getty Images)
New Delhi: This Commonwealth Games in Gold Coast gave everyone a fair idea of what to expect from Indian sports persons in the coming future. India finished a creditable third behind Australia and England with 66 medals. Eight of those came from an unlikely event, table tennis. While youngster Manika Batra, who returned with four medals, emerged as a rising star, there was one man who went about business as usual—Achanta Sharath Kamal.
The 35-year-old veteran paddler once again showed why he is a class apart and still India's very best. The dependable Sharath bagged a gold in men's team event, silver in men's doubles and a bronze in men's singles. Speaking exclusively to News18 Sports Sharath expressed his satisfaction at winning these medals, and how bagging a medal in the singles was crucial for him.
"I went in with the expectation of one gold. Apart from that I'm happy to have won a bronze in singles. Last time I lost out on the bronze, so this time it was very important for me personally to get this medal. I lost in the semis to Nigeria's Quadri Aruna just because he was better on the day. I have no regrets after losing to him. All in all I'm happy with the way things have gone this Commonwealth Games for me," Sharath said.
One must remember that the World Championship is starting from April 29 in Sweden, and for the first time in the history of the event, India will be participating in the champions division. This has got Sharath, excited, and the man from Chennai is aiming to take India to its best ever finish.
"This will be the first World Championship where we'll be going in the champions division. So we are actually playing for the title now. But winning a medal could be a far-fetched thought. But if we finish third in the group, we'll be playing for the top-12 places in the world. That itself is history in the making because the best Indians have ever done is a 13th place finish, which was way back in the 1980s. Confidence from CWG will hold us in good stead," he added.
So, what has really propelled the Indians to produce a much-improved show at the CWG? Better investment in the sport, more foreign exposure for the players, or perhaps both.
"In 2016, we had four players participating in the Rio Olympics, which had never happened before. Subsequently we got included in the TOP scheme and our federation too had a better budget from SAI. From that better budget we could plan exposure trips, tournaments and training. So that has been there for the last two years now. Also, since the last 5-6 years all the men's players have moved to Europe and participate in the leagues there. That has helped improve the level of Indian table tennis."
Now that Sharath is back in the top-50 players in the world, he is trying to go one step further and break into the top-30 world rankings. This is something that he came tantalizingly close to in 2015, but then a hamstring injury marred his chances for the next six months.
"Hopefully I can achieve my career-best ranking in the season ahead. If the World Championship goes well I could get into top-30.
"Post my injury in 2015, I was on wheel-chair for four weeks, because of a torn hamstring. It took me nearly six months to get back on the court. That was the time I worked hard on my training to keep up to the youngsters. There I lost out on the crucial time."
Sharath sounded immensely happy with how the other Indians fared at the CWG, especially Manika Batra and G Sathiyan. For him, this performance was only an indication that how well the team bonds, and how the youngsters have learnt from their seniors.
"Every player in the team has done really well. Of course exception was Manika. I think everyone has done their job really well. This just shows that the team has been bonding well. We are good mix of experienced and new players. As seniors we have been able to guide the juniors, and as juniors they have picked up well. They're coming along. We are working as a team. There is a fantastic system in place and that's working for us."
With the sport on a boom in India, Sharath wants the youngsters to make the most of professional league in the country, Ultimate Table Tennis that starts on June 14. The players are in for a great opportunity to learn from the world's best, that could help Indian TT in the future.
"We had great first season of UTT. The players have got good exposure because of the tournament. So which is good for the game. Table tennis as a sport has got a good promotion because of this. I moved to Europe 14 years ago just to get this kind of exposure, and train with the best players in the world. If UTT continues to grow in the next 3-4 years, then we can become a strong table tennis nation. But it will take its time," he concluded.
Get the best of News18 delivered to your inbox - subscribe to News18 Daybreak. Follow News18.com on Twitter, Instagram, Facebook, Telegram, TikTok and on YouTube, and stay in the know with what's happening in the world around you – in real time.
| Edited by: Madhav Agarwal
Read full article