OPINION | Why Serena Williams Shouldn't Have Called the Umpire a 'Liar' After Lying Herself
Serena Williams, despite all her achievements, carries a bit of victimhood with her. That could be the reason why she blew up unnecessarily instead of getting on with the match.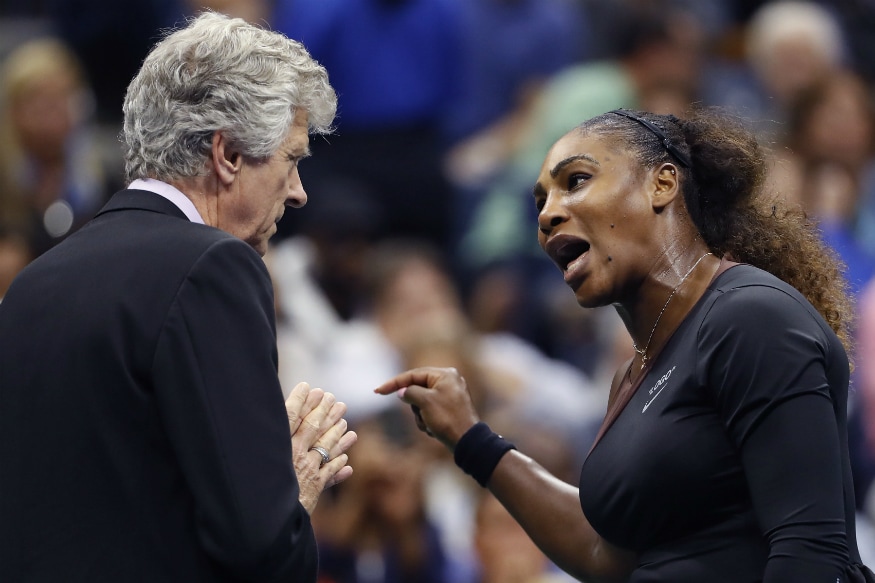 Serena Williams (right) talks with referee Brian Earley during the women's final of the US Open tennis tournament against Naomi Osaka of Japan on September 8, 2018 in New York. (AP Photo/Adam Hunger)
Serena Williams has been the angry millionaire champion of tennis, inspiring and, at the same time, always ready to stand up for injustice both, perceived and real. She has been a person who has a voice and a conscience besides, of course, a lethal scorching forehand.
In the two days before the US Open final where she had a meltdown, Serena was in the news when she backed Nike for choosing Colin Kaepernick, former NFL player, who took a knee during the national anthem to protest racial violence, as the face of its new, powerful but sombre campaign. Few other top sportsmen in the US and elsewhere, even those who endorse Nike, had the guts to stand up for that black athlete. That is because Serena is not afraid of her views and she knows what it is to make it to the top.
In the final, Serena had, however, to stand up for herself in the most unfortunate circumstance. Playing against the Haitian-Japanese Naomi Osaka, whose rise to the top had been predicted in the last two years by Serena herself. Serena was called for code violation not once but thrice, in the end forfeiting a game itself. Umpire Carlos Ramos, not to be confused with the Spanish defender, known for his fearlessness in warning even top players, first called her for taking instructions from her coach Patrick Mouratoglou in the players' box.
Mouratoglou later admitted to ESPN that he had indeed given some signals, but Serena blew her top for being docked. She went on to smash her racket and was called for racket abuse and was later docked a full game for calling the umpire a "thief" and "liar".
The incident ruined the final which would have been the crowning moment for Naomi Osaka, who is torn between two nationalities — her father is from Haiti and her mother from Japan. For Osaka, the name 'Serena' always brought stars and tears in her eyes. But when she was finally on the other side of the net, she was not exactly the heroine Osaka always dreamt of.
Serena, despite all her achievements, carries a bit of victimhood with her. That could be the reason why she blew up unnecessarily instead of getting on with the match. Another reason was that Osaka held too many guns for her in the final and Serena isn't used to losing to junior players. Also, Serena would have become the first person to win seven US Open titles and also the first mother to do so. An upstart Spanish umpire and a Haitian kid was about to ruin it all for her.
There are a few issues involved here: the behaviour of champions, the right of umpires to rein in even millionaire superstars (some umpires ignore coaching violations) and the degree of punishment. Serena would have thought that Ramos was unusually severe on her, but the point is that she lied because her coach had indeed given her some clues through sign language as he himself admitted. To call the umpire a "thief" and "liar" after she herself had lied was a bit thick.
Serena later said that Osaka deserved to win and that she was the better player. "She played an amazing match. She deserved to win," Serena said.
In all this noise, what was missed was the amazing rise of Osaka who came to the US with her sister and parents when she was three, to live with her Haitian grandparents who took them in. Her mother's parents in Japan had sort of ostracised them after her mother Tamaki married the Haitian worker Leonard Francois who lived in their neighbourhood in Japan.
There are many things linking Osaka to Serena. Osaka can also lay claim to a black heritage and the burdens that come with it. She is only a quarter of a Japanese, still unable to understand Japanese fully. In fact, the decision to appear as a Japanese was taken much later in her life by her father, maybe to allow his daughter to shirk off the burdens of being black. She is also, thus, torn between three cultures — American, Japanese and Haitian.
But in her game, she has only one ambition — "to be the very best". Osaka now trains with Sascha Baijin, who was Serena's hitting partner for many years. Osaka was only ranked 68 at the end of last year and now at 20, she is the youngest in the world's top 20.
Serena may live down her behaviour at Arthur Ashe, watched by millions who worship her. Serena has been a great role model. One black night should not ruin all that.
(The author is a senior journalist. Views are personal)
Get the best of News18 delivered to your inbox - subscribe to News18 Daybreak. Follow News18.com on Twitter, Instagram, Facebook, Telegram, TikTok and on YouTube, and stay in the know with what's happening in the world around you – in real time.
| Edited by: Nitya Thirumalai
Read full article