News18
»
Other Sports
2-min read
Pooja Dhanda Ready to Script her Own Success Story After Injury Roadblock
Women's wrestling in India has come far since the advent Phogat sisters. Much of the credit goes to them for setting up an example for other young girls in the country. And then of course there is Sakshi Malik—Rio Olympics bronze medalist, who brought India's first medal in women's wrestling, because of which the sport has gained great popularity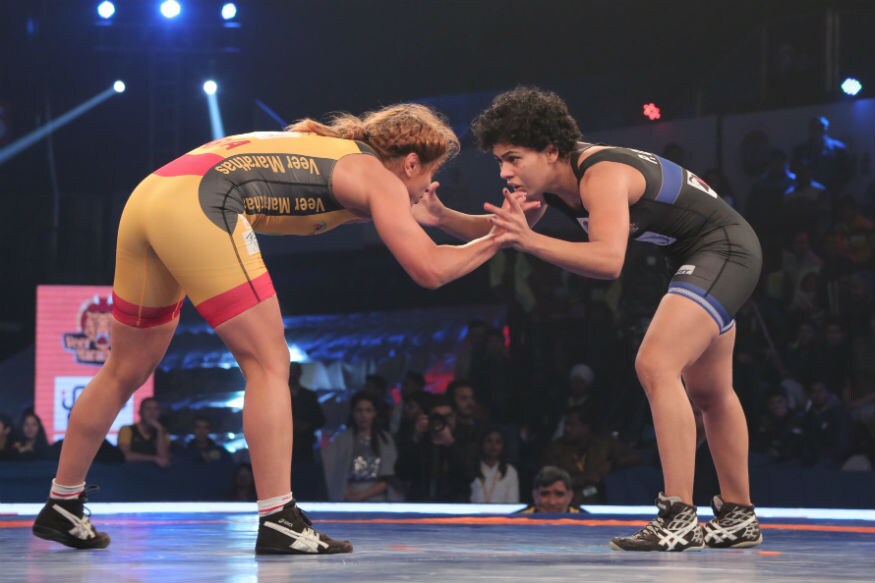 Punjab Royals' Pooja Dhanda (black) in action during a PWL game. (PWL)
New Delhi: Women's wrestling in India has come far since the advent Phogat sisters. Much of the credit goes to them for setting up an example for other young girls in the country. And then of course there is Sakshi Malik—Rio Olympics bronze medalist, who brought India's first medal in women's wrestling, because of which the sport has gained great popularity.
Apart from these girls, there are a certain few who are showing a lot of promise, and are in line to supersede what all has been achieved in women's wrestling in the country.
Pooja Dhanda, a 24-year-old wrestler from Hisar has shown a lot of promise in recent times, and has just beaten Olympic champion Helen Maroulis in the ongoing PWL season, while playing for Punjab Royals. The win, considered by most as an upset, doesn't come as a surprise to Pooja.
"I think the key was that I wasn't afraid of facing Helen. I didn't have the pressure of losing, so that really worked well in my favour. Everytime I step on the mat I want to give my 100%. Even in the future too, be it any opponent, I would like to be fearless," Pooja told News 18 Sports.
Still early days in her senior career, Pooja had last won a medal in 2014—bronze at Asian Championship. One major reason for that long gap in getting a medal for the nation is a knee injury she suffered in 2015, and which took almost two years to heal, because lack of availability of quality physios, and awareness.
"When I suffered a knee injury, I had to get a surgery done. Despite the financial instability I went ahead with the procedure. But after that I didn't have the best of rehabs, which is the most important part. I used to stay at home, and my recovery was very slow. In fact almost after a year, I had to go for another surgery, as I wasn't able to straighten my leg completely."
What made matters worse for her that she did not get enough support from the Wrestling Federation of India. All she had at her dispense was an insurance from Sports Authority of India, which she couldn't claim in the time of need.
Not many would know that Pooja was offered a role in Aamir Khan's film Dangal, and had auditioned for the same. Had she not suffered the injury, she would have been part of cast, of the blockbuster movie. But Pooja holds no regrets about the missed opportunity.
"The auditions for the movie were conducted in whole of Haryana, and I was selected there. The whole experience was pretty good for first few days, but then it became really boring. Acting, I think is not my cup of tea. And of course, the injury too happened, so there was no way I could be a part of the movie," Pooja added.
Now a fully fit Pooja is targeting bigger tournaments, and wants to establish herself as a top wrestler in the country. Understandably that will require her to work really hard, but she is willing to give it her all.
"I want to compensate for the time I've lost due to injury by winning a few tournaments. This year is going to be especially important for me with the Commonwealth and Asian Games coming up. That would give me a fair picture of where I stand globally," she concluded.
| Edited by: Madhav Agarwal
Read full article