News18
»
Other Sports
1-min read
Pro Kabaddi 2017: Haryana Steelers Hammer Dabang Delhi 42-24
Dabang Delhi's home woes continued as they suffered a third successive defeat and lost 24-42 against Haryana Steelers in the Pro Kabaddi Season 5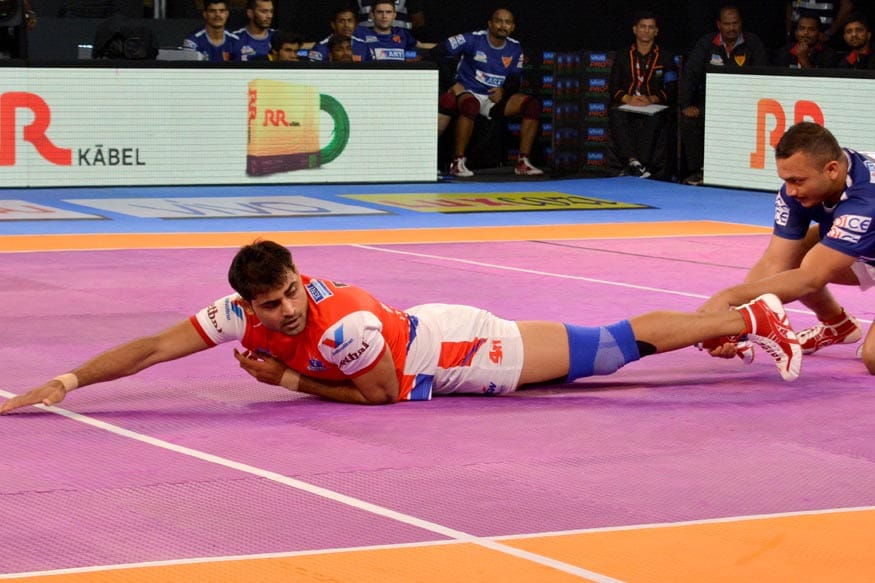 Dabang Delhi's home woes continued as they suffered a third successive defeat and lost 24-42 against Haryana Steelers in the Pro Kabaddi Season 5
New Delhi: Dabang Delhi's home woes continued as they suffered a third successive defeat and lost 24-42 against Haryana Steelers in the Pro Kabaddi Season 5. Haryana made a strong start and never looked back as they showed their opponents why they are being considered one of the favourites.
Deepak Kumar Dahiya (6 points) and Prashanth Rai (5 points) got the raid points whereas Rakesh Singh(7 points) and Surender Nada (5 points) were ruthless in the defence. For Delhi, a disappointing campaign got worse as they suffered 10th defeat of the season.
Haryana Steelers are now top of the table in Zone A with 59 points from 18 matches. Dabang Delhi are bottom of the pile with 30 points from 15 matches.
After a quiet opening two minutes, Haryana Steelers scored a raid and tackle point to lead 2-0. Rohit Balliyan scored the first point for Dabang Delhi in the third minute. Haryana Steelers ramped up the pressure early in the match as they inflicted an all out in the sixth minute to lead 9-3. Rohit Balliyan scored two more points as Dabang Delhi trailed 5-11 after nine minutes.
Haryana Steelers defence and attack combined well in the first half as they picked up points with ease. Deepak Kumar Dahiya was picking apart Dabang Delhi defence as Haryana inflicted another all out to lead 19-7 after 14 minutes. It took 15 minutes for Dabang Delhi to score their first tackle point. Prashanth Kumar Rai scored with a two-point raid as Haryana Steelers led 22-8 after 18 minutes. Dabang Delhi looked hapless in the first half as they trailed 9-23 at the break.
Dabang Delhi forced a super tackle in the 22nd minute to trail 12-27. Meraj Sheykh had a disappointing game for Dabang Delhi as in the first 25 minutes he could score just one point. Haryana asserted their supremacy in the 28th minute as they inflicted an all out to lead 32-15.
Haryana Steelers made easy work of their opponents in the last five minutes as well. All Dabang Delhi could do was restore some respectability to the scoreline as they tried to reduce the deficit. But Haryana Steelers were relentless in their pursuit as they crushed Dabang Delhi 42-24.
Get the best of News18 delivered to your inbox - subscribe to News18 Daybreak. Follow News18.com on Twitter, Instagram, Facebook, Telegram, TikTok and on YouTube, and stay in the know with what's happening in the world around you – in real time.
| Edited by: Pratik Sagar
Read full article