GET Stock

Quotes


Catch all the live action of the Pro Kabaddi League 2017 match between Haryana Steelers and Jaipur Pink Panthers through our live blog.
Preview:
Read More
Sep 14, 2017 9:04 pm (IST)
Sep 14, 2017 8:55 pm (IST)
Following the time-out, Jasvir Singh is brought down crashing yet again by the Haryana defenders. But Jaipur's raiders Ajit Singh and Nitin Rawal successfully raid to win back to back raid points for their team. Deepak Kumar Dahiya then stops the Jaipur comeback and wins a raid point. Haryana lead 24-19.
Sep 14, 2017 8:45 pm (IST)
A flurry of raid points in the second half as both teams are winning points for fun. Mayur wins yet another touch point as he has done in the entire match. But Pawan Kumar wins two back to back touch points for Jaipur to keep them in contention. Timeout taken by the umpires as Haryana lead 22-16 with 10 mins left in the match.
Sep 14, 2017 8:41 pm (IST)
Mayur Shivtarkar is brought down and he concedes the first point of the second half. While Jasvir Singh wins one more point for Jaipur to cut short the lead. But in his do or die raid, Surjeet Singh wins a touch point for Haryana. While their defenders also bring down Jasvir Singh in the next play. Haryana lead 20-12.
Sep 14, 2017 8:24 pm (IST)
Half-time: Following the all-out, Nitin Rawal starts the proceedings for Jaipur by winning a touch point and also a bonus point. But Deepak Kumar Dahiya and Sunjeet Singh keep the Haryana juggernaut rolling as they win one touch points each in their respective raids. While Pawan Kumar of Jaipur is once again caught and Haryana now lead 17-9.
Sep 14, 2017 8:18 pm (IST)
In Haryana's do or die raid, Mayur Shivtarkar strikes to win a touch point. But Jaipur's Nitin Rawal also wins a touch point to keep his team within touching distance of the hosts. Tushar Patil is then brought down crashing by the hosts and they take their score in double digits. Haryana lead 10-7 with six minutes left in the first half.
Sep 14, 2017 8:14 pm (IST)
In his do or die raid, Jasvir Singh is taken down for the second time in the first half. But on the other hand, in Haryana's do or die raid, Deepak Kumar wins a touch point to extend his team's lead. Jaipur's Nitin Rawal then wins a touch point as well as a bonus point to cut down few point. Haryana now lead 8-6.
Sep 14, 2017 8:10 pm (IST)
Sep 14, 2017 8:06 pm (IST)
Sep 14, 2017 8:04 pm (IST)
Surjeet Singh of Haryana starts the proceedings with an empty raid but Jasvir Singh opens the Jaipur accound in their first raid itself by winning a touch point. In but in his next raid, Jasvir is caught by the defenders and he concedes a point. The match is locked at 1-1 after two minutes played in the first half.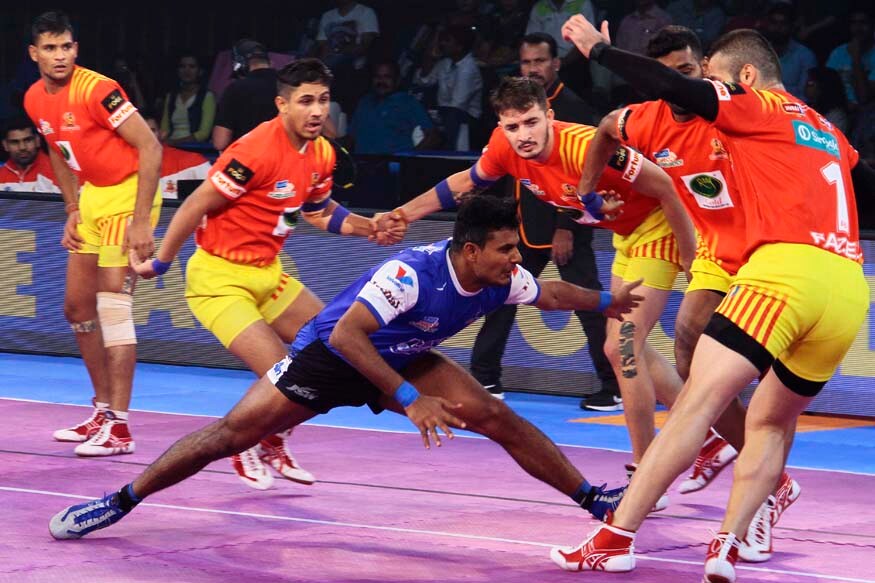 Gujarat Fortunegiants in action against Haryana Steelers in PKL.

Hosts Haryana Steelers take on Jaipur Pink Panthers in the last day of the Sonepat leg of the league. Haryana are coming into the match on the back of a heavy defeat at the hands of Puneri Paltans on Wednesday and will to win their last match on home soil.

While on the other hands, Jaipur are at the bottom of the group B table and will look to make amends in this clash.


19 Jun, 2018 |

T20I Tri-Series in Netherlands

NED
vs
SCO
160/6

20.0 overs

161/3

17.4 overs

Scotland beat Netherlands by 7 wickets

19 Jun, 2018 |

Australia in England

ENG
vs
AUS
481/6

50.0 overs

239/10

37.0 overs

England beat Australia by 242 runs

17 Jun, 2018 |

T20I Tri-Series in Netherlands

SCO
vs
IRE
185/4

20.0 overs

185/6

20.0 overs

Scotland tied with Ireland

16 Jun, 2018 |

T20I Tri-Series in Netherlands

IRE
vs
SCO
205/5

20.0 overs

159/5

20.0 overs

Ireland beat Scotland by 46 runs

16 Jun, 2018 |

Australia in England

ENG
vs
AUS
342/8

50.0 overs

304/10

47.1 overs

England beat Australia by 38 runs