Catch all the live action of the Pro Kabaddi 2017 match between Haryana Steelers vs Puneri Paltans through our live blog.
Read More
Sep 13, 2017 10:16 pm (IST)
Sep 13, 2017 9:58 pm (IST)
Deepak Hooda is caught by the Haryana defenders and its a super tackle as well. While Prasanth Kumar and Rajesh Mondal are taken out in back to back Haryana raids. Deepak Kumar Dahiya then wins a touch point and bonus point for Haryana. While Deepak Hooda wins two points for his team as well. Paltans lead 24-14 n second half.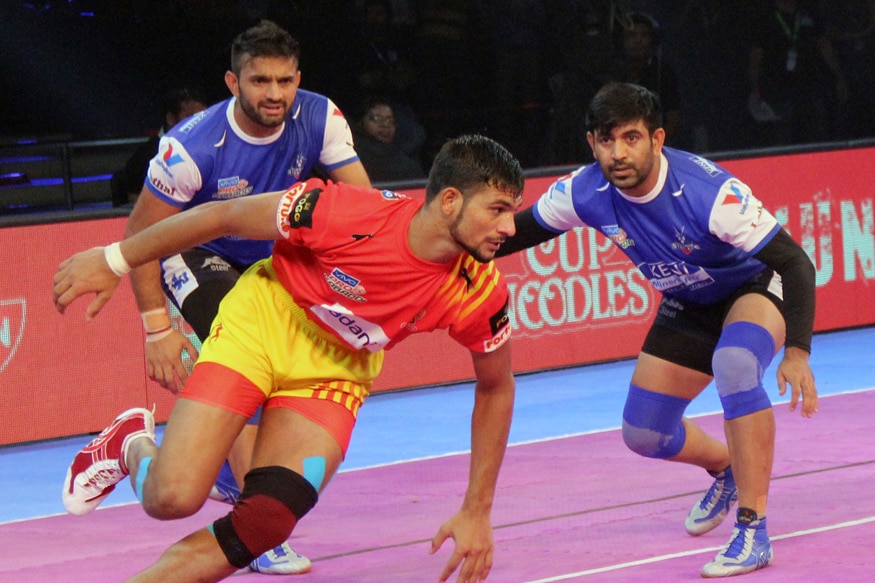 Haryana Steelers in action in PKL 2017. (Image Credits: PKL)


15 Sep, 2019 |

Bangladesh Tri-Nation T20I Series

AFG
vs
BAN
164/6

20.0 overs

139/10

19.5 overs

Afghanistan beat Bangladesh by 25 runs

14 Sep, 2019 |

Bangladesh Tri-Nation T20I Series

AFG
vs
ZIM
197/5

20.0 overs

169/7

20.0 overs

Afghanistan beat Zimbabwe by 28 runs

13 Sep, 2019 |

Bangladesh Tri-Nation T20I Series

ZIM
vs
BAN
144/5

18.0 overs

148/7

17.4 overs

Bangladesh beat Zimbabwe by 3 wickets

12 - 15 Sep, 2019 |

The Ashes

ENG
vs
AUS
294/10

87.1 overs

225/10

68.5 overs

England beat Australia by 135 runs

06 Sep, 2019 |

New Zealand in Sri Lanka

SL
vs
NZ
125/8

20.0 overs

88/10

16.0 overs

Sri Lanka beat New Zealand by 37 runs