0/288 Seats ((145 Seats to Win)
Alliance
BJP+
YSRCP+
TDP+
INC+
OTH
Wins + Leads
0
0
0
0
0
+/- 2014
+0
-0
-0
+0
0/90 Seats ((145 Seats to Win)
| Alliance | BJP+ | INC+ | BJD+ | OTH |
| --- | --- | --- | --- | --- |
| Wins + Leads | 0 | 0 | 0 | 0 |
| +/- 2014 | +0 | -0 | -0 | +0 |
Ronda Rousey is Just a Fan, She is Not Better Than Us, Says Sasha Banks
Sasha Banks is a name synonymous with history in women's wrestling. Along with Charlotte Flair, she is the first woman to main-event, a WWE pay-per-view. In an exclusive conversation with News18, Sasha Banks talks about ex-UFC champion Ronda Rousey's speculated signing with WWE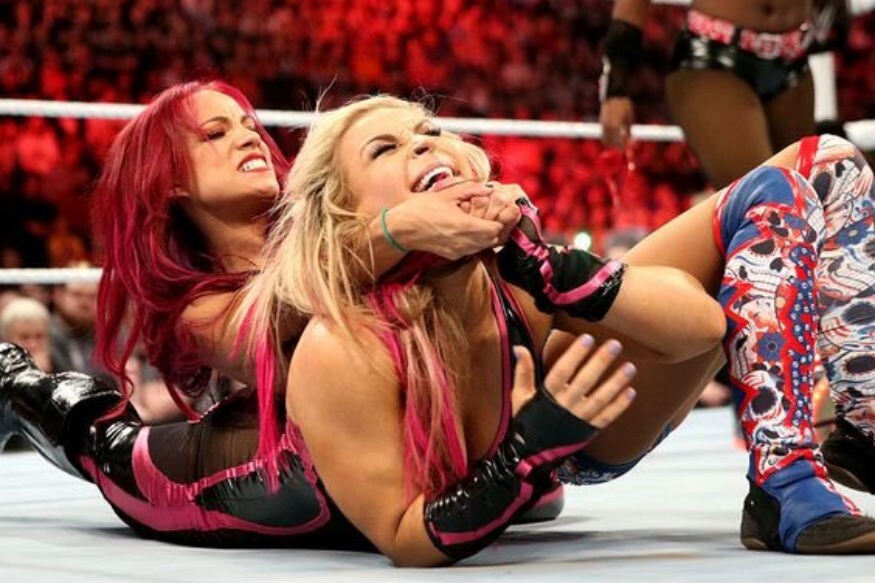 Sasha Banks/ Twitter
Sasha Banks is a name synonymous with history in women's wrestling. Along with Charlotte Flair, she is the first woman to main-event, a WWE pay-per-view. They put on a classic match at 2016 Hell-in-a-Cell. Their rivalry was one for the ages, as they put on several great matches in row. Now the 4-time women's champion has moved on to having a fierce rivalry with current champion Alexa Bliss.
Though she came up short against Alexa on several occasions, everyone knows that it's just a matter of time before she reclaims the championship. In an exclusive conversation with News18, Sasha Banks talks about her historic moment in Abu Dhabi, and also on ex-UFC champion Ronda Rousey's speculated signing with WWE.
Excerpts:-
Q. You and Alexa became the first women to wrestle in Abu Dhabi. After the match you gave a pretty moving speech. So how proud are you of that achievement?
Sasha: I am very proud of that achievement. That night was really so inspiring. This is something that will be remembered all over the world. The first ever women's match in Abu Dhabi is huge. 2 years we weren't even allowed to wrestle. We were just allowed to sit there and wave. So it's a huge accomplishment and I just hope it opens the doors for women all over the world and show that dreams can come true. There's a women's revolution going on all over the world. It's so inspiring and a big honour to be a part of it.
Q. Ronda Rousey is rumoured to be taking her plunge into pro wrestling soon. With speculations saying that the match will be taking place at WrestleMania, she is scheduled to take on The 'Four Horsewomen' of WWE. So do you think the transition from MMA to pro wrestling would be easy for her?
Sasha: If it's true then all I can say is, good luck to her. They can train as hard they want. But we love this. We have a passion for this and we have been working extremely hard for a very long time. We have gone through NXT, the rings of Monday night Raw and Smackdown Live. We have broken down doors, we have broken down barriers, and we have main-event pay-per-views. We have had the first ever, this and that. So they can come into our house, but they are not better than us. We are the four Horsewomen for a reason. They are just fans.
Q. You have been a four-time women's champion. But all your reigns have been extremely short. You would definitely like to have a lengthy reign as champion. Why do you think it is like that?
Sasha: I have no idea why it is like that. It changes all the time. I train really hard to be the best and some days we have those off-days. I soon plan to become a five time women's champion and hold on to that championship for a very long time.
Q. Going into some fantasy booking. You are one of best wrestlers in the world. So if you are paired with a male superstar then who would you like him to be and why?
Sasha: That's hard. I have two wrestlers in mind. First one would have be AJ Styles because I think he is the best in the world. I watch his matches and I get jealous of how good he is. I am in awe of his matches. I wanna be like that, and I wish I can be like that. And another one of my favourites would be Roman Reigns. I actually got to tag team with him and that was probably one of the favourite matches that I have ever had. He is awesome, he is incredible and I just love working and learning from him.
Q. And which team would you like to face?
Sasha: Maybe I would like to face Bayley and Tyler Breeze.
Q. If you had to rate your 3 best matches in the WWE. Then what will those be?
Sasha: Number one would be NXT TakeOver: Brooklyn with Bayley, Number 2 would NXT TakeOver: Unstoppable and Number 3 would be WrestleMania 32 Triple threat with Charlotte and Becky.
Q. Any dream matches or scenarios for the Boss? Maybe a women's main-event match in WrestleMania?
Sasha: You just read my mind. That is exactly my biggest dream right now. That is the goal. And hopefully I get to do that with the Four Horsewomen.
Get the best of News18 delivered to your inbox - subscribe to News18 Daybreak. Follow News18.com on Twitter, Instagram, Facebook, Telegram, TikTok and on YouTube, and stay in the know with what's happening in the world around you – in real time.
| Edited by: Madhav Agarwal
Read full article