GET Stock

Quotes


Sheamus Confident of Good Showing, Despite Neck Injury
WWE recently hosted a live event in New Delhi on December 9. Legendary wrestler Triple H defeated former World Champion Jinder Mahal in the main event. The event turned out to be extremely successful with several stars like Roman Reigns and Finn Balor entertaining the crowds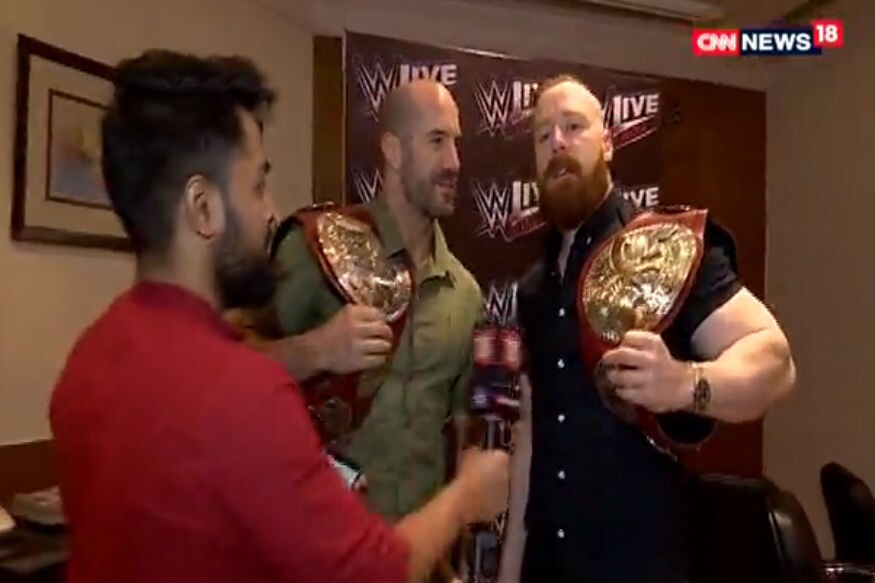 WWE recently hosted a live event in New Delhi on December 9. Legendary wrestler Triple H defeated former World Champion Jinder Mahal in the main event. The event turned out to be extremely successful with several stars like Roman Reigns and Finn Balor entertaining the crowds
New Delhi:
WWE recently hosted a live event in New Delhi on December 9. Legendary wrestler Triple H defeated former World Champion Jinder Mahal in the main event. The event turned out to be extremely successful with several stars like Roman Reigns and Finn Balor entertaining the crowds. Raw Tag team champions Sheamus and Cesaro, who like to call themselves 'The Bar', along with Samoa Joe faced another very popular group, 'The Shield'. News18 caught up with them before the event where the duo laid out a challenge to other tag teams in the WWE.
"We are cementing a legacy in the WWE, Anybody can step up to us and ask for an opportunity", Sheamus said. His partner Cesaro said that they are the champions and they don't fear any team in the world. "Gallows and Anderson had a chance. Hardy Boyz did. The Shield had a chance. They can all come if they want but they are not going to take the championship away from us. Anybody that wants to face the tag team champions can come forward. We are not the champions that hide, we are always defending it."
Sheamus and Cesaro have been pretty successful in the past one year. They have defeated every team that has come in their way. They have always managed to outsmart all the teams. So when asked again if they wanted to lay challenge to any other team in the world, Sheamus and Cesaro had one person in mind. "Yes there is someone I want to lay a challenge to. There are some Bollywood actors specially John Abraham who believes he has the best six-pack in the world. Johnnie can step up. Get a partner of your choice from Bollywood."
Even Cesaro got into the act and challenged Bollywood Hunk John Abraham to a tag-team match, "Get anyone of your choice from Bollywood to take on Cesaro and Sheamus."
In the beginning of the partnership, Sheamus and Cesaro weren't the best of friends. They were totally opposite, in fact were bitter enemies. The Celtic Warrior and the Swiss Superman battled in a Best of 7 series last year to settle their differences. But after the series culminated in a tie, the two were forced to work as a team by then-Raw General Manager Mick Foley. And it has proved to be extremely successful for them as they went on to win the Tag team championships three times.
But when everything seemed to be going their way, some worrying news came to light. Sheamus announced last week on his YouTube channel that he has been suffering from a condition called "Spinal Stenosis" for the past six months. When asked about his injury, Sheamus seemed to be a little hesitant to comment on it. Initially he brushed off the questions but when pressed further he confirmed that he is indeed suffering from it. "I have a little bit of Spinal Stenosis. But i am absolutely fine.... I am really feeling good".
But one has to be really careful with this condition, and it was responsible for ending the careers of Edge and "Stone Cold' Steve Austin. Sheamus is already older than Austin or Edge were when they were forced to retire. Austin was told that one more bump in the ring could result in him being confined to a wheelchair for the rest of his life, whereas in Edge's case he could have even died. All said and done, Sheamus is optimistic about the situation. "I have never felt better man. I have never had as much as I am having right now being a tag team with Cesaro."
Also Watch
| Edited by: Madhav Agarwal
Read full article