Spain defense proving hard to breach at WC
Already wary of Spain's offense, opponents better beware of its defense, too.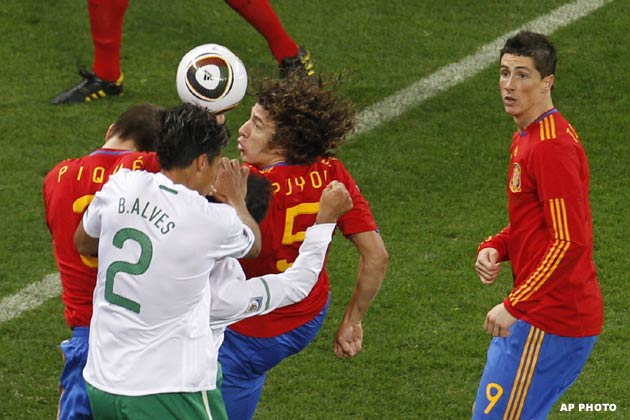 Already wary of Spain's offense, opponents better beware of its defense, too.
Potchefstroom: Already wary of Spain's offense, opponents better beware of its defense, too.
The European champions conceded just two goals in the group stage at the World Cup, and neutralized Portugal winger Cristiano Ronaldo in a 1-0 win on Tuesday. Under coach Vicente Del Bosque, Spain's defense has conceded 11 goals while scoring 44 in 19 competitive games.
Fullbacks Sergio Ramos and Joan Capdevila stood out against Portugal on either side of central defenders Carles Puyol and Gerard Pique, as the back four continues to get stronger.
"I think the team is having a great championship at a world-class tournament, and showing it's in the midst of a great moment where our confidence and play is top," said Ramos, who came close to scoring against Portugal. "We have suffered (along the way), but it's justified by the fact we're in the quarterfinals."
Spain will see an equally tough defense on Saturday at Ellis Park, when it plays Paraguay in the quarterfinals. The South Americans haven't conceded a goal for 327 minutes.
The abilities of Barcelona teammates Puyol and Pique are well-known, and Ramos has been a Spain regular since his debut in 2005, making 64 appearances already. The Real Madrid player's versatility means he can play any of the back four positions, and his heading ability and bursts up the wing have given Spain further depth in attack.
Spain has delivered more crosses than any other team mostly thanks to Ramos, who has also showed great passing accuracy.
Capdevila, meanwhile, might be Spain's most anonymous player. The 32-year-old has been a mainstay since Spain's Euro 2008 triumph and, despite an inconsistent club season and some aging legs, showed his worth against the Portuguese.
It's players like Capdevila who are responsible for Spain's turnaround following its 1-0 loss to Switzerland to open the tournament, coach Vicente del Bosque said.
"The most anonymous players had incredible games," Del Bosque said before singling out Ramos, Capdevila and defensive midfielder Sergio Busquets. "Playing like this makes it easier for us to control the game."
Capdevila is also a key to Spain's chemistry. Often labeled the team joker, Capdevila has been known for a quick quip even in the most anxious moments of a big game.
"Whatever my role in the team, I'll accept it," Capdevila said before arriving in South Africa. "If I need to help inside the locker room I will, and if I need to on the field, I will also. What's most important is that the team works, whether I play or not."
Get the best of News18 delivered to your inbox - subscribe to News18 Daybreak. Follow News18.com on Twitter, Instagram, Facebook, Telegram, TikTok and on YouTube, and stay in the know with what's happening in the world around you – in real time.
Read full article