Switzerland vs Costa Rica, FIFA World Cup 2018: Switzerland Seal Last 16 Spot After Earning a Point
Catch all the action from the match between Switzerland and Costa Rica through our live commentary.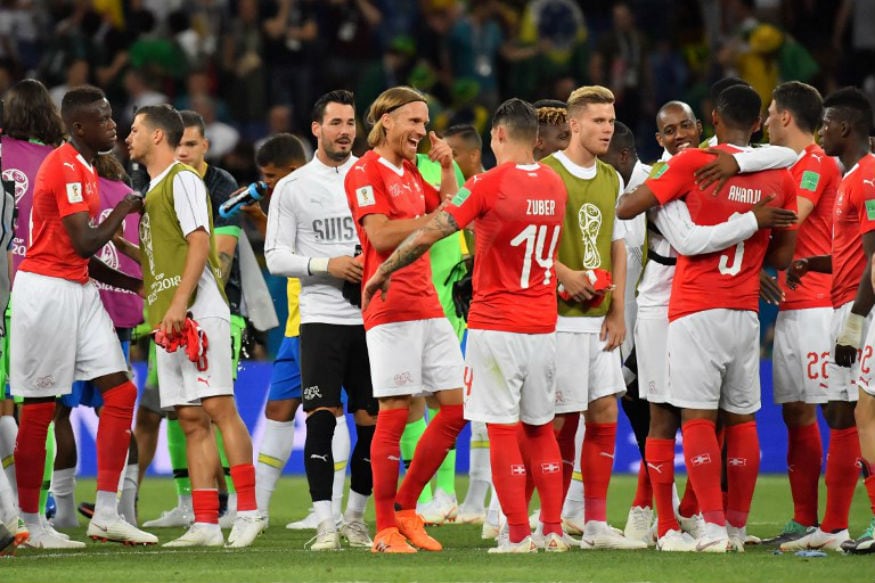 AFP
Catch all the action from the match between Switzerland and Costa Rica through our live commentary.
After winning a politically-charged match against Serbia, Switzerland are unlikely to face the same hostility when they face already-eliminated Costa Rica in Group E of the World Cup on Wednesday. Switzerland, needing a draw to reach the last 16 of the tournament, have a number of ethnic Albanians in their squad and they were given a hostile reception by Serbian fans in Friday's dramatic 2-1 win in Kaliningrad. Clearly fired up, goalscorers Granit Xhaka and Xherdan Shaqiri both celebrated with a gesture which appeared to imitate the eagle displayed on Albania's flag. Both players could be suspended by world governing body FIFA before Wednesday's match. Serbia refuses to recognise the independence of its former province Kosovo, whose 1.8 million people are mostly ethnic Albanians. Kosovo broke away from Serbia 10 years ago.
There should not be any similar problems against the Central Americans on Wednesday. Although they are more than 9,000km apart and speak different languages and have different cultures, the two small, rugged nations are considered similar in many ways, with Costa Rica often labelled as the Switzerland of Central America. Both are renowned for political stability, neutrality and tranquillity as well as for natural beauty. The two also enjoy close diplomatic ties. Along with Jordan, Singapore and Liechtenstein, they are part of a group at the United Nations known as the 'Small Five' which, according to the Swiss foreign ministry, advocate "shared values and ideas" including an initiative to reform the UN Security Council and its working methods. Before Switzerland joined the UN in 2002, it developed several initiatives with Costa Rica aimed at enhancing international law, including the Optional Protocol to the UN Convention against Torture (Opcat) which aims to prevent mistreatment of people in detention.
Both enjoy high life expectancy, with Switzerland second in the world at 83.4 years, according to World Health Organisation figures, and Costa Rica third in the Americas with 79.6, above the United States. In football terms, there are also similarities, with both countries tending to punch above their weight. Switzerland and Costa Rica are making their fifth World Cup appearances since 1990, and both got beyond the group stage in 2014. Both have small domestic competitions with 10 teams in Switzerland's Super League and 12 in Costa Rica's Primera Division, and both are exporters of players. Costa Rica have seven home-based players in their 23-man squad while Switzerland have one - FC Basel's Michael Lang. If anything, there is a risk that Switzerland could be too relaxed for the match although that suggestion was dismissed by midfielder Gelson Fernandes. "We know how much quality they have - they will play with their hearts, it is their last game, they are proud to be in the World Cup," he said. "They are proud to represent their country and their first two games were very close, so we mustn't start thinking it is going to be an easy game."
Commentary:
90:Bryan Ruiz blasts the penalty kick off the cross bar and out, however he gets a fortunate bounce off the back of Yann Sommer which causes the ball to loop into the back of the net to draw Los Ticos level! This one will likely go down as an own goal for Sommer.
90:A penalty has been awarded to Los Ticos again! This one will stand as Denis Zakaria clearly dragged down Joel Campbell inside the box.
90:Clement Turpin momentarily awarded a penalty to the Costa Ricans following counter attack that results in a Los Ticos man going down in the area. After a lengthy review the play is overturned as it turns out that the Costa Rican striker was offside just a moment before winning the penalty meaning that the play results in nothing more than a free kick.
90:Bryan Ruiz (Costa Rica)
90:Ian Smith (on). Cristian Gamboa (off). (Costa Rica)
90:Randall Azofeifa (on). David Guzman (off). (Costa Rica)
89:Kendall Waston (Costa Rica)
88:Denis Zakaria blasts a low cross from the right wing that slices through the Costa Rican backline and into the charging run of Josip Drmic in the center of the area. Drmic's defender completely falls down which allows him ample time to pick his spot and deposit the ball into the lower right corner of the net. Die Nati now lead 2-1!
88:Josip Drmic. Assist by Denis Zakaria (Switzerland)
87:GOAL! Josip Drmic buries a late goal to seemingly secure all three points for the Swiss!
84:Fabian Schar is shown a yellow card for his tackle on Joel Campbell! This means that should the Swiss advance to the knockout rounds of the tournament they will be without Schar and Stephan Lichtsteiner who must both serve a one game suspension for yellow card accumulation.
83:Fabian Schar (Switzerland)
82:Oscar Ramirez makes his first substitution of the match as he brings on Rodney Wallace for Daniel Colindres. The NYCFC winger is yet another MLS player to make an appearance at the World Cup, including his teammates Kendall Waston and David Guzman
81:Rodney Wallace (on). Daniel Colindres (off). (Costa Rica)
81:Michael Lang (on). Xherdan Shaqiri (off). (Switzerland)
79:Breel Embolo flings in a cross from the right flank and picks out Josip Drmic in the center of the area! Drmic rises up and blasts a header off the woodwork where the post and crossbar intersect! Oh, what a chance for Die Nati! So close to grabbing the lead right back.
77:At the moment Brazil lead the other match by the score 2-0, meaning that Switzerland could even lose this match and still advance to the next round.
75:Denis Zakaria is shown the fourth yellow card of the match as he tries to break up a counter attack.
75:Denis Zakaria (Switzerland)
69:Josip Drmic (on). Mario Gavranovic (off). (Switzerland)
67:Bryan Oviedo cuts down the left side of the area and sends a low cross in to the near post looking to find his striking partner Joel Campbell! The pass, though, is lacking the point perfect aim needed as Fabian Schar finds it easy to intercept and clear it out of bounds for a throw in.
62:Switzerland seem to be lost on the field at the moment. They have possessed the ball for a solid several minutes of play, however they have accomplished absolutely nothing with that possession other than swing the ball from side to side in the midfield.
60:Denis Zakaria (on). Valon Behrami (off). (Switzerland)
56:A corner kick is delivered from the right flag by Joel Campbell and place perfectly into the plunging run of the Vancouver Whitecaps centerback. Waston then loses his marker Manuel Akanji, leaps up, and glances a header into the back of the net passed the rooted Yann Sommer. We are now tied 1-1!
56:GOAL!!! Kendall Waston scores to equalize!
56:Kendall Waston. Assist by Joel Campbell (Costa Rica)
54:Daniel Colindres nods down a great ball on the left side of the area to an awaiting Bryan Oviedo! The midfielder pauses for a moment and then tries to thrash a volley on goal, but he completely slices the shot sending it soaring above Sommer's crossbar.
49:A cross runs through the area and makes its way into the path of Joel Campbell! Campbell flails at the ball and scuffs it wide of the left post! What a miss for the Costa Rican striker!
46:The second half is underway! The teams have switched ends and it will now be Costa Rica that attacks from right to left.
45:Los Ticos must feel extremely unlucky to arrive at halftime trailing by a goal. They created a plethora of opportunities throughout the opening forty-five minutes including four strikes on target, however Yann Sommer stood firm to turn each attempt away. The goal that Blerim Dzemaili found in the 31st minute was clearly against the run of play, but the Swiss produced it with a brilliant series of passes that deftly cut the Costa Rican defense apart.
45:Clement Turpin blows his whisle to bring the first half to and end! We head to the break with the Swiss leading the Costa Ricans 1-0!
45:Xherdan Shaqiri chips a lovely ball over the Costa Rican defense that is perfectly placed into the path of two Swiss attackers. Unfortunately, the ball sits up for Kendall Waston who expertly sweeps the pass out of the area and over the end line for a corner kick.
42:Joel Campbell, Celso Borges, and Daniel Colindres have been a force to be reckoned with so far for the Swiss backline, yet they trail in this match. Again the three combine for a nice series of passes that springs them into the penalty box, but a heavy pass from Colindres runs out of bounds over the end line a split second before Borges reached it.
38:A free kick bends inward off the foot of David Guzman to the far post and somehow manages to reach Kendall Waston untouched! Waston tries to redirect the ball into the net, but he ultimately fails to do so as the angle required is far too great for the center back to execute.
37:Stephan Lichtsteiner (Switzerland)
35:Ricardo Rodriguez bends in a cross from the left sideline into the center of the box that appears to be picture perfect! The pass' only problem is that it hangs up in the air far too long which allows Keylor Navas ample time to come out and gather the ball in midair.
31:A cross from the right wing by Stephan Lichtsteiner was delivered perfectly to Breel Embolo on the far post who then delicately headed the ball back into the center of the area. The lurking Blerim Dzemaili then blasted a right footed shot through the traffic in front of goal to send Die Nati up by a goal!
31:GOAL! Switzerland score against the run of play to take a 1-0 lead!
31:Blerim Dzemaili. Assist by Breel Embolo (Switzerland)
29:Joel Campbell is shown a yellow card without hesitation from tonight's head official. The striker was trying to hold off Manuel Akanji, but his right elbow flew up and connected with the Swiss defender right in the face.
29:Joel Campbell (Costa Rica)
24:Manuel Akanji manages to step in at the last moment to make a key block to deny Daniel Colindres of a goal following a quickly building Costa Rican counter attack. The Costa Ricans look to be far more capable than anyone had assumed they'd be, especially the Swiss and Vladimir Petkovic.
21:Yann Sommer comes through with another spectacular save! Bryan Oviedo hammered a left footed dipper from the far left side of the area that was ticketed for the far side netting, but once again Sommer is able to get his fingertips on the effort to knock it away from his goal.
17:The Swiss finally find an opportunity to take a shot at Keylor Navas' goal from a threatening position! The ball pings around the top of the area, ultimately falling to Mario Gavranovic who attempts to bend a right footed curler into the upper right corner of goal. The attemt, though, is just misplaced and misses the target by a few feet to the right of the far post.
14:A few sloppy clearances and some all around poor defending by the Costa Rican back five grant Die Nati a few moments to compose themselves and string together a decent attack. The Swiss end up not creating a chance, but they are finally starting to settle into this match.
11:Cristian Gamboa (Costa Rica)
10:Daniel Colindres displays some outstanding individual effort to dispossess a Swiss defender near the left corner of the box and then unleashes an absolute stunner with his right foot! The right footed attempt curls over top of Yann Sommer to thump off the underside of the crossbar, but it unfortunately bounces out without crossing the line.
7:OH MY! Costa Rica have completely pummeled the net with three consecutive shots on target! Yann Sommer came up huge on each occasion with clutch saves, one deflected off the post and back into play. The keeper finally gathered the ball and smothered it to allow his back line a few moments to catch their breath.
4:A rebounding shot deflects off of a Los Ticos defender that then ricochets off of what appears to be Giancarlo Gonzalez's hand, however Clement Turpin allows play to go on without awarding a penalty.
2:Breel Embolo is fouled by Celso Borges hardly 45 seconds into the match and wins the Swiss a free kick in an exceptionally dangerous area of the attacking third! Xherdan Shaqiri stands over the ball and awaits the referees whistle.
1:We are underway at Nizhny Novgorod Stadium! The Swiss attack from left to right during the first half in their all red kit, conversely the Costa Ricans are dressed in an all white uniform. Clement Turpin is the man in the middle for today's match and assisted by fellow Frenchmen Nicolas Danos and Cyril Gringore as well as the Tahitian born Norbert Hauata on the sidelines.
0:Die Nati and Los Matacampeones have squared off two times previously to mixed results. The Swiss triumphed with a 2-0 victory in their first meeting in 2006, while the Costa Ricans took the second by the score of 1-0 in 2010.
0:Costa Rica Bench: Ian Smith, Oscar Duarte, Christian Bolanos, Johan Venegas, Rodney Wallace, Randall Azofeifa, Francisco Calvo, Yeltsin Tejeda, Patrick Pemberton, Marco Urena, Kenner Gutierrez, Leonel Moreira
0:Switzerland Bench: Francois Moubandje, Nico Elvedi, Michael Lang, Remo Freuler, Haris Seferovic, Yvon Mvogo, Gelson Fernandes, Denis Zakaria, Josip Drmic, Johan Djourou, Roman Burki
0:Costa Rica (5-4-1): Keylor Navas; Cristian Gamboa, Johnny Acosta, Giancarlo Gonzalez, Kendall Waston, Bryan Oviedo; Daniel Colindres, Celso Borges, David Guzman, Bryan Ruiz; Joel Campbell
0:Switzerland (4-2-3-1): Yann Sommer; Stephan Lichtsteiner, Fabian Schar, Manuel Akanji, Ricardo Rodriguez; Valon Behrami, Granit Xhaka; Xherdan Shaqiri, Blerim Dzemaili, Breel Embolo; Mario Gavranovic
0:Los Ticos will be returning home after this match no matter the outcome, however if there is one trait common among most CONCACAF nations it is that they are tough and resilient even when the game is a dead rubber. Costa Rica certainly put up a fight against Serbia and withheld Brazil's onslaught right up until the 90th minute, but they still ended up losing both matches without netting a single goal. Perhaps we will see an adventurous young lineup from Oscar Ramirez now that they have been eliminated.
0:Switzerland have quietly put themselves into a quite advantageous position in a difficult group. Steven Zuber's 50th minute goal drew the Swiss level with a heavily favored Brazil and proved enough to split the points. The Nationalmannschaft, or Die Nati, then went on to stun the Serbians with a 90th minute winner off the foot of Xherdan Shaqiri. Now Die Nati only need a draw to secure their spot in the knockout rounds. Can the Swiss escape Nizhny Novgorod with the point they need or will the CONCACAF darlings surprise the world?
0:Hello and welcome to our coverage of the final matchday in Group E! Switzerland and Costa Rica face off in Nizhny Novgorod in just under an hour, but in the meantime let's take a look at today's starting lineups and how these teams have performed in this year's World Cup.
| Edited by: Madhav Agarwal
Read full article
Countdown To
Elections Results
To Assembly Elections 2018 Results