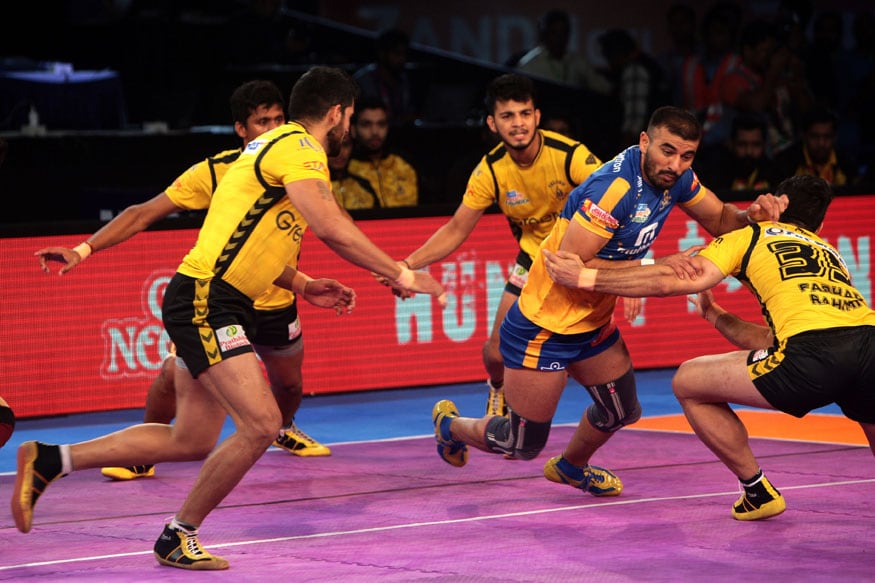 File Image of Tamil Thalaivas in action in Pro Kabadi League (Image: PKL)

Ajay Thakur is undoubtedly the star of the Tamil Thalaivas campaign as he picked up his second consecutive Super 10 of the season in the game against U.P. Yoddha on Monday. However, the team was in a bit of a bother early on against the Yoddha when the second raiders went in to raid but then Athul MS emerged as the hero who almost helped the Thalaivas rescue the match. Manjeet Chhillar's short Blocks have been working well for the team and they will hope he continues in the same vein.

Telugu Titans have created a well-balanced team for Season 6 with good backups for each position. Raid Machine Rahul Chaudhari, who they picked up once again in the auction, will have to lead the attack and, with an average of more than 9 raid points per game against the Thalaivas, he would be looking forward to facing them again. He will have Nilesh Salunke, Mohsen Maghsoudloujafari and Rakshith from last season to back him up but it will also be interesting to see how the team's young raiders like Ankit Beniwal and Kamal Singh respond to the challenge of the big stage. New captain Vishal Bhardwaj will combine with Abozar Mohajermighani this season making it a lethal Corner combination.


26 Jan, 2020 |

India in New Zealand

NZ
vs
IND
132/5

20.0 overs

135/3

17.3 overs

India beat New Zealand by 7 wickets

25 Jan, 2020 |

Bangladesh in Pakistan

BAN
vs
PAK
136/6

20.0 overs

137/1

16.4 overs

Pakistan beat Bangladesh by 9 wickets

24 Jan, 2020 |

Bangladesh in Pakistan

BAN
vs
PAK
141/5

20.0 overs

142/5

19.3 overs

Pakistan beat Bangladesh by 5 wickets

24 - 27 Jan, 2020 |

Basil D'Oliveira Trophy

ENG
vs
SA
400/10

98.2 overs

183/10

68.3 overs

England beat South Africa by 191 runs

24 Jan, 2020 |

India in New Zealand

NZ
vs
IND
203/5

20.0 overs

204/4

19.0 overs

India beat New Zealand by 6 wickets